Review: BTS Reclaim Their Future With 'Permission to Dance On Stage – LA' Show
As I checked into a hotel the day BTS' Permission to Dance On Stage – LA concert series began, the front desk associate asked, "Are you here for the concert? Everyone is here for the concert."
Not the BTS concert. The concert.
It's no secret that the past two years have been huge for BTS. But during this time, RM, Jin, Suga, J-Hope, Jimin, V, and Jungkook have been unable to perform in front of their fans, ARMY. Their accomplishments were celebrated through screens, and any concerts happened without an in-person audience.
This all changed with Permission to Dance On Stage – LA, four sold-out concerts held at SoFi Stadium in Los Angeles on Nov. 27, Nov. 28, Dec. 1, and Dec. 2.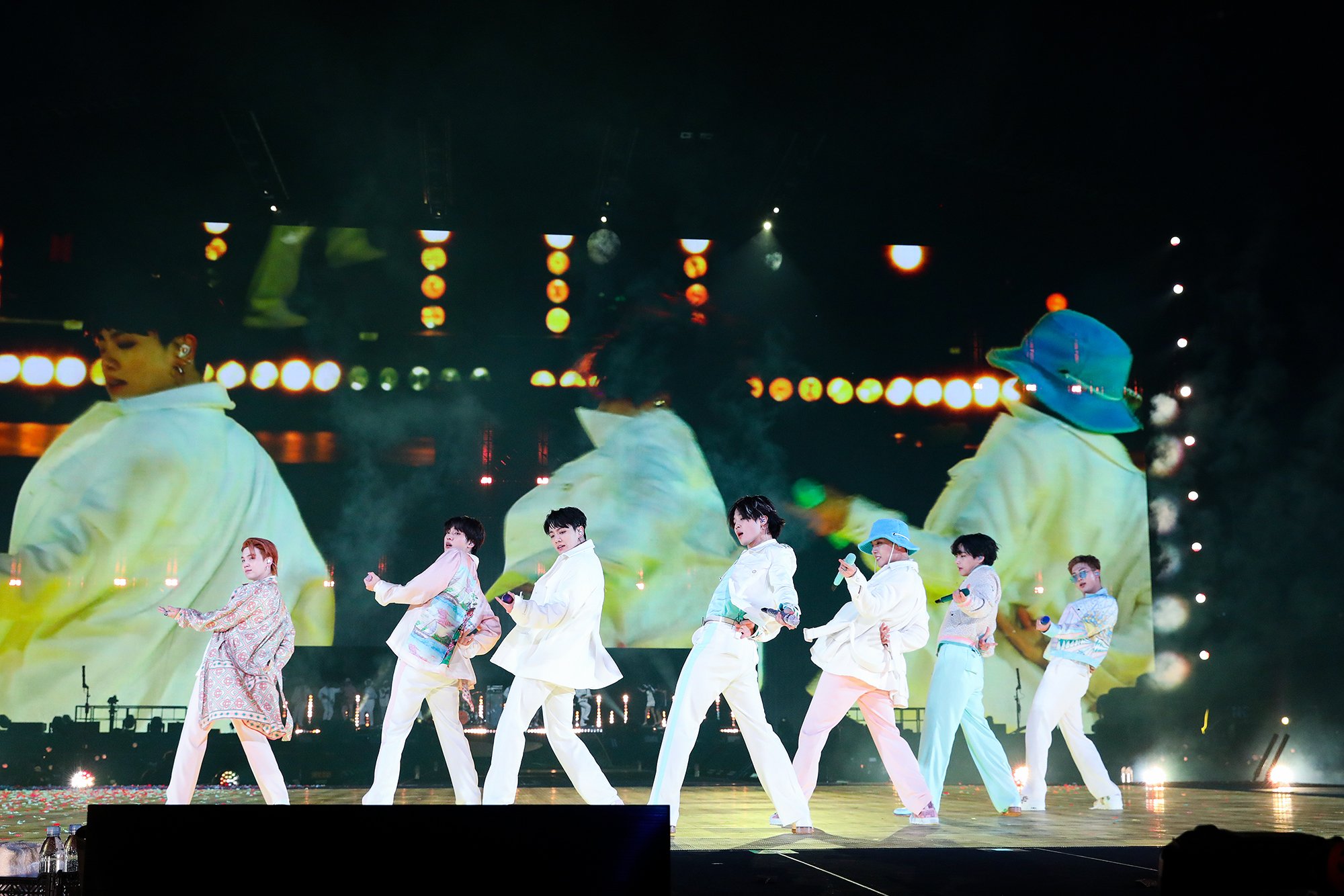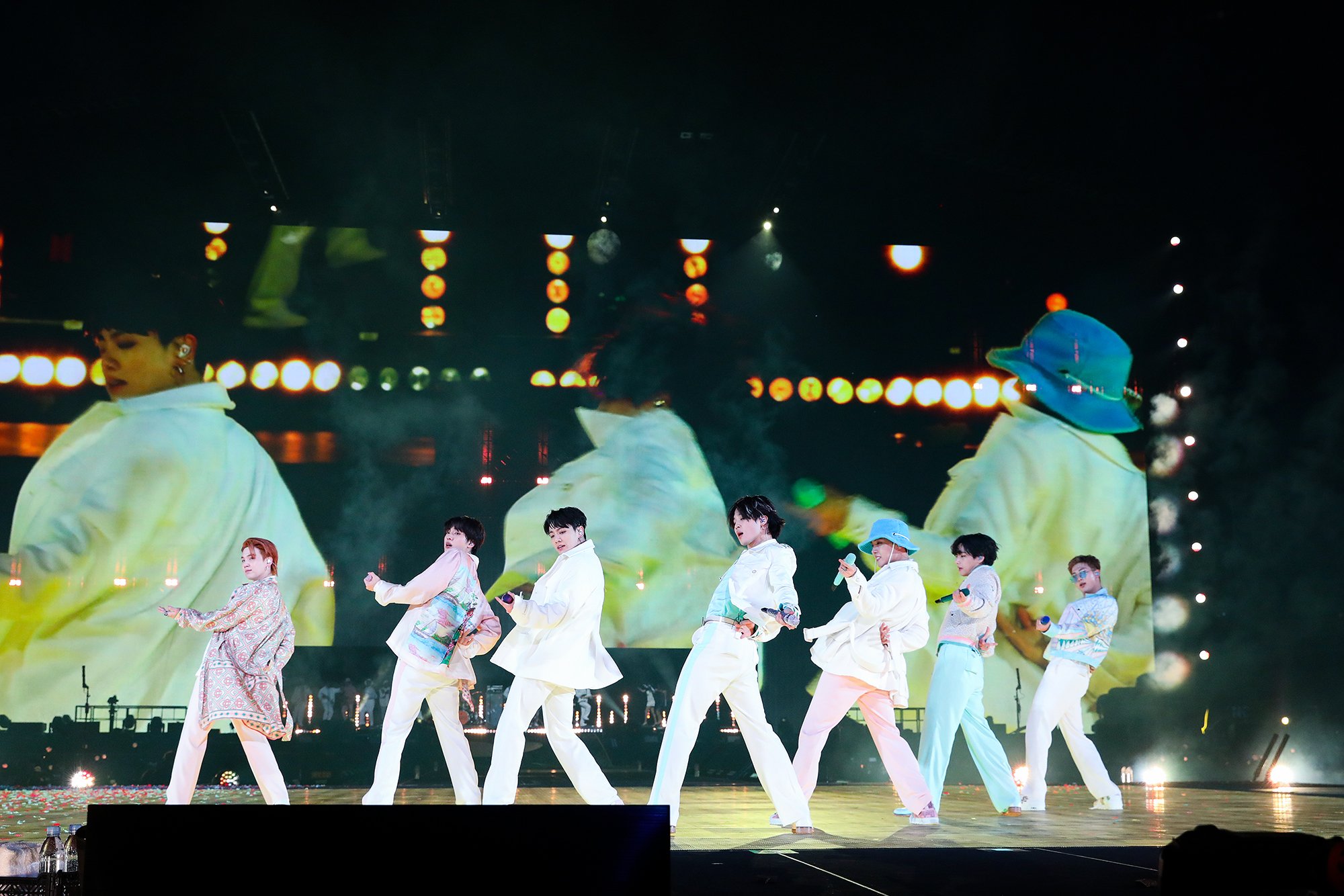 Flights and hotels were filled with fans donning BT21 and BTS gear. Even outside of SoFi Stadium, LA felt abuzz with the return of the band's first in-person concerts since 2019. The concerts made it apparent just how much the Korean septet's already colossal fandom grew, a reflection of BTS' own ascent as pop culture icons.
While the theme of Permission to Dance On Stage centered around BTS' newest English-language single, "Permission to Dance," the setlist took fans through the band's entire discography.
All seven members were on stage for each song. Together, RM, Jin, Suga, J-Hope, Jimin, V, and Jungkook revisited past hits and gave a spotlight to songs from their 2020 albums, Map of the Soul: 7 and BE, that were robbed of in-person performances.
A clear message radiated throughout the concert on Nov. 28. Done playing by others' rules, BTS are doing things their way. They are at the top of their game, and they know it.
On stage, the members broke out from behind bars and gave a vigorous performance of "ON" before moving into a remix of their 2016 single "Fire."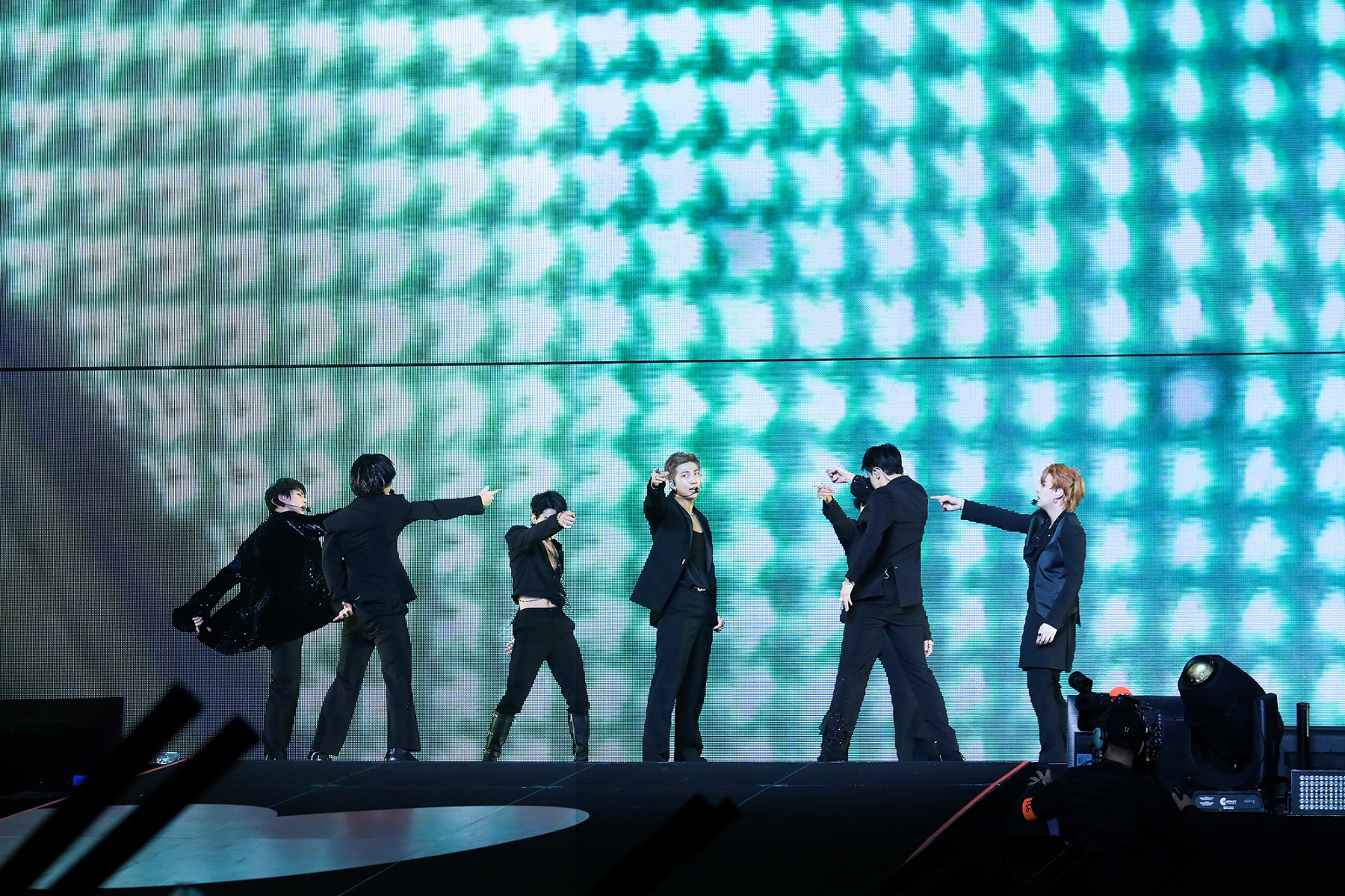 The standout moment of BTS' Permission to Dance On Stage concert came in the form of "Black Swan." Its entrancing music pulsated throughout SoFi Stadium, temporarily stopping time.
Together, BTS sang as one voice and moved as one black swan, capturing the fear and determination of what it means to be an artist. Yet the song still showcased each members' individuality, perfectly encapsulating how the seven members' differences mesh together.
The concert's midway point included serotonin-infused hits like "Boy With Luv," "Dynamite," and "Butter" featuring a live band. In a surprise appearance, Megan Thee Stallion showed up to perform "Butter" with BTS. As soon as she appeared on stage, cheers throughout the stadium were so loud it was nearly impossible to hear her verse.
The upbeat energy continued into the final third of the concert, and BTS performed concert staples like "Baepsae," "So What," and "IDOL" with unbridled energy.
As always, the members' chemistry with one another was unmistakable. The seven appeared closer than ever as they lovingly bantered and teased each other in between songs. If this review attempted to list each interaction, it would be never-ending.
For the concert's encore, the members' intensity from earlier simmered into a relaxed joy, with some even giggling during "Spring Day," a song known for reducing ARMY to tears.
When BTS concluded their Love Yourself era in 2019 with Love Yourself: Speak Yourself [The Final] in Seoul, tears were shed. After such a monumental era, there was a sense of wonder and uncertainty in the midst of the members' gratitude. What would happen next? Where would 2020 take them?
No one could have predicted a global pandemic would disrupt everything, and only ARMY seemed privy to the fact BTS would continue to climb no matter what.
As BTS processed the magnitude of the concerts in their ending ments for Permission to Dance On Stage, it became clear they adapted a sort of go-with-the-flow attitude out of necessity over the course of the pandemic, just in case their plans are ripped away again.
Like everyone else, BTS have been forced to evolve and adapt in ways they did not expect. While they always left it all on the stage as performers, they now relish every single second because no moment will ever be taken for granted.
Permission to Dance On Stage – LA honored BTS' history and how far they have come. It showed life does go on, and while some things have changed, things like the band's love of performing, their bond, and ARMY's dedication to the group stayed the same.
Now, there is more uncertainty in the world than there was in 2019, but it no longer surrounds BTS. With the concerts, BTS took control of what they can, reclaiming the future that was taken from them.
It is clear Permission to Dance On Stage – LA was a jumping-off point for a new beginning. For anyone wondering where BTS will go next, the answer is clear: Wherever they want.
Permission to Dance On Stage – LA Day 2 setlist:
"ON"
"Burning Up (Fire)"
"Dope"
"DNA"
"Blue & Grey"
"Black Swan"
"Blood Sweat & Tears"
"Fake Love"
"Life Goes On"
"Boy With Luv"
"Dynamite"
"Butter"
"Airplane Pt 2"
"Baepsae"
"Dis-ease"
"Telepathy"
"Stay"
"So What"
"Save Me"
"I'm Fine"
"IDOL"
"Epilogue: Young Forever"
"Spring Day"
"Permission To Dance"