Review: Wonho Dazzles During His Virtual #WENEEDLOVE Concert
On March 27, K-pop star Wonho put on his second virtual concert called #WENEEDLOVE. The concert followed the release of his second solo EP, Love Synonym Pt.2: Right for Us.
With the online concert, Wonho showcased songs from Love Synonym Pt.1: Right for Me and Love Synonym Pt.2: Right for Us. He also gave fans a behind-the-scenes look at his life and showed his love for his fan base, WENEE.
A former member of the K-pop group Monsta X, Wonho began his solo career in 2020 after signing with Highline Entertainment. #WENEEDLOVE demonstrated that the singer-songwriter is a star in his own right and ready to leave his individual mark on the music industry.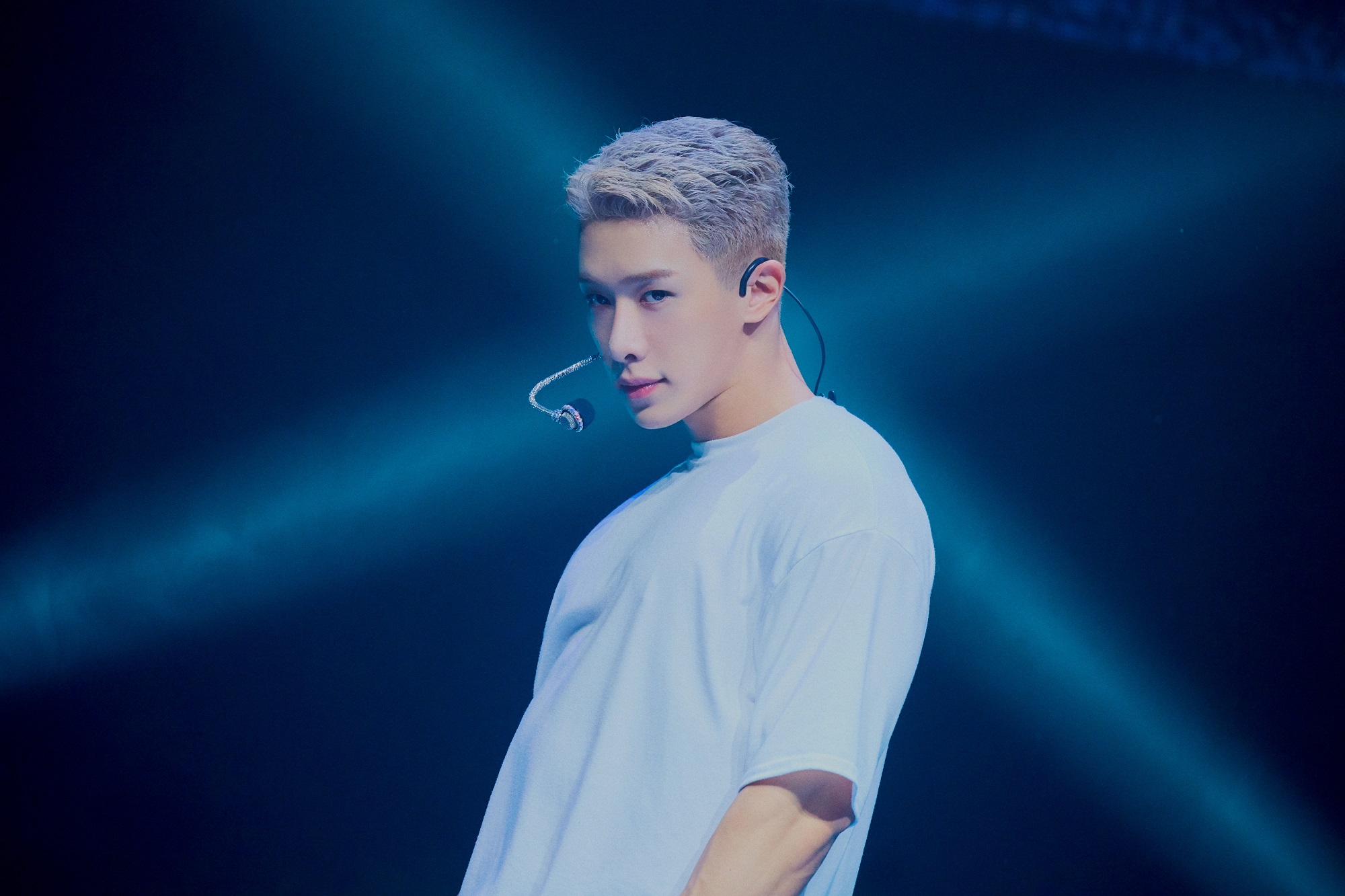 Wonho opened with songs from 'Love Synonym Pt.2: Right for Us'
A livestream for #WENEEDLOVE was held on March 27 at 11 p.m. EDT and March 28 at 12 p.m. KST. Fans were given multiple ticketing options, including a basic-viewing ticket, a rewatch package, and a limited number of virtual meet-and-greet tickets.
The virtual show began with Wonho wearing a light blue suit in his dressing room. A camera followed him onstage, and Wonho opened the concert with the song "FLASH" from Love Synonym Pt.2: Right for Us. The delicate opening song showed off Wonho's singing and rapping skills.
"I feel so happy, but I am a little bit nervous doing a concert after so long," the singer shared via a translator when the song concluded.
To finish the set, Wonho performed the upbeat "BEST SHOT," another track from Love Synonym Pt.2: Right for Us. A behind-the-scenes video of Wonho rehearsing played as the singer changed outfits, and he returned to the stage wearing a yellow sweatshirt and gray shorts.
Known for his love of comfortable clothes, this is when Wonho appeared the most relaxed during #WENEEDLOVE. As he performed "Lost In Paradise," a song from Love Synonym Pt.1: Right for Me, his chemistry and ease with the dancers were apparent.
Following "Lost In Paradise," Wonho sat down for an interview to discuss the stages.
"So I think 'BEST SHOT' was one of the songs that WENEE really enjoyed the most, so I think because they were looking forward to it that much, I think that's why we put in as much effort to prepare for it," Wonho shared.
The singer's appreciation for WENEE was a focal point of the concert
As fans of Wonho know, his love for WENEE is interwoven in all of his music. In between sets, he adorably danced along to fan-submitted dances as part of the #WENEEDCHALLENGE, discussed how fans influence him, and shared his hopes for future concerts and fan meetings.
His performance of the English-language song "Losing You" proved to be the heart and soul of the concert. A ballad about the gratitude he feels for fans, "Losing You" was originally released in 2020 as his debut single from Love Synonym Pt.1: Right for Me.
After "Losing You," Wonho changed into a sultry black outfit for performances of "Devil," "Lose," "WITH YOU," and "Open Mind." With these songs, Wonho turned up his sex appeal and showed his effortless duality.
In between his performances of "WITH YOU" and "Open Mind," the singer-songwriter shared that his next album should arrive in the summer of 2021.
"So as it stands I've been working hard on the next album and I think you know if things go well I'll be able to meet you guys in the summer," he said.
The encore of Wonho's concert featured two songs
Wearing a tan blazer and jeans, Wonho opened the encore of #WENEEDLOVE with "Ain't About You." On Love Synonym Pt.2: Right for Us, "Ain't About You" features Kiiara, an American singer-songwriter. Wonho's fun rendition of "Ain't About You" included dancers and props, concluding with the singer holding up a ring box to the camera.
RELATED: Wonho's Debut Mini-Album 'Love Synonym (#1): Right for Me' Tops iTunes Charts Around the World
Related post url: 
Juxtaposed with the emotional "FLASH" that opened the entire virtual concert, Wonho ended the show with "WENEED," a hopeful track that describes his desire to reunite with his fan base in-person.
Overall, #WENEEDLOVE displayed two things: Wonho's musical talent and his love for WENEE. Combining those shows what sets Wonho apart from other artists.
The entertainment world is filled with talented people. Every so often, someone comes along who is able to connect just a little more, someone who bares a little more soul. Wonho is one of those people.
#WENEEDLOVE Setlist:
"FLASH"
"BEST SHOT"
"Lost In Paradise"
"Losing You"
"Devil"
"Lose" (English Version)
"WITH YOU"
"Open Mind" (Extended Version)
"Ain't About You"
"WENEED"