'RHOC': Vanderpump Rules' Peter Madrigal Tells Vicki Gunvalson to Visit Him at SUR When She Says There Are No Single Men
SUR manager Peter Madrigal from Vanderpump Rules wants to prove to Vicki Gunvalson from The Real Housewives of Orange County that good single men exist.
During a recent Twitter exchange about Gunvalson's ex-fiancé's engagement, Gunvalson shared that she's trying to stay optimistic about love but bemoaned that there are simply no good single men out there. Madrigal wants to change her perspective.
'Vanderpump Rules' Peter Madrigal wants Vicki Gunvalson from 'RHOC' to stop by SUR
News broke that Gunvalson's ex, Steve Lodge is now engaged. Housewives executive producer Andy Cohen tweeted, "If @vgunvalson doesn't find a GREAT guy this year, it won't be a good year. She deserves it." Gunvalson replied to Cohen, "Thanks @Andy I'm starting to lose hope that there are any good SINGLE loyal guys are around anymore. What is wrong with people?"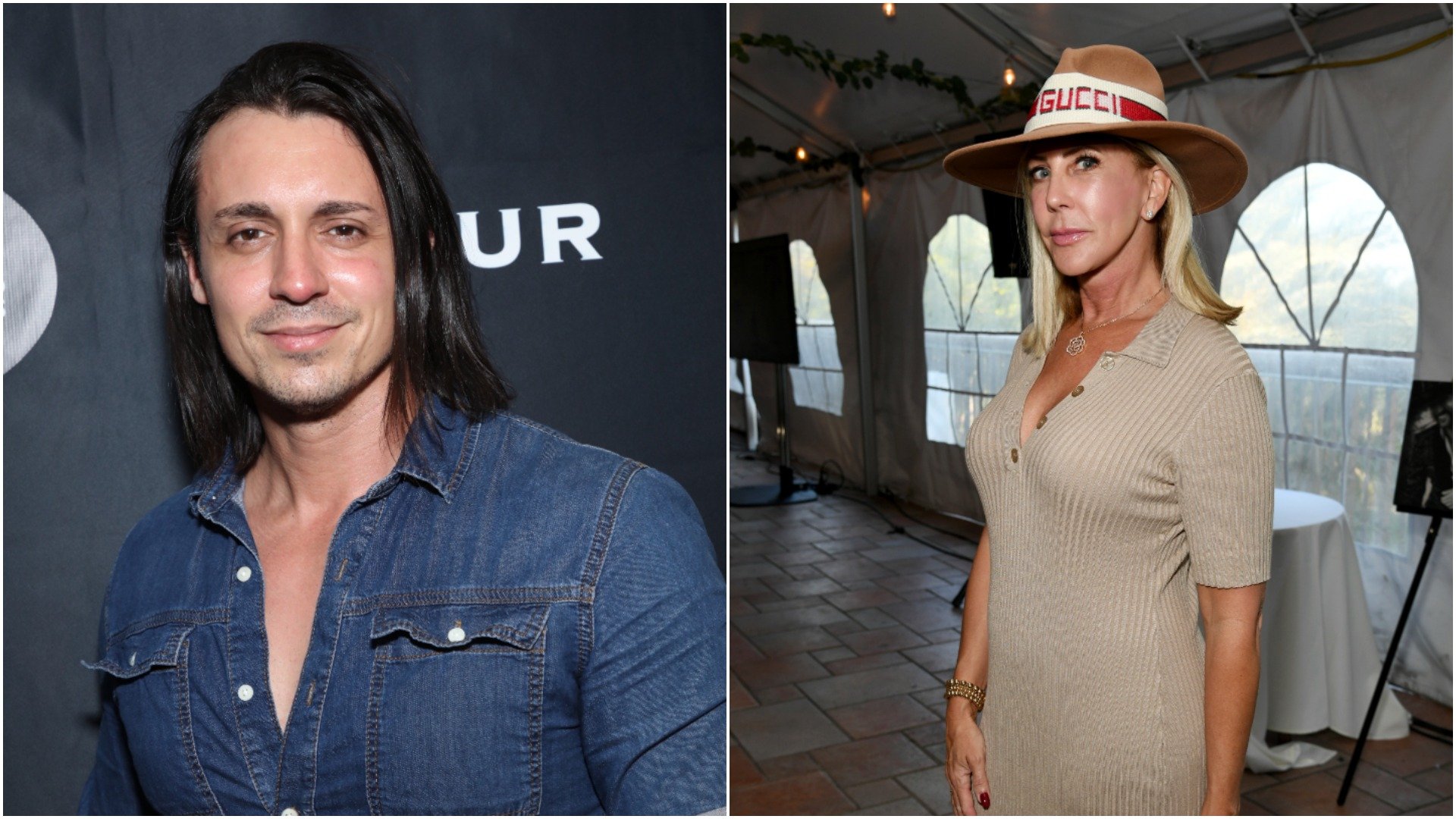 Gunvalson's reply prompted Madrigal to weigh in. "V – get a better picker!" Madrigal replied. "That last guy was a cheater & the guy before that was a lying liar & before that was Donn…you need spark in your love tank. I'm single BTW, hellooooo come to @SurRestaurant with your girls & let me host your return to being Single n' Sassy! WhooHooo."
Madrigal also re-tweeted Cohen's comment. Plus he re-tweeted a comment from RHOC parody account Donn Gunvalson, "He proposed in third person?"
'RHOC' and 'Vanderpump Rules' fans wonder if Peter Madrigal wants to date Vicki Gunvalson?
Some fans took Madrigal's tweet as a date offer. "Go for it Peter!Fill her love tank. Get u a gwagen!" one person replied in the thread. Another wrote, "Peter is shooting his shot and I love it!!!! You better get it @vgunvalson he's a good guy."
Others took the tweet as an offer to come to SUR so he could show her there are good single guys. "He's not volunteering. He's offering host her and her friends at Sur so she can meet someone." Adding, "He's not the someone," a fan wrote. Adding, "Fun, sure. Just seems like a lot of people are thinking Peter is saying *he* wants to date V, and that doesn't seem to be what he's saying. It's more like, 'Hey come to Sur I'll help hook you up!'"
RELATED: 'RHOC': Tamra Judge Says Vicki Gunvalson 'Dodged the Lodge' After Reports Surface That Steve Lodge Is Engaged
Some fans envisioned a crossover. Bravo Instagram account, The Bravo Chicks reposted the tweets and added, "Are @peter_madrigal and @vickigunvalson the bravo crossover we never knew we needed?"
Where is Peter Madrigal this season of 'Vanderpump Rules'?
Madrigal is noticeably missing from Vanderpump Rules Season 9. A fan asked him on Twitter about his absence and he replied, "I am at SUR working all the time – holiday season is upon us! Bravo shows what they want to, and that's ok…buying homes & babies = exciting & I'm happy for my friends. But everyone saying OGs are gone or don't work there isn't true – I never left. #PumpRules #IreallyworkatSUR."
RELATED: 'Vanderpump Rules': Peter Madrigal Reveals His True Passion and How He Stays Out of the Drama on the Show
Another fan tweeted, "I love how Peter has been on #PumpRules since day one, yet we know nothing about him."
Madrigal was actually hoping for a bigger role on Vanderpump Rules Season 9. "Absolutely, yes," he said on the #NoFilter with Zack Peter podcast (via US Weekly). "Taking over the show? No. Yeah, I definitely want to return. Yes, absolutely."
He added, "You cannot replace Lisa. I'm sorry, no. Never! I would never want to replace — no, it's Vanderpump Rules for a reason, because Lisa is one fabulous woman."