'RHUGT': Michael Burchill Revealed on Instagram He Actually Wants to Be on 'Below Deck'
Michael Burchill from The Real Housewives Ultimate Girls Trip revealed on Instagram that he would rather be on a Below Deck series than become the serial concierge for the Housewives series.
Burchill's Instagram bio includes "deckhand" in addition to being a DJ, photographer, and "c-list" celebrity. He's shown his love for sailing and boats in several Instagram posts, plus his experience shows that he could truly get the job done on deck.
Michael Burchill from 'RHUGT' would fit right in as a deckhand
A RHUGT fan suggested to Burchill on Instagram that he be the RHUGT concierge for every season. That's when he replied,  "I want to do @belowdeckbravo."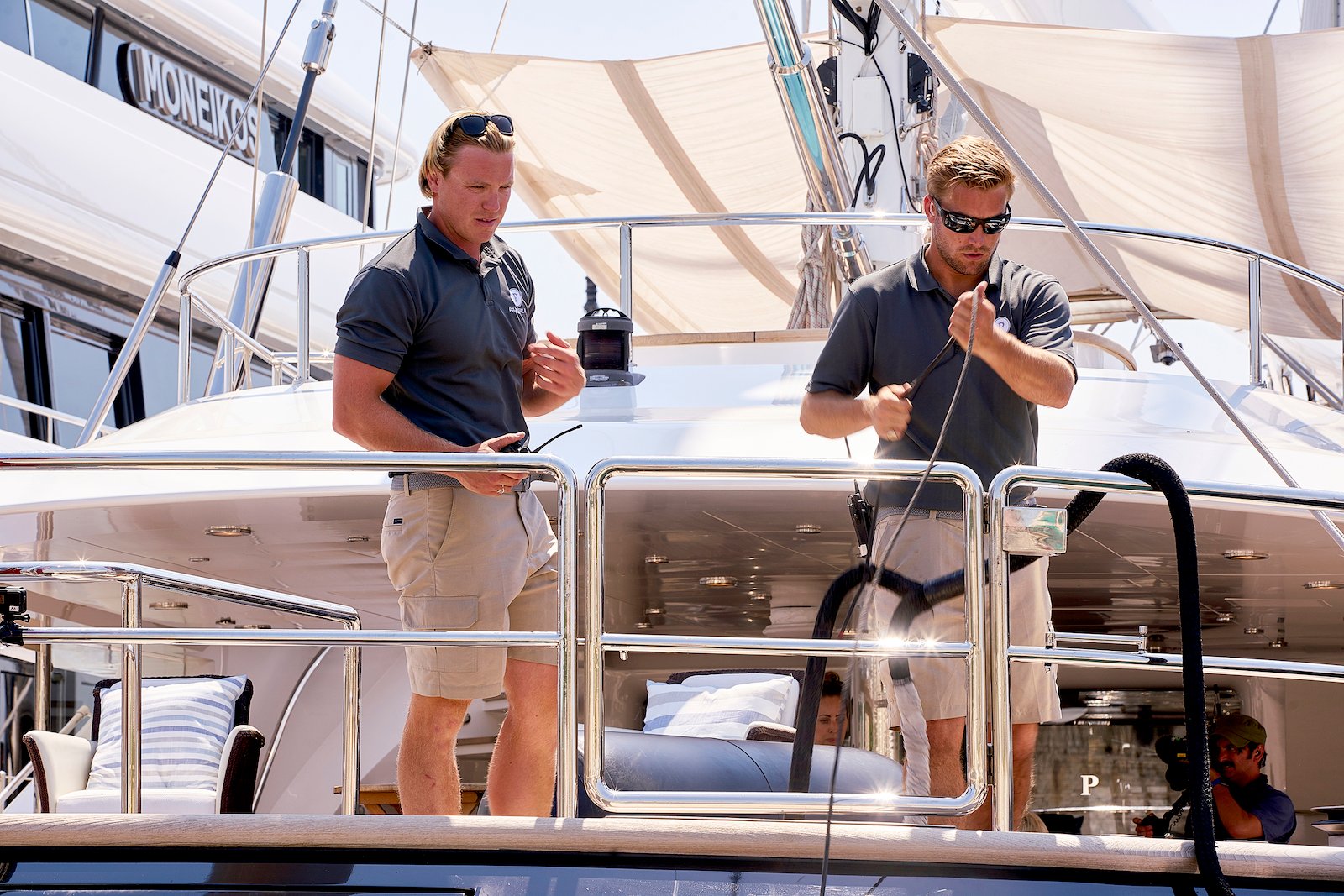 Indeed, Burchill almost seems like he lives on the water. He's shared a slew of videos and photos from boats, and he often appears to be captain. He's based in the Turks and Caicos, helping to run the luxurious Triton Villa. But when he's not helping guests on the sprawling property, he's on a boat. "Today I'm back on the boat where I'll be taking some time away from the crowds of adoring fans," he joked on Instagram. "it's peaceful down here, and these guys don't care about how many followers I have on insta. They're just playing fetch and keeping me humble." Burchill shared a video of him swimming with dolphins and snorkeling.
Burchill also recently shared a photo of his family having fun on a catamaran. "Here's where I go to escape the Metaverse," he shared.
He could also be on 'Below Deck Sailing Yacht'
Burchill from RHUGT seems to have enough boating skills that he could possibly work on either a motor or sailing yacht. He recently showed his sailing skills in an Instagram story. He expertly handles the sail on a smaller vessel and his buddy is seen driving the boat through a rainstorm. "I'm not going out there," Burchill joked from inside the boat.
Either way, Burchill would be required to have the right certifications and be prepared to think on his feet. First officer Gary King from Below Deck Sailing Yacht shared on a Reddit thread why crews should be properly trained. "I think this is general to yachts but it's very important to have properly trained crew in case an emergency situation happens people know what to do and how to act," he wrote.
He also added that sailing yachts have their own set of challenges. "That's captains and officers [who] study for years to get where they are," he shared. "With regards to sailing and being at the mercy of the elements, yes this could add to the chances of accidents happening, especially to people/guests who are unfamiliar with sailing. I have worked on a motor yacht, but I enjoy sailing too much so for me it's a job and a lifestyle."
His hospitality background DJ'ing skill could bring a fun layer to 'Below Deck'
Even if he's working on deck, Burchill's experience as a concierge would be an added bonus for the Below Deck crew. He's seen attentively waiting on the Housewives on RHUGT so he'd be the perfect addition to help on guest excursions or offer assistance to the interior team.
Burchill is also a DJ, which could be another fun skill set for both the crew and guests. He's shared videos and photos on Instagram from parties and events. Burchill DJs weddings and events for celebrities too.