Ricky Gervais Said He Creates His Comedy From 'Toilet Wall' Twitter
Comedian Ricky Gervais is constantly in the news for Twitter backlash regarding his jokes surrounding social issues. However, his fans like the fact that he doesn't take the Internet too seriously. Gervais explained that he actually formulates some of his comedy through such interactions on Twitter.
Ricky Gervais takes a controversial stand against religion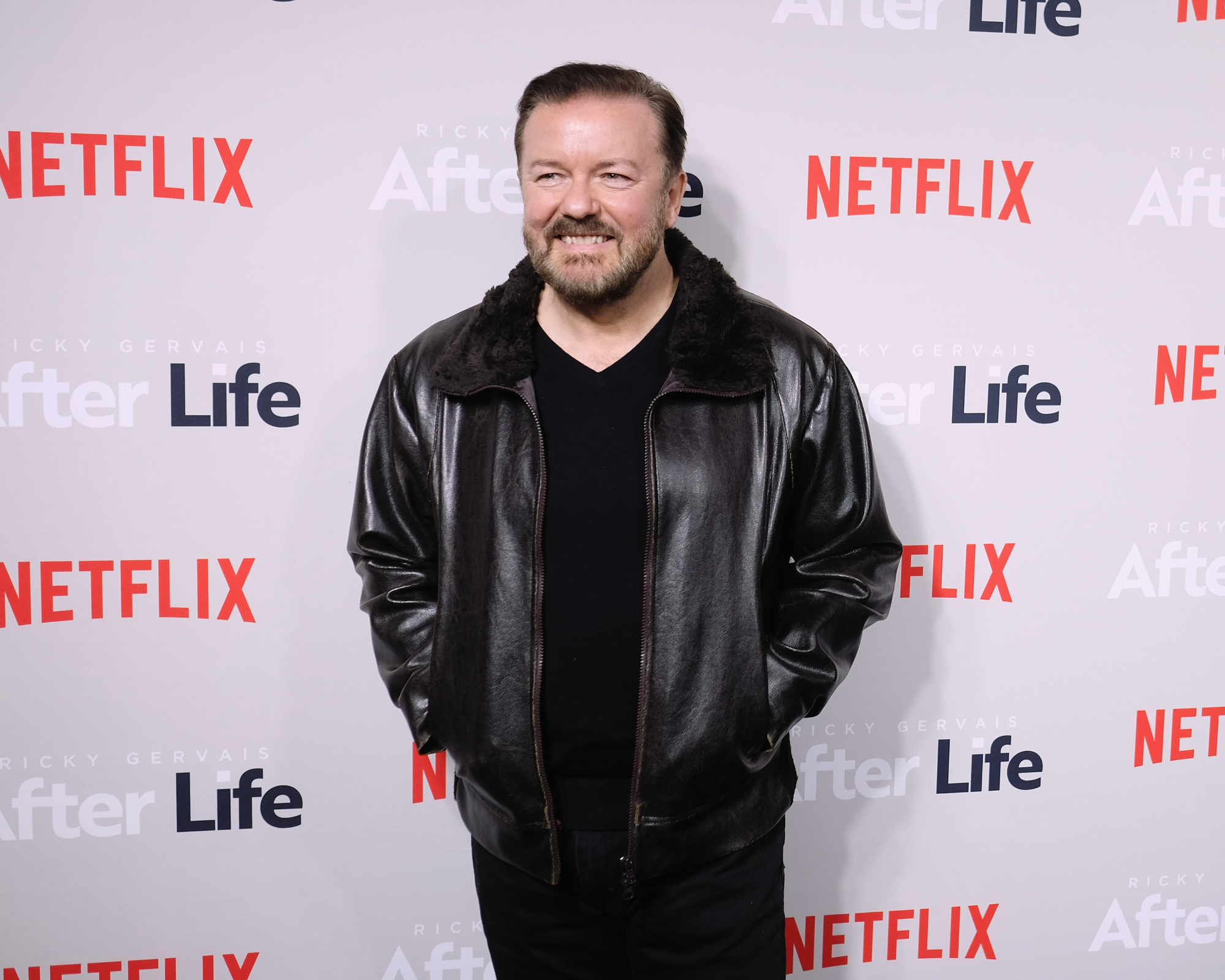 Late Night with Seth Meyers interviewed Gervais about Twitter, religion, and the human lifespan. Host Seth Meyers pointed out that the comedian is "proudly atheist" and wanted to learn more about how it relates to the title of his Netflix special titled SuperNature.
"The title comes from two reasons, really," Gervais said. "One, I sort of debunk the supernatural. I don't believe in anything supernatural. So, I go through all that. And, also, I say that nature is super enough, you know? I don't need unicorns and fairies and that."
Gervais continued: "I say, 'We've got the octopus.' Things like that. The duckbill platypus is a monotreme, right? When people first discovered the duckbill platypus, they thought it was a hoax. They did. It produces eggs and milk. It could make its own custard. It doesn't, but it could. So, I go into why I love nature and why I hate people. That's the main theme."
Ricky Gervais said that he formulates his comedy from 'toilet wall' Twitter
Meyers explained how Twitter and the rest of the general public often criticize Gervais. However, the comedian responded that it really doesn't bother him. In fact, he actually formulates his comedy from these interactions. He calls himself an "observational comic," but the Internet gives him a platform to do so.
"There's a billion people on Twitter," Gervais said. "It's like looking at every toilet wall in the world at once, isn't it? You mustn't take it seriously. So, with all those people on there, someone's gonna say something stupid. I mean, I look for them."
Gervais continued: "That's the good thing about Twitter, I guess. Like 20 years ago, an observational comic would actually have to go to homes and prisons to meet people that talk to you on Twitter. So, I can do it from the safety of my Hampstead mansion."
"I can speak to the worst people in the world and formulate comedy out of it," Gervais stated. "I can talk to the maddest people on the Earth."
The comedian thinks people live for too long
Gervais doesn't have much hope in humanity, which certainly extends to Twitter. However, he creates laughter in the Late NIght with Seth Meyers crowd as he explained that humans live for far too long these days.
"I think we're not meant to live this long," Gervais said. "I'm 60, it's not natural. When we were hunter-gatherers, we'd make it to about, I don't know, 25, if we're lucky. Then we'd get a scratch, dead. You know what I mean? But now we're just kept alive. They replace everything. They can't do the head transplant yet."
However, Gervais did say that he would accept having his head transplanted onto another man's body with a bigger penis, which put Meyers into a laughing fit.
RELATED: Ricky Gervais Claims He Would Have Joked About Jada Pinkett Smith's 'Boyfriend' Instead of 'Tame' Oscars Hair Jab