Ridley Scott Says He's Interested in Making a Musical or a Western After 'The Last Duel' Is Released
He's taken us to space (multiple times), to ancient Rome, to war, and off cliffs. Ridley Scott is now bringing us to medieval France in The Last Duel.
Despite his expensive and impressive career, Scott recently told reporters at a press conference that there were still some items on his movie bucket list he wanted to do.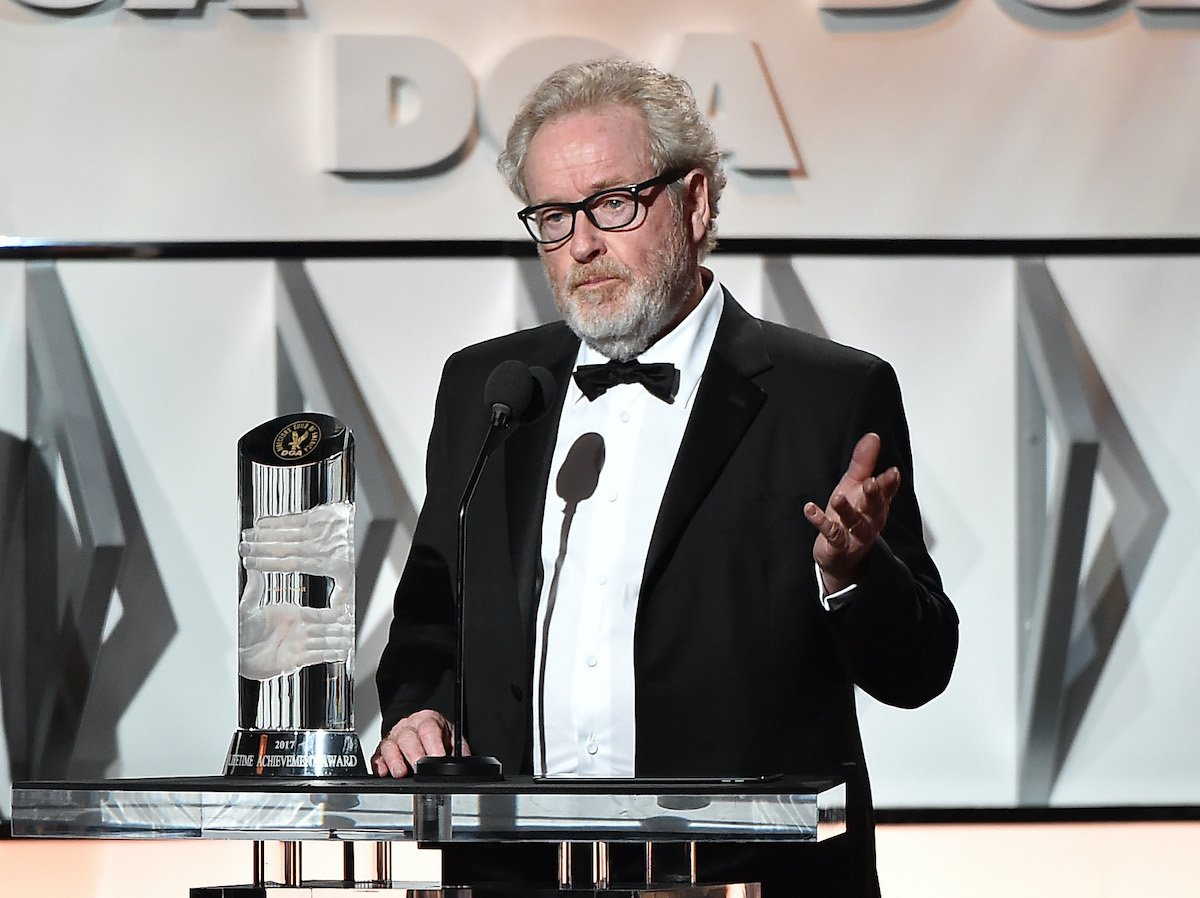 Ridley Scott has a massive filmography
Scott's filmography spans over 40 years and numerous genres. From Alien, Blade Runner, Thelma & Louise, G.I Jane, Gladiator, American Gangster, and The Martian, the director's ability to tell a compelling story is evident no matter where it is set. 
The director and producer was nominated for four Oscars for his efforts on Thelma & Louise, Gladiator, Black Hawk Down, and The Martian. His range includes sci-fi, historical dramas, and even a gangster flick.
A musical could be the 'Alien' director's new project after 'The Last Duel'
However, two film genres Ridley Scott has not conquered yet are the musical and the western. "I tend to look for material that I haven't done before," the director said at a press conference for The Last Duel, per Collider. "I'm constantly looking for something that is fresh and different. I've never done a musical. I've never done a western. So I'm looking for that now."
Co-writer and star Ben Affleck joked: "See? Ridley can do everything, so you can't even joke with him. He's like, 'Yes, I will do a musical!'"
Scott's most recent leading lady was entirely on board with the idea. "Ridley, I really want to do a musical, if you're free," Jodie Comer joked. The Killing Eve star sang a bit of Mariah Carey's "Fantasy" in 2021's Free Guy. 
Then, Scott recounted his favorite musicals of all time. Legendary Broadway choreographer Bob Fosse directed both. Scott even acknowledged the genre's heavy hitters.
"Gene Kelly was an athlete. So was Fred Astaire," Scott said. "When you see those guys do it then, it is never that good. Until Cabaret and All That Jazz."
'The Last Duel' is 1 of 2 films Ridley Scott is releasing this year
Ridley Scott has two films coming out in 2021, just in time for award season. The Last Duel was co-written by Matt Damon, Ben Affleck, and Nicole Holofcener. Damon, Adam Driver, and Harriet Walter join Comer and Affleck in the cast. 
The film follows Comer as a married French noblewoman who accuses her husband's best friend (Adam Driver) of rape. Her husband (Damon) then challenges his former friend to a duel that will end up changing history. It will be released in theaters Oct. 15, 2021. 
Driver will also appear in Scott's House of Gucci this year. He and Lady Gaga will play real-life married couple Maurizio Gucci and Patrizia Reggiani. Reggiani was convicted of arranging her ex-husband's assassination and served 18 years in the Italian prison system for her crime.
Jared Leto, Jeremy Irons, Salma Hayek, and Al Pacino also star as various members of the Gucci fashion house and family. The film is set to premiere Nov. 24, 2021.
RELATED: Ridley Scott: 5 of His Best Movies