Rihanna's Self-Care Ritual Includes 2 Fenty Skin Products Loved by Beauty Fans
Rihanna's Fenty Beauty is one of the most successful celebrity makeup companies. Since launching the makeup line in 2017, the pop star and entrepreneur has caught her fans' attention on social media with makeup tutorials and self-care videos. 
In fact, Fenty Beauty beats out two major players, Kylie Jenner's Kylie Cosmetics and Lady Gaga's Haus Labs, in terms of revenue. Recently, Rihanna showed fans how she uses two new Fenty Beauty products to get that pregnancy glow. Now that she's given birth to a son, we suspect she's got a postpartum glow too.
Rihanna's pregnancy skincare routine
Rihanna rocked her pregnancy, and this included taking care of her skin. The "Rude Boy" singer surprised many as she revealed her pregnancy skincare routine featuring Fenty Beauty products. 
On May 8, Rihanna wore a Savage X Fenty satin bralette and boxers as she tweeted a video of her nighttime skincare routine. The products she used included the detoxifying face mask and indulgent body moisturizer.
In the video, the 34-year-old gently applies the latest launch from her collection: Cookies N Clean Whipped Clay Detox Face Mask. This clay mask is formulated with salicylic acid, whipped clay, and charcoal. These ingredients help deep clean pores and make skin soft and smooth. Rihanna said she wanted to create a product that detoxes without leaving the skin dry, and there you have it.
The other product she featured was Butta Drop Whipped Oil Body Cream, which is formulated with hydrating oils and extracts. The cream moisturizes the skin leaving long-lasting hydration and a glossy sheen.
Rihanna finished the video with a sip of ginger ale and placed cucumber slices on her eyes. The video, captioned "and that's on self-care bih," has gathered 46.5K retweets and 513.4K likes. Celebrities such as @Oloni approved the video on Twitter with the comment, "You are glowinggggggg."
Undoubtedly, the queen herself has been using the two products all through her pregnancy. No wonder her baby bump sparkled every time she stepped out.
The birth of Rihanna's fragrance line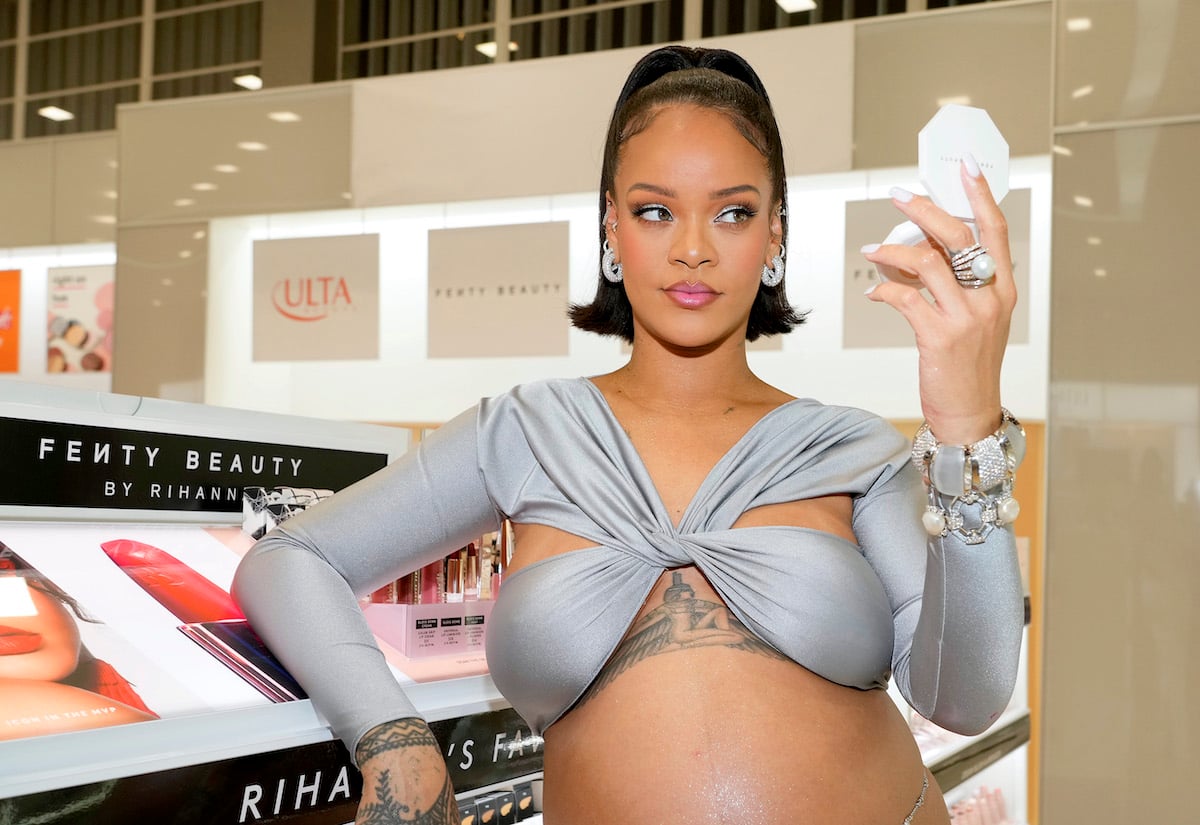 Rihanna learned about fragrances from her mother in Barbados. Her mother worked in the beauty and fragrance industry for years, she told Vogue. This inspired the superstar to create a one-of-a-kind fragrance. 
In 2010, Rihanna released a collection of 11 perfumes with fragrance house Parlux. Some of the known scents were Nude, Reb'l Fleur, Riri, and Rogue Man. Her commitment led to the birth of Fenty Beauty in 2017 and Fenty Eau de Parfum later. 
The "Umbrella" icon is known for her intoxicating scent. She promised we could all smell like her when she announced the launch of Fenty Beauty's fragrance. The making of the scent included visiting France as she worked with LVMH Master Perfumer Jacques Cavallier Belletrud. Meant for all genders, the scent's notes include geranium, magnolia, Bulgarian rose, blueberry, and patchouli.
The fragrance comes in a gorgeous brown bottle, which Riri explains is her favorite color. "I wanted a rich color that represented all genders from all walks of life," she explained. "Brown is my favorite color. Brown is who I am. Brown is what I come from. If I'm going to make a fragrance that represents me, even the body language of the bottle needs to marry that."
Fenty Eau de Parfum dropped in August 2021 and immediately sold out. Rihanna restocked it in December 2021, and it sold out again. The good news is that the fragrance is currently back in stock.
RELATED: Rihanna's Child Care Plan Includes a Night Nurse Despite Knowing Her Mom Will Fight Her