Rihanna Sports a Gold Python Bodysuit and Other Bizarre Concepts for Dazed Cover Shoot
Entertainment's newest billionaire Rihanna is a hot topic once again. In Rihanna's recent cover shoot with Dazed for its 30th anniversary, she embodied a plethora of bizarre ideas. From being dressed as a golden python to wearing a Jawara Alleyne x Raw Materials custom joint dress, the global star italicized her outlandish style. The multi-hyphenate was featured in a versatile gallery of 10 photos for its autumn 2021 collection.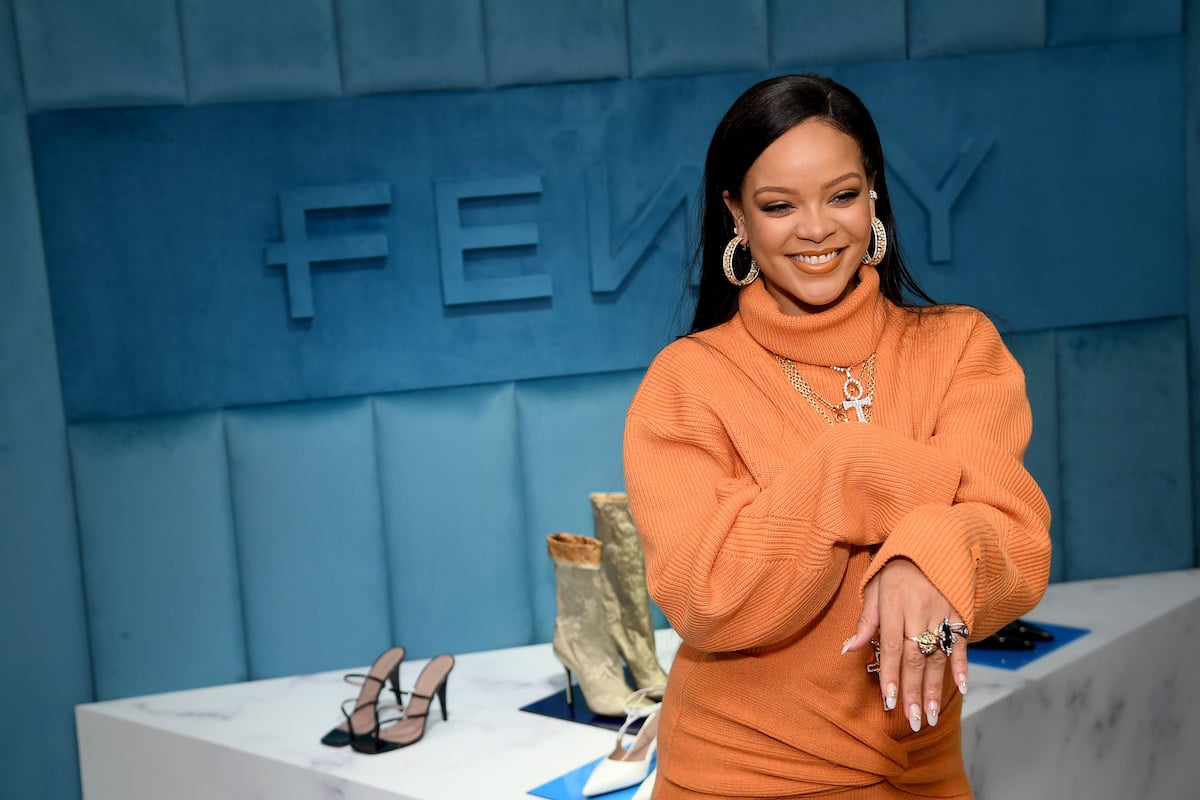 Dazed handpicked Rihanna for its cover shoot
Established in 1991, Dazed initially started as a style and culture outlet. Yet, later it formed into a movement that represented revolutionary fashion and subculture. With its mission in mind, Dazed handpicked one of the most recognized women in the world for its autumn collection.
On Friday, Sep. 10, Dazed announced Rihanna as its muse in celebration of its 30th anniversary on Twitter.
The publication outlined what influenced their decision to feature Rihanna on their cover. Ultimately, the singer's personality, personal style, presence, and passion for living by her own rules drew Dazed to their 30th-anniversary cover star.
Rihanna sported exotic wear for Dazed's 30th anniversary
Following Dazed's Twitter announcement, Rihanna tweeted a picture from the shoot captioned, "dat Rihanna reign just won't let up." The image shows her positioned in a wide stance while dressed in an all custom Burberry gold python bodysuit. The lettering on the photo reads, "The Golden Reign of Rihanna."
All photographed by renowned photographer Rafael Pavarotti, she uniquely encompassed multiple styles.
In one look she wore an all-white piece made of canvas and cotton that resembled a "joint dress." Jawara Alleyne x Raw Materials custom-made this outfit.
In another look, she sported a custom full sheer red bodysuit made from tulle fabric. As an accent, she wore an asymmetric black hat which was custom-made by Esenshel.
Fans react to the billionare's Dazed shoot
Though it is not foreign for Rihanna to unapologetically challenge societal norms, fans were still amazed at her attire. Almost instantly after Dazed posted Rihanna's shoot the fan's chimed in with their reactions. Many expressed their undying love for Rihanna on Twitter saying, "Rih can do no wrong" in their eyes.
One user wrote, " I loved the rest of the shoot and, obviously, Rih can do no wrong in my eyes. She's the (goat emoji)."
Another person agreed and tweeted, "Rihanna dressed as a high fashion joint for Dazed, here to save us all from the impending news cycle." Other fans mimicked her tweet as Benjamin Dean said, "the reign never stops I KNOW THAT'S RIGHT!!!"
RELATED: The Secret to Rihanna's Billionaire Status Is Going to Make Her Even Richer