Ringo Starr on the 1 Song He'd Listen to for the Rest of His Life – and Goat Cheese
Here's what former Beatle Ringo Starr said is the song he'd listen to for the rest of his days - and why he loves goat cheese so much.
On a recent visit with The Late Show with Stephen Colbert, the late-night show host picked former Beatle Ringo Starr's brain on quite a few topics.
The celebrated drummer shared his thoughts on everything from his favorite smell (Stargazer lilies, if you were wondering) to his most-used app (Twitter).
Most notably however, the rock legend touched on the song he could live with for the rest of his natural days (he didn't hesitate in responding) and his reasoning for why goat cheese is it for him.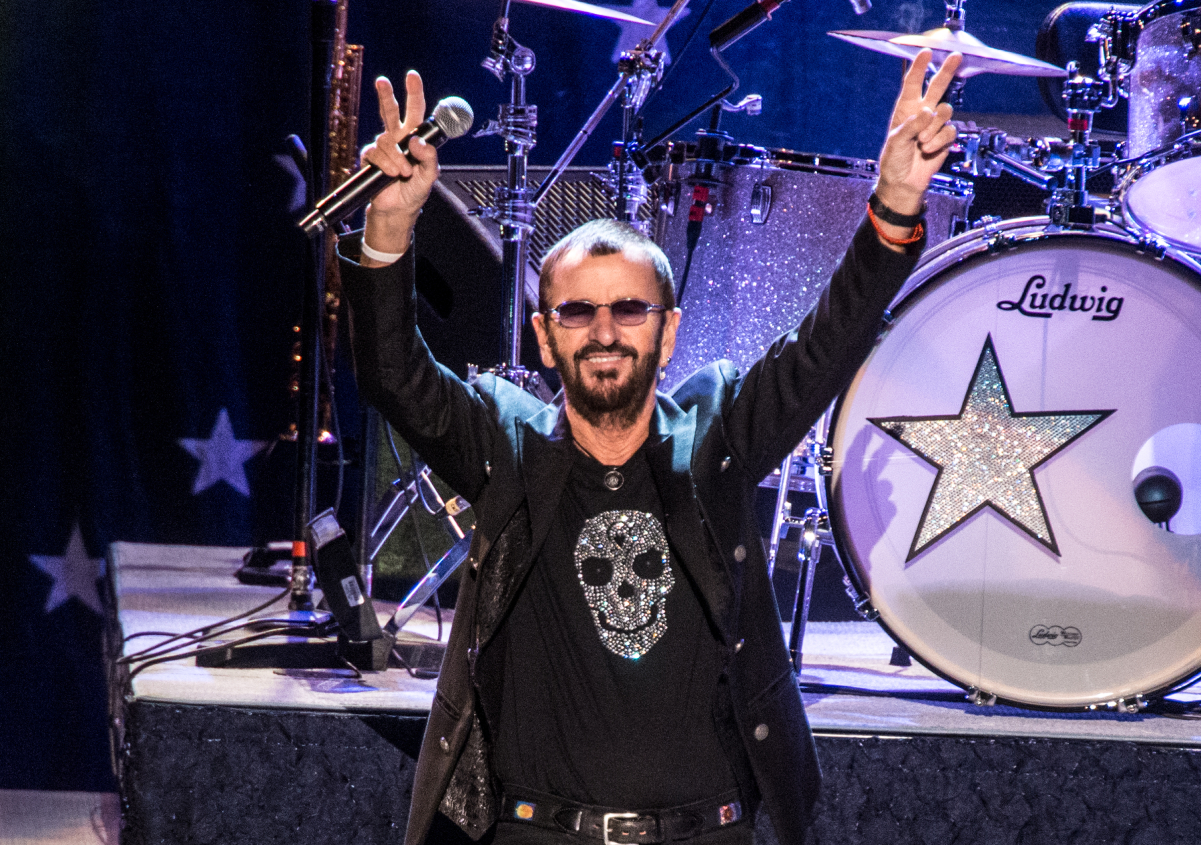 Ringo said this was his best drumming work
The "Photograph" singer revealed to Paul McCartney: Many Years from Now author Barry Miles that he considers the 1966 song "Rain" to be some of his best work.
"I feel as though that was someone else playing," he told the McCartney biographer. "[I] was possessed! I was into the snare and hi-hat…think it was the first time I used this trick of starting a break by hitting the hi-hat first instead of going directly to a drum off the hi-hat. I think it's the best out of all the records I've ever made."
McCartney himself told Miles about Starr's prominent performance on "Rain": "The drums became a giant drum kit… We got a big, ponderous, thunderous backing and then we worked on top of that as normal, so that it didn't sound like a slowed-down thing, it just had a big ominous noise to it. It was nice, I really enjoyed that one."
Ringo Starr's thoughts on cheese
Colbert subjected Starr in the musician's recent virtual appearance on The Late Show to "The Colbert Questionert," a rapid-fire succession of questions resulting in some interesting answers.
When Starr was asked about his favorite sandwich, he answered, "Cheese," adding that "it has to be goat cheese now." The Beatle's explanation for his preference for goat cheese was almost as funny as the expression on Colbert's perplexed face.
"Why does it have to be goat cheese?," Colbert asked.
"Because I don't eat anything from the cow," Starr replied.
Not giving up on the topic, Colbert continued: "Because the cow did something to you?" Starr explained that a cow's "molecules are so big. Have you seen a cow? That's why if you drink a glass of milk, you're full."
The show host's face seemed to be losing the battle with a dozen more questions related to bovine molecules.
"The goat is a good size for our bodies," Starr continued. Colbert finally could not restrain himself any longer and chuckled at his guest's reasoning.
"So the size of the animal itself has something to do with the size of the molecules, is what I'm getting from you?," he asked.
"Yeah, look at the size of that big cow and the food it gives the baby to grow to three-tons within a week," Starr said.
Finally, Colbert let it go: "Alright, no cow."
The song Ringo Starr says he could listen to daily
Asked "You get one song to listen to for the rest of your life, what is it?," the "Yellow Submarine" singer replied instantly, "Come Together."
Colbert, surprised at the speed of Starr's response and the song choice itself said, "Wow, I think we just made news. Is that your favorite Beatles song?," he asked.
"Yeah," Starr said. "There's lots of other favorites, I mean, but if you want one, "Come Together" can't be bad. It worked perfectly with the band and the song and John [Lennon] being John. I love that moment."