Ringo Starr Faced His Fears on 1 of His All-Starr Band Tours
The surface-level view was that Ringo Starr had it made when he joined The Beatles. That might have been true, but things took a turn when the band broke up. He drank heavily as he tried to find his way artistically without the rest of the Fab Four and called himself a coward for one act in the 1970s. Soon after he embraced sobriety in 1988, Ringo faced his fears when he started playing music again with his first All-Starr Band.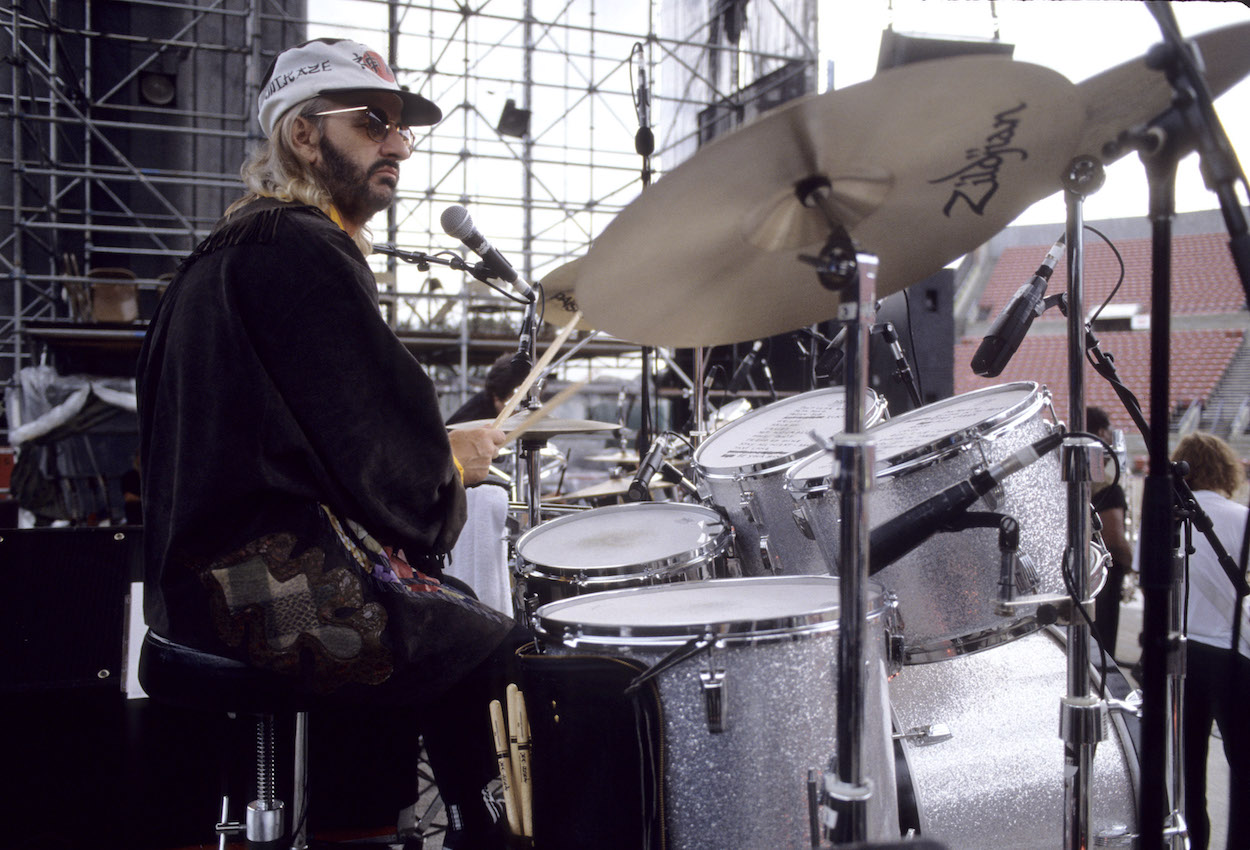 Ringo Starr found sobriety after years of addiction in his post-Beatles days
When The Beatles broke up in 1970, Ringo released two solo albums the same year. He put out two more solo efforts by 1974, including the self-titled Ringo, which spawned several hits. 
At the same time, he spent more time with friends such as the hard-partying Harry Nilsson, The Who drummer Keith Moon, and T. Rex frontman Marc Bolan. In the mid-1970s, Ringo lived with Nilsson and John Lennon in his former bandmate's rented house for a time, where he continued his hard-partying lifestyle. When he found sobriety in 1988, Ringo admitted people were right to call his post-Beatles life sad. 
The good news of getting sober, aside from overcoming addiction and living a healthier life, was that the drummer started making music and performing again. The downside was that Ringo had to face one of his greatest fears while on the road.
Ringo faced his greatest fears while playing with the All-Starr Band: 'It was hard'
When he was at the depths of addiction before getting sober, Ringo stopped making music. The live album he cut with his first All-Starr Band (a self-titled 1990 self-titled release) was the first bearing his name since 1983's Old Wave. The 1989 All-Starr Band tour was his first since drumming for The Beatles.
He embraced playing live again, but Ringo also had to face his fears after each of those All-Starr band gigs. The drummer was accustomed to making drinking a part of his concert routine, but he couldn't do that, and he was afraid he wouldn't be able to get the job done (per Michael Seth Starr's biography With a Little Help):
"After each gig, it was really tough because I didn't know what to do with myself because my whole body and head went into, 'Let's' party!' you know, 'Let's get crazy, let's get messed up.' But there's one little seed of reality in there saying, 'But we don't do that anymore.' And we didn't. But it was hard.

"Just the first week. To do anything again, the first week, you have to really learn to do it again. And that's all it takes. I had some fears that sobering up, I wouldn't be humorous, and I wouldn't be able to play. But they were just fears. They weren't true."

Ringo Starr describes his fears of maintaining his sober lifestyle on his comeback tour
Ringo maintained his sobriety despite the temptation he faced, so kudos to him. The drummer once said a little voice told him the truth about his behavior when he drank — that he wasn't as witty as he thought. Perhaps that little voice spoke a bit louder as Ringo faced his fears about the temptation to drink during his first shows with the All-Starr Band.
The drummer continues to live life without alcohol
Ringo didn't necessarily receive much help from his friends when he was at the depths of his addiction. Linda McCartney said she and Paul were afraid to talk to Ringo about his drinking for fear of ruining their friendship. Luckily for the drummer, he found sobriety and embraced living his life without alcohol.
He works out several times each week. Ringo eats blueberries and broccoli every day, a regimen he believes keeps him looking much younger than he is. Against his better judgment, Paul once goaded his friend into drinking whiskey. Ringo tossed a scathing comeback at Macca that made it clear his sobriety is no joking matter. And it isn't since he fought hard for his sobriety.  
As if embracing sobriety wasn't enough of a life challenge, Ringo Starr then faced his fears about maintaining his sober lifestyle when he toured with his first All-Starr Band. 
How to get help: In the U.S., contact the Substance Abuse and Mental Health Services Administration helpline at 1-800-662-4357.