It's Not Ringo Starr's Fault That The Beatles Song 'If You've Got Trouble' Wasn't Good Enough for 'Help!'
The world wasn't ready for Ringo Starr. The Beatles drummer played so exquisitely and professionally that most people overlooked his skill, and he never received the credit he deserved at the time. History has been mostly kind to Ringo, except for when the three surviving unearthed "If You've Got Trouble" from 1996's Anthology 2. The Help! soundtrack outtake was a long-lost Beatles song for decades, and the band hated it, but it's not Ringo's fault it wasn't good enough for the final cut.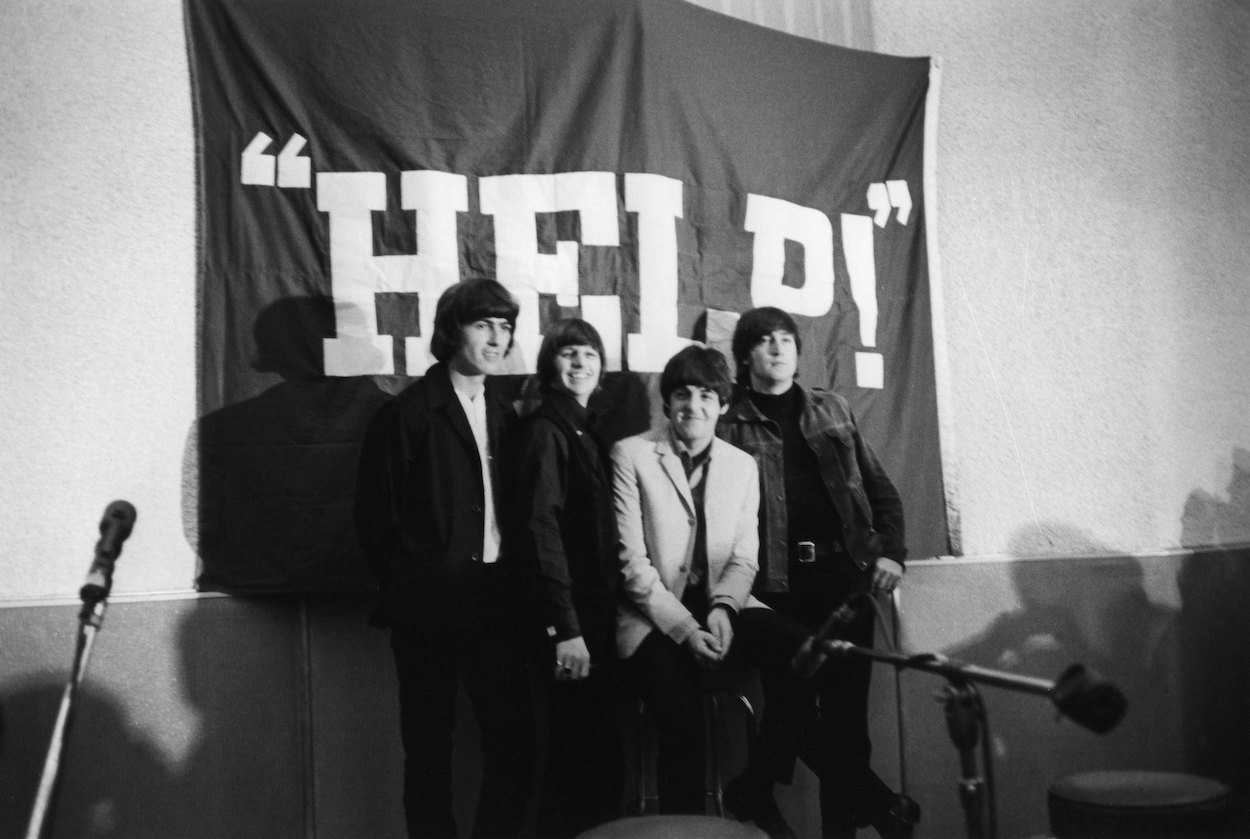 It took more than 30 years, but the public finally heard "If You've Got Trouble" when Ringo, Paul McCartney, and George Harrison plumbed the archives for Anthology 2 in 1996. 
Paul and John Lennon wrote it in 1965 for the Help! soundtrack, and Ringo took the vocal duties. His delivery was a target for criticism, especially his exasperated "Rock on, anybody!" just before George's solo. "If You've Got Trouble" was one of the only Beatles songs that went to the vault almost as soon as they recorded it. 
George later trashed the Paul and John-penned tune. He said it was a weird song and had no memory of recording it. John and Paul apparently felt the same way as they hid it in the EMI vaults for decades. Ringo instead sang The Beatles cover version of "Act Naturally" for the Help! soundtrack.
The Beatles didn't think much of "If You've Got Trouble," but it's not Ringo's fault the song wasn't good enough for Help!
It's not Ringo's fault that 'If You've Got Trouble' wasn't good enough for 'Help!'
By all accounts, The Beatles stopped working on "If You've Got Trouble" as soon as they finished a rough take. The band pivoted to "Act Naturally" for the traditional Ringo-sung song on Help! 
George later dumped on the song, but it's not Ringo's fault it didn't pan out. You can make a case that the three other Beatles are to blame for how the song turned out.
It's one of the mid-era Beatles songs where Ringo's drumming is in your face powerful instead of understated and subdued. He starts the song by laying down a steady rock beat with some incredible bass drum work. Ringo keeps up the pace for the entire song. As always, his playing is strong and right on time.
Also, Ringo's rhythmic foundation gets a lift from Paul's stellar bass line, which adeptly holds down the melodic low end. 
Plus, Ringo sings a brilliantly simple and catchy vocal melody. He struggles with some of the lines, but don't blame him. John and Paul wrote the lyrics, which required Ringo to sing clunky lines almost breathlessly for the first 1:35 of the song. It's little wonder he practically begs for anyone else to rock on.
When Ringo gets a respite from the rapid-fire lyrics, George comes in with a vaguely surf rock-tinged solo that might be the most uninspired lick of his entire career. It's sloppy, listless playing that takes all the wind out of a song that, for all its faults, sailed along nicely up until that point.
Between the clunky lyrics and George's poor solo, we can see why "If You've Got Trouble" was a long-lost Beatles song. Swapping it for "Act Naturally" was the right call. 
It wasn't The Beatles finest moment, but it wasn't Ringo's fault it remained in the vaults for 30 years. John, Paul, and George didn't do their drummer any favors. 
The drummer penned two Beatles songs that made it onto albums
Ringo was once brutally honest about his place in The Beatles. He might have been the most accomplished musician, but he was the worst songwriter. He attempted to write tunes, but they never panned out. 
Still, two Beatles songs credited to Richard Starkey ended up on Fab Four albums. "Don't Pass Me By" landed on The White Album. Ringo wrote the Abbey Road tune "Octopus's Garden" during his impromptu and short-lived resignation from the Fab Four. The former song sat between the Paul-penned tunes "Why Don't We Do It in the Road?" and "Rocky Raccoon." The latter is one Ringo wants to be played at his funeral.
The drummer struggled with the vocals on "If You've Got Trouble," and the Fab Four killed it from the Help! soundtrack. He wasn't the best songwriter, but it's not Ringo Starr's fault that particular Beatles song remained hidden for 30 years.
For more on the entertainment world and exclusive interviews, subscribe to Showbiz Cheat Sheet's YouTube channel.