Rita Moreno Dated Elvis to Piss Off This A-List Star — And It Worked
Rita Moreno is an iconic actor, singer, and dancer, known to many fans as the star of the film version of West Side Story. Most recently, Moreno has starred as Lydia in the popular remake of the '70s TV show One Day at a Time, earning a multitude of fans for her sassy, outspoken persona. Moreno has been very open with journalists and fans regarding her legendary personal life. In a recent interview with Esquire, the talented star opened up about her romance with one big A-list star and the humorous reason why she dated rocker, Elvis Presley. 
What is Rita Moreno well known for?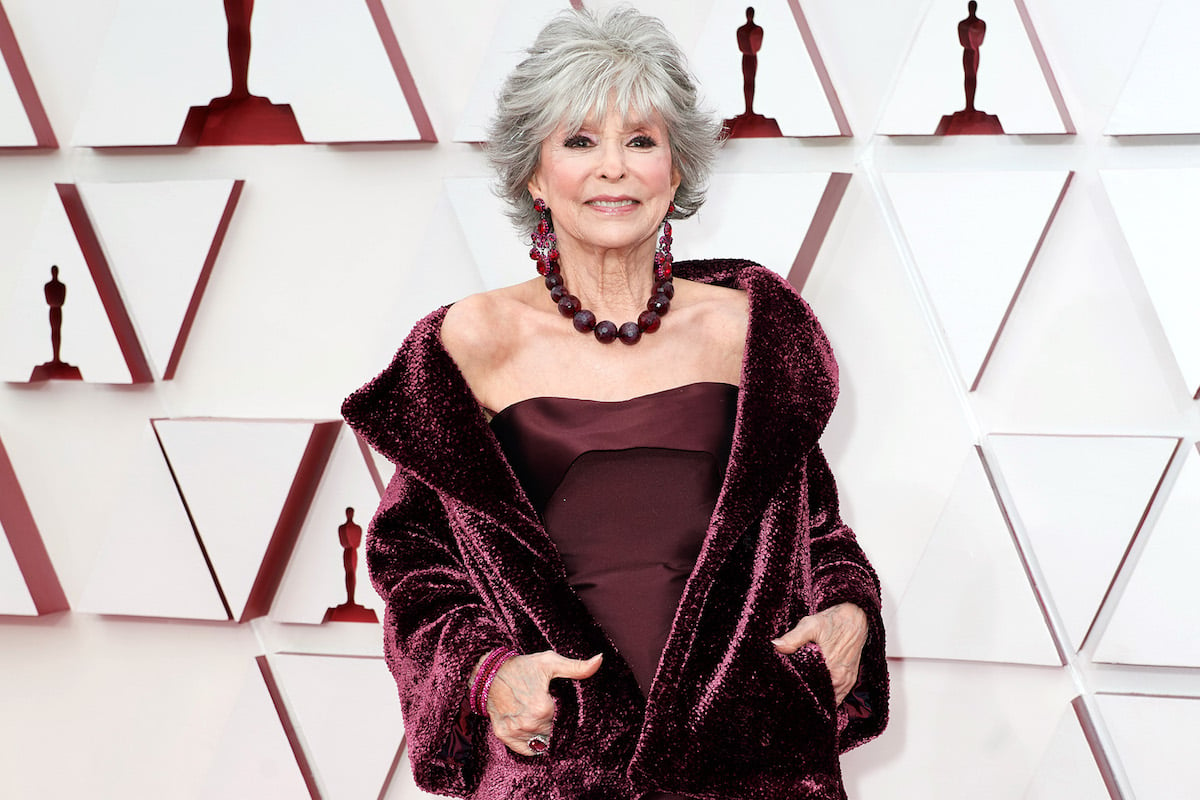 RELATED: 'One Day at a Time' Star Rita Moreno Says 'My Agent Raped Me'
Moreno first entered the entertainment business when she was a teenager, acting in Broadway productions and impressing many with her singing and acting skills. In the '50s, Moreno made headlines for her work in a variety of big-budget movies, including Singin' in the Rain, West Side Story, and The King and I.
Eventually, Moreno became one of the few American artists to have won all four major entertainment awards, including an Emmy, a Grammy, an Oscar, and a Tony Award.
In 2017, Moreno took on another iconic role, that of Lydia in the series One Day at a Time, helmed by original show creator Norman Lear. Moreno earned legions of new fans thanks to her work in the series, introducing an entirely new generation to her legendary body of work.
As popular as Moreno's film and stage career has been, her personal life has also drawn a great deal of attention.
Rita Moreno was involved in a torrid romance with Marlon Brando
RELATED: What Has Lydia From 'One Day at a Time' Been In?
While Moreno was married to her husband, Leonard Gordon, from 1965 until his death in 2010, it was her romance with the iconic actor Marlon Brando that has made waves with fans. Moreno and Brando first met on the set of the 1954 movie Désirée. Moreno was only 22 years old at the time, but immediately felt a strong attraction to the much-older actor, and they reportedly embarked on a torrid affair.
Their dating relationship lasted for nearly a decade, but it wasn't all good. In fact, as Moreno detailed in her memoir, Brando could be notoriously hot-tempered and toxic to be around.
"He broke my heart and came close to crushing my very spirit with his physical infidelities and, worse, with his emotional betrayals," she wrote.
Moreno detailed how Brando cheated on her again and again, but she still couldn't bring herself to fully break things off with him — even if she realized how toxic their romance had become. 
Why did Rita Moreno briefly date Elvis Presley?
RELATED: Marlon Brando Was 'The Daddy I Couldn't Please' Says Ex Rita Moreno
In an April 2021 interview with Esquire, Moreno opened up about her relationship with Marlon Brando, admitting that she once dated Elvis Presley to try and get back at Brando for his infidelities.
She shared: "I was trying to get even with Marlon Brando. I found somebody's lingerie in Marlon's house one time, and I was just devastated. Literally the next day, I get a phone call. 'Rita Moreno? This is Colonel Parker. My client spotted you in the 20th Century Fox commissary. He'd like very much to meet you.'…so we dated a couple times."
Moreno said that once Brando found out she and Presley had gone out, he was furious. She recalls: "Mind you, he's the one who had the ladies' underwear at his house. He got insanely angry. He was throwing chairs, and it was wonderful."
As to Presley himself, Moreno described him as a "sweet country boy," who was nice but "boring." Their relationship ended up never taking off, and Moreno returned to her on-again, off-again romance with Brando for several more years.