'Riverdale': How Including That Classic Love Triangle Will Change the Show in Season 4
'Riverdale' Season 4 will feature the comics' classic love triangle, but which couples will survive long-term?
Riverdale may be based on Archie Comics, but despite its source material, The CW series also bears many of the hallmarks of a teen soap opera. Archie (KJ Apa), Jughead (Cole Sprouse), Betty (Lili Reinhart) and Veronica (Camila Mendes) continually find themselves wrapped up in one outlandish plot after another, including gang wars, parental drama and even a serial killer or two.
However, one aspect of the series that has remained firmly in the background thus far has been the tumultuous romantic lives of the four lead characters. It looks like that's all about to change in season 4. In a recent interview with Us Weekly, show creator Roberto Aguirre-Sacasa teased how the classic love triangle between Archie, Betty and Veronica will play into Riverdale Season 4.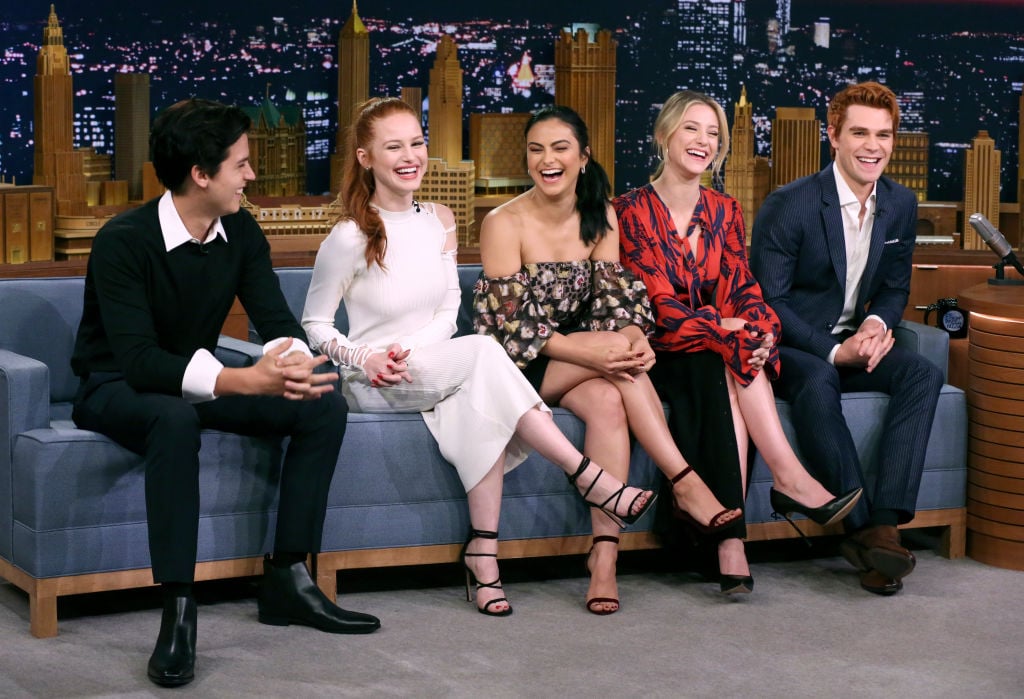 Taking 'Riverdale' back to Archie Comics
After last season's dual focus on the Gargoyle King and the Farm, Aguirre-Sacasa said that season 4 aims to return to some fundamental elements of the characters' enduring appeal.
"The core of Archie Comics has always been two things. One is that they've always been in high school, and two is that there's always been a love triangle," he said. "Strangely, on Riverdale, we haven't played a lot of high school stuff, and we have not played the classic love triangle as much. So my hope is that this season we'll be playing a lot more of the high school stuff and more of the love triangle stuff."
To Aguirre-Sacasa's point, season 4 is set during the group's senior year and is essentially the show's last chance to dig into the high school side of things. Relationship-wise, Riverdale has mostly kept the Archie/Veronica and Betty/Jughead shippers happy, with rare exceptions. Most notably, Veronica's short-lived relationship with Reggie (Charles Melton) introduced a bit of romantic chaos amid the show's more sinister plotlines.
Betty and Veronica's ominous flash-forward
Remember that flash-forward at the end of season 3? According to Aguirre-Sacasa, this too might play into the upcoming love triangle. In the final moments of season 3, Betty and Veronica burned their clothes and Jughead's hat, vowing never to speak again. Whatever went down between the two, it appears to be serious enough to cause lasting damage to their friendship.
"I guess the one thing that could break up the foursome, well, besides death, is something romantic happening," Aguirre-Sacasa said. "They're great friends. They've been through stuff no other friends have been through."
Could this flash-forward be some kind of red herring? Perhaps. But, by framing season 4 with this ominous moment — which Aguirre-Sacasa said takes place roughly midway through the season — Riverdale creates character-based suspense that doesn't rely on external forces but the bond between Archie and his friends. For a show that has seen its stakes dramatically rise season by season, that could present a refreshing change of pace.
A future for Barchie?
Of course, that all depends on how the love triangle is executed. So far, Riverdale has been so committed to its Archie/Veronica and Betty/Jughead couplings — also known as Varchie and Bughead, respectively — that it's a bit hard to swallow that the show would abandon those love stories entirely.
Considering the history between Archie and Betty, it's believable that sparks would eventually fly between the two of them, especially now that his father's death has left Archie in a vulnerable emotional state. Yet, if Riverdale doesn't handle this story delicately, the show could wind up alienating some of its most devoted fans.
Most likely, Varchie and Bughead are very much still endgame, and we can't blame Riverdale for wanting to play the love triangle card so famously employed by shows like Dawson's Creek over the years. In fact, it's admirable that Aguirre-Sacasa and his team have waited this long to lean into it. Let's just hope that the potential for an Archie/Betty relationship doesn't betray the characters' arcs or the long-term viability of the show itself.