What Are Some of RM's Favorite Songs? Here Are Music Recommendations From the BTS Member
From BTS' album, 'Map of the Soul: 7' to Lil Nas X's 'Old Town Road,' here are a few of RM's favorite songs, recommended to fans by the BTS member.
When he's not writing songs for BTS or hanging out with his dog, Rapmon, Kim Namjoon has a few artists he enjoys listening to. Thanks to a playlist from Spotify, fans learned exactly which hit songs caught the attention of this K-pop idol. Here are a few of RM's current favorite songs.
'Old Town Road' by Lil Nas X
It's no surprise that RM (and the other BTS members) tweeted about this song pretty frequently. Lil Nas X featured the rapper on a remix of the song, titled "Seoul Town Road," back in 2019. Within a matter of weeks, the song earned over 40 million plays on Spotify.
Surely, "Old Town Road" holds some sentimental value for RM, as well. The BTS members became the first K-pop group to perform at the Grammy Awards with this song, dancing and singing alongside Lil Nas X. (The remix with Billy Ray Cyrus has over 970 million plays on Spotify.)
'like i need u' by keshi
BTS fans learned that this vibey song was one of RM's recommendations during August 2019. The K-pop idol tweeted about it along with a few "facepalm" emojis. Within a matter of days, the tweet earned over a million likes.
'Run with Me' by sunwoojunga
Late in 2019, RM took to the social media platform, Weverse, to share another one of the songs he was listening to. This one was a bit slower and sad, leaving some fans thinking he related to the lyrics.
"My heart aches for him when he wanted to go fishing but stayed behind because he has work to do or finish.his body is in Bon Voyage mode and yet he has to work and when Jimin comforting him the night before he looks kinda sad even though he said it's fine," one Twitter user noted.
'Heart' by John Eun
During May 2020, the K-pop idol shared another one of his favorite songs on social media. This wouldn't be the first time RM shared a song by John Eun, though, as he previously shared a screenshot of the song "walkin." Once RM recommended this new song on Weverse, John Eun took to Instagram, republishing the screenshot and sharing his love for the artist.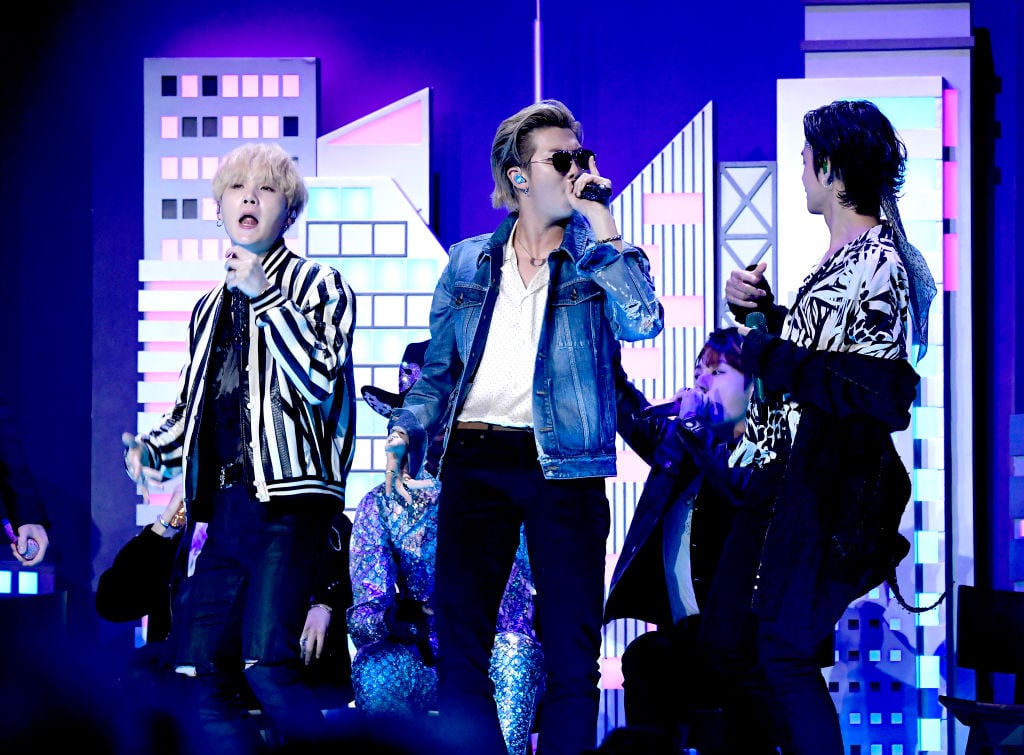 'We Are Bulletproof: The Eternal,' 'On feat. Sia,' and '00:00 (Zero O'Clock)' off of 'Map of the Soul: 7'
To celebrate the release of their latest album, each of the BTS members shared their favorite songs off of Map of the Soul: 7. RM's Spotify playlist included "We Are Bulletproof: The Eternal," "On feat. Sia," and the song performed by the vocal line, "00:00 (Zero O'Clock.)"
Some of his other favorite BTS songs include, "Butterfly," "Spring Day," "DNA," and "Boy With Luv feat. Halsey." These BTS songs are available on Spotify, as well as most major streaming platforms.