Rob Delaney's Wife Leah Stood by Him Through Addiction and the Death of Their Son
Rob Delaney has been making people laugh for years, but it doesn't mean his life is always funny. The actor, writer, and comedian has been through a lot of pain, from the death of his two-year-old son, Henry, to his own battle with alcoholism, but he had a sound support system at home. Delaney credits his wife Leah for keeping him on the straight and narrow despite all the internal struggles that came from such a complicated, eventful life. 
Delaney found success as an actor thanks to his Twitter popularity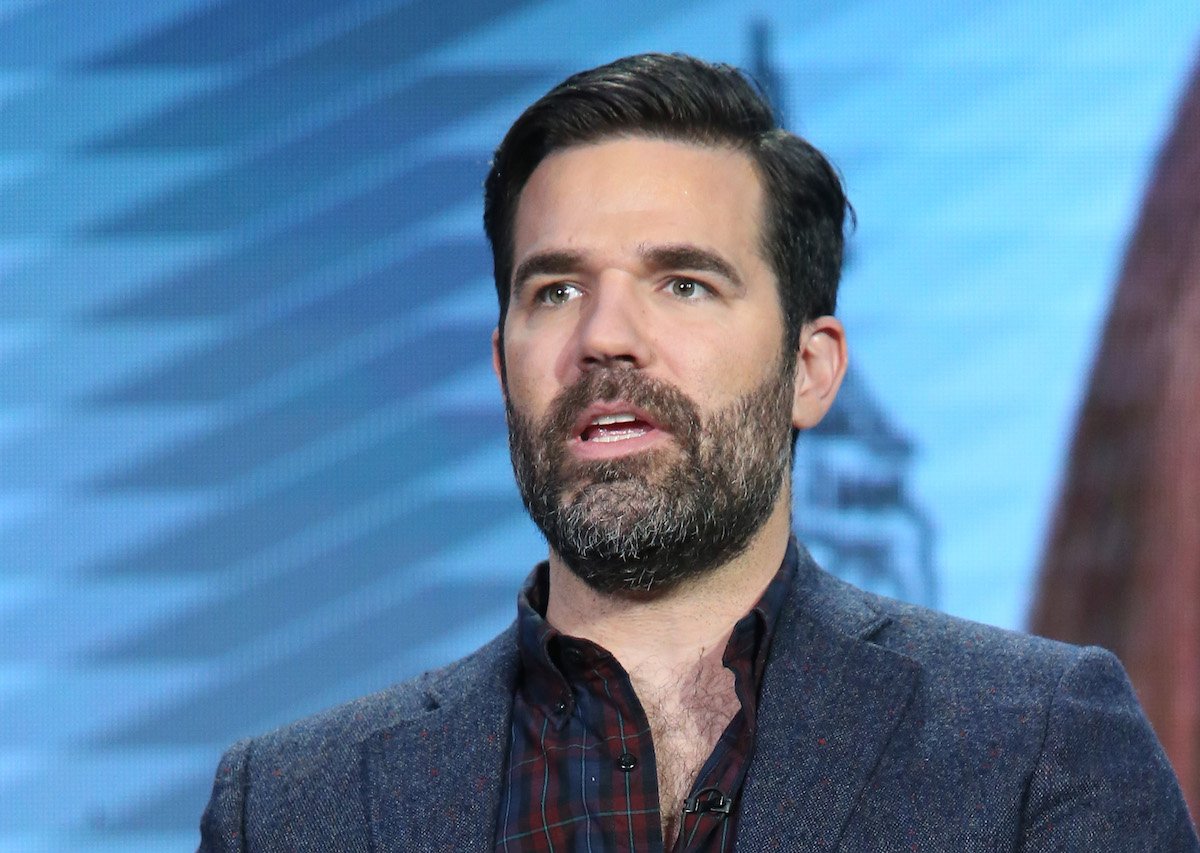 Delaney was an early Twitter celebrity when he joined the website in 2009. A theater major back in his college days, Delaney never found a place to display his skills correctly. Luckily for him, Twitter offered a platform where he could share his abstract thoughts, and before long, he had millions of followers who ate his every word. 
United Talent notes how Delaney parlayed Twitter fame into a successful career as an actor, comedian, writer, and social commentator. With his outspoken political views and no-holds-barred ability to get to the bottom of the most significant issues plaguing society, Delaney became a star of the screen with his hit show, Catastrophe, showcasing his skills both in front of the camera and behind the scenes. This led to more work in major films like Deadpool 2. In July 2021, fans were also delighted by Delaney's hosting gig in Netflix's Sexy Beasts.
It hasn't been an easy ride for Delaney, but he has a hero who keeps his family afloat in his wife Leah. Without her, he claims that he would never have overcome the hardships that life threw his way. 
Rob Delaney's wife has been there for him through trying times
Delaney is a long-recovering alcoholic who wrote about his battles on Medium when he lost his son in 2018. He managed to keep his sobriety and family life afloat despite the many hardships that could, understandably, derail his personal life. He met Leah while the two were doing charity work around New England with the sick and needy. According to Delaney, Leah, a teacher, stood by his side as he battled the same alcoholism that caused a near-fatal car accident and fueled his lifelong battle with depression. 
The couple welcomed a fourth son in 2020, and despite the tragedy of using a child as young as Henry, Delaney keeps the details close to his heart. They chose early on to keep their family life away from the spotlight, and while they revealed Henry's name after his untimely death, their other sons remain largely anonymous. 
Delaney on Leah: 'No one else before or since ever violently kidnapped my heart'
Delaney opened up about how his wife kept him afloat during his most challenging moments In a 2015 interview with The Guardian. "My wife [is the greatest love of my life]. She's a teacher, and we met volunteering with disabled people in Massachusetts. Even though there is drudgery and pain and horror in our marriage — we've been together for 11 years — no one else before or since ever violently kidnapped my heart, put it in a dirty bag, and brought it to their lair to own forever."
The strength of their relationship helped them guide their grief during their lowest moments, according to Delaney. "I was spending time with people who were disabled, dying, often people who were much less materially fortunate than myself. Having a foot in these two worlds gave me a perspective on just how unequal things are," he told The Guardian following Henry's death. 
Rob Delaney and his wife know how to get the best out of each other. They've already been through the wringer and come out relatively unscathed, considering all that worked against them. Combining a high-profile job with the candid nature of family, Rob and Leah have a seemingly healthy relationship where openness, honesty, and the ability to lean on each other helped get them where they are today. With three sons at home and a lifetime of memories of Henry, they're not letting daddy's fame get in the way of having a healthy family life at home.