Rob Lowe Credits This Ad-Libbed Line for His Permanent Spot on 'Parks and Recreation'
Though Rob Lowe didn't show up until the second season of Parks and Recreation, he became a staple in the series until the end of the sixth season. Lowe's portrayal of the overly positive, health-conscious, Chris Traeger, brought new life to a show, which it desperately needed. But, when Lowe first accepted his role on Parks and Recreation, he had no idea it would last so long. In fact, Lowe was originally only booked for six episodes of the show.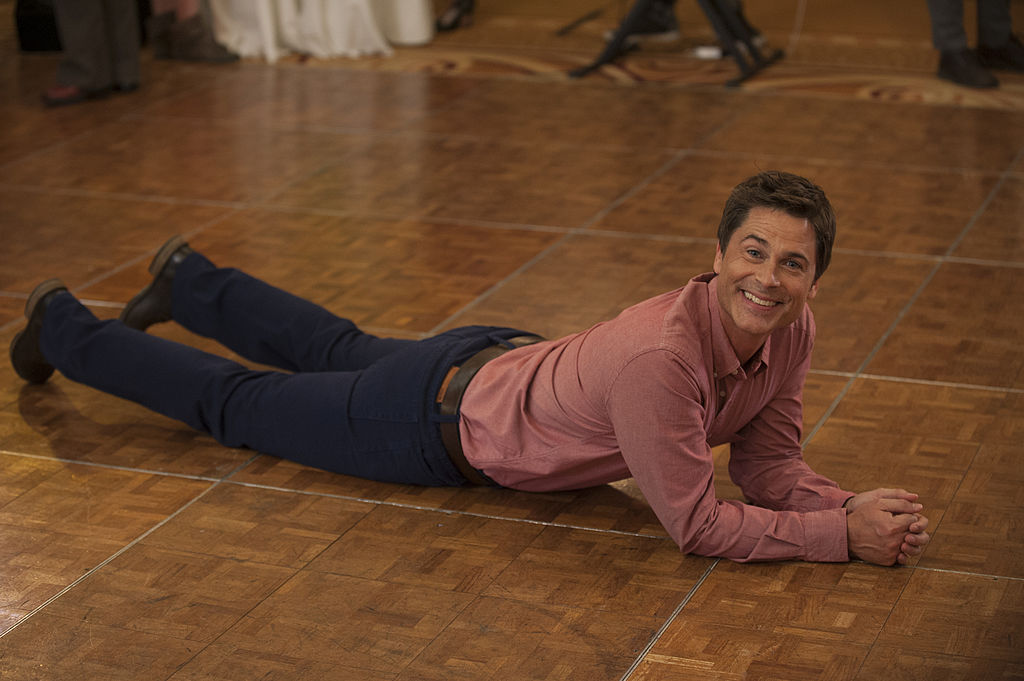 Lowe's journey to joining the cast of Parks and Recreation actually started with his favorite show, 30 Rock. In an interview with Vanity Fair, Lowe recalled that NBC was trying to woo him and there were alleged talks about him joining the cast of 30 Rock as an archnemesis to Alec Baldwin's character. Retrospectively, Lowe admitted that those conversations likely weren't serious. But, once NBC had Lowe's attention, they began to consider him for Parks and Recreation.
Rob Lowe on his journey to 'Parks and Recreation'
Lowe also recalled meeting one of the creators of Parks and Recreation, Mike Schur for the first time. Though they hit it off right off the back, both Schur and Lowe were unsure how Lowe would fit into the world of Pawnee. So, instead of permanently adding Lowe to the cast, they opted for a six-episode trial run. They wanted to see if Chris Traeger's character had staying power and if Lowe and the show had synergy.
According to Lowe, when he started filming Parks and Recreation, things went off without a hitch and he really wanted things to work out. Though he was well-liked by the cast and crew, he felt that the deciding moment came in the fourth episode he shot, "Flu Season." In the episode, Chris, Leslie, and April all fall victim to the flu. As someone who is extremely healthy, Chris's reaction to the flu is the most dramatic and he has some particularly funny moments in the episode.
A brilliantly improvised line
But, there's one specific line in the "Flu Season" episode that Lowe credits for making him a series regular on Parks and Recreation. Funnily enough, it wasn't written into the script, but rather something that Lowe improvised. "I remember the day that it happened. We were doing an episode that's called the Flu episode where he gets very, very sick and he looks in the mirror and says, 'Stop pooping.' And that's an ad-lib. And when I looked in the mirror and ad-libbed that, I think Mike Schur was like, 'We're keepin' him,'" Lowe shared.
After Schur decided to make Lowe a permanent member of the cast, they focused in on Chris's character development. Though Chris went through highs and lows throughout the series, everything about his character actually stemmed from his overenthusiasm for life. That eternal optimism is actually a trait that Lowe himself possesses. But, the Parks and Recreation writers heightened it to an extreme for comedic purposes.
Lowe on Chris Traeger's character development
"Everybody on the show is a steroid version of who they actually are. I do have a little bit of energy and I am kind of optimistic and I am kind of enthusiastic and they just mainlined it. So much so that seasons into playing Chris, I was like, 'I wonder if there's just other layers to Chris?' 'Nope, there's none.' That Chris could be excited about the most mundane, boring thing, it just was a well that never ran dry," Lowe confessed. Chris's unyielding optimism certainly did bring new humor to Parks and Recreation. We certainly think it was the best move for him to join the show permanently.