Robert Downey Jr. and His Oldest Son Have Something Heartbreaking in Common
As celebrated as Robert Downey Jr. is in his trajectory of going from addict to world-renowned superstar, he had to contend with the problem of history repeating. This occurred within his own family, or more specifically, his oldest son.
Not much coverage occurs with Downey's kids, and that should always be off-limits. However, the similar trajectories of Downey and his son are worth exploring. It gives rise to the theories of how addiction might work in individuals. The good news, though, is this story had a happy ending, just like Downey.
Out of three kids (two sons and a young daughter), Indio Falconer Downey is the focus here since following in his dad's footsteps.
When was Indio Falconer Downey born?
Indio was born on September 7, 1993, in L.A. to Robert Downey, Jr. and his former wife, Deborah Falconer. This was the only son Downey and Falconer had together before divorcing in 2004 in the middle of former's drug battles.
Most interesting is that out of all of Downey's children, so far, Indio was the only one who dabbled in acting. As Indio grew older, he also strongly resembled his dad. One can easily see this if looking at a recent profile pic on his IMDb account.
His first acting credit was Kiss Kiss Bang Bang (with his dad) at the age of 9 in 2005. Unfortunately, this turned out to be his only acting role so far, other than contributing some music for Jackie in 2013. Since then, he focuses on his own rock band, The Dose.
Being the first son of Robert Downey, Jr. is already a Herculean responsibility to carry. As a heartbreaking aside, Indio temporarily ended up on the same addiction path as his father.
Completing a drug program like his dad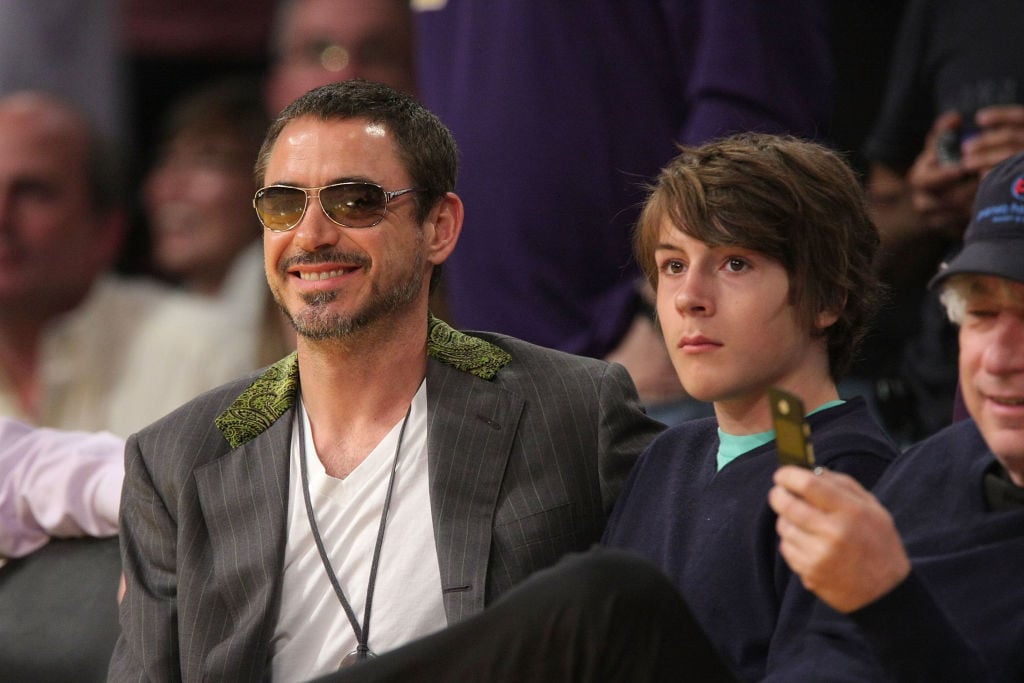 At the height of his dad's resurgence as an actor in the MCU, Indio was arrested in 2014 in West Hollywood for possession of cocaine, according to E! News. Having a father who already conquered addiction likely helped the younger Downey get back on track. Shortly after being arrested, Indio agreed to a drug rehab program for 18 months. A judge dismissed his case in 2016 after Indio took the drug program without fallbacks.
No doubt having his dad in his corner also helped. Downey said at the time of the initial arrest: "Unfortunately, there's a genetic component to addiction and Indio has likely inherited it. Also, there is a lot of family support and understanding, and we're all determined to rally behind him and help him become the man he's capable of being."
Yes, Downey made an astute point there about addiction possibly being transferred through DNA. At the same time, a good point can be made a strong fatherly figure to stay sober that makes all the difference.
What will Indio Falconer Downey do next?
Indio seems to be fully recovered from addiction and never fell off the wagon. No doubt being in a rock band touring the country only makes this more of a challenge. Perhaps Downey's other kids will end up as actors instead. His other son (Exton Elias Downey) is only eight years old now. Downey's young daughter, Avri Roel Downey, might be the one who ultimately rivals her dad when older.
Thanks to Downey starting a family production company (Team Downey), the possibilities will probably be tempting for the Downey kids to go into show business. The lessons of their dad and Indio may prove enough to keep them on the straight and narrow. Based on Downey's past quote about his son above, though, no doubt the worry will always be there. Downey being a strong pillar in the family will help quell it faster.