Robert Downey Jr. Convinced Mark Ruffalo to Join the MCU In True 'Iron Man Fashion'
Robert Downey Jr. played a huge part in bringing Mark Ruffalo into the Marvel Cinematic Universe. Ruffalo was introduced as Bruce Banner, a.k.a. The Hulk, back in 2012's The Avengers. The actor went on to reprise the role in most of Marvel's big crossovers, but there was a time when Ruffalo was hesitant to accept the part — until Downey stepped in and convinced him in "true Iron Man fashion."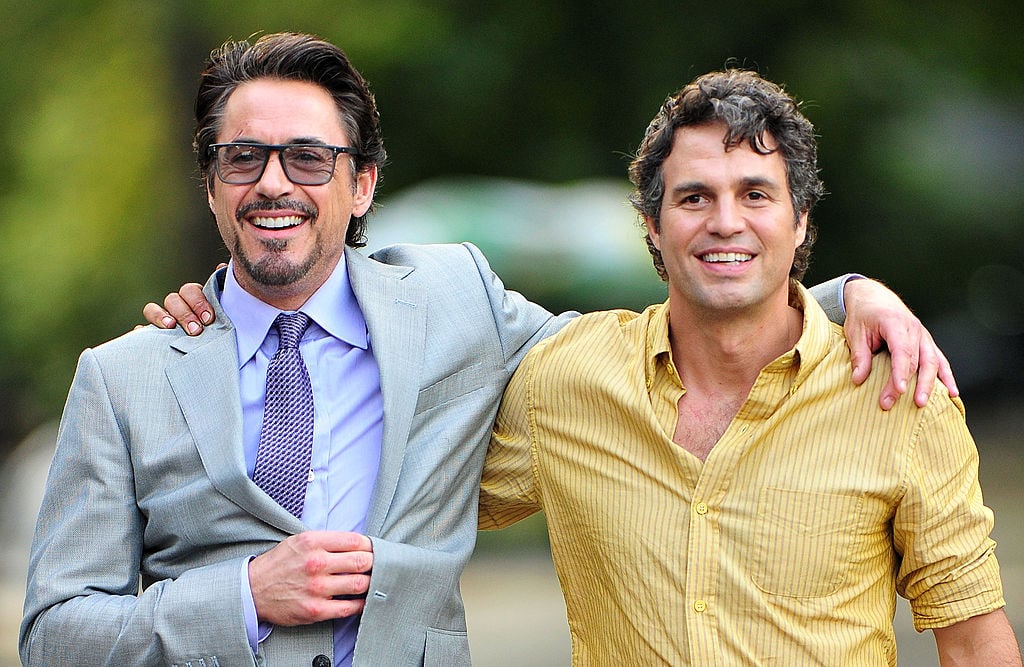 Mark Ruffalo almost turned down the chance to play The Hulk
Downey and Ruffalo developed a friendship after working together on David Fincher's movie Zodiac. When Marvel reached out to Ruffalo about playing The Hulk, however, he was unsure that he was the right for the part.
Ruffalo opened up about the casting process during an interview on The Tonight Show with Jimmy Fallon. The actor admitted that he was scared to take on such an iconic role, mostly because other actors had done such a good job with it.
"I was scared, I didn't know what I could add to what I already thought had been done so well before me," Ruffalo explained. "I'd only been doing indie movies up to that point, so I was like, 'I don't know if I'm the right person for this."
Ruffalo would go on to accept the role and make his debut in The Avengers. He went on to reprise the role in Avengers: Age of Ultron, Thor: Ragnarok, Avengers: Infinity War, and Avengers: Endgame.
Although it is hard to imagine anyone else playing The Hulk from here on out, Ruffalo may have turned down the role if it had not been for Downey's intervention.
Robert Downey Jr. convinced Mark Ruffalo to join the MCU
In the same interview with Fallon, Ruffalo revealed that director Joss Whedon assured him that he was "the right person" to play The Hulk in The Avengers. Ruffalo was still on the fence, however, until he got a call from his good friend, Downey, who convinced him to join the MCU in "true Iron Man fashion."
"And then I got a call from Downey, it must've made it to him that I was hemming and hawing, and he just simply said: 'Ruffalo, let's go. We got this,' in true Iron Man fashion," he shared. "And then after that, I was like, 'I guess I have to do it.'"
With Endgame becoming the highest-grossing movie of all time, Ruffalo's decision to join the MCU has paid huge dividends for the actor.
Downey is no longer a part of the MCU after Tony gave his life in Endgame, but Ruffalo recently opened up about the chances of him reprising his role as The Hulk in a future Marvel film.
Is Ruffalo interested in playing The Hulk again?
Ruffalo may have been hesitant to accept a part in the MCU, but the actor is very interested in reprising the role in a future project. According to Collider, Ruffalo recently told fans that there is still an opportunity to play The Hulk, he just has to ink a deal with Marvel to make it happen.
The actor, who is currently promoting his new show on HBO, I Know This Much Is True, went on to say that he is in talks to have a cameo in the upcoming series, She-Hulk, which is still under development.
"There's some talk of having Banner/Hulk show up in [the Disney Plus series] She-Hulk. If we come up with something good, that would be really interesting. Right now, that's about it. That's all there is on the table," Ruffalo shared.
Ruffalo also addressed the reports that his version of The Hulk will get his own film. The actor admitted that a solo movie "could be really interesting" because they have never explored other elements of his life, especially when it comes to what has happened in the gaps between films.
Marvel has not said anything about a potential standalone movie for The Hulk. Universal still owns the movie rights to the character, so Disney would have to ink a deal with that studio before moving forward with a solo project.
Is Robert Downey Jr. returning to the MCU as well?
There is a good chance that Ruffalo will reprise the role of The Hulk in a future movie or series. Downey's future in the MCU, however, is less certain.
The actor is set to appear one last time as Tony Stark in Scarlett Johansson's upcoming Black Widow. But after that, the actor is expected to leave the MCU for good.
Marvel fans would love to see Downey return in a big way, and Endgame directors Joe and Anthony Russo have already said that they would only bring him back if there was a "super compelling argument" to do so.
Downey has been very vague about his plans to return to the MCU, though he does seem open to the idea if the story is right. Luckily, there are several ways in which Marvel could bring him back into the fold.
At the top of the list is having Downey voice the AI in the upcoming series, Iron Heart. There is also a chance that Robert Downey Jr. lends his voice to an episode of What If?, an animated series that explores alternative storylines in the MCU.