Robert Downey Jr. Explains Why He 'Adores' Marvel Co-Star Chris Evans
Avengers: Endgame marked the end of Robert Downey Jr.'s 11-year run as Tony Stark in the Marvel Cinematic Universe. For fans of the character, it's a heavy loss we're still not sure how the MCU will recover from. But for Downey fans, it's a brave new world ahead.
Sure, maybe Dolittle isn't the follow-up we were hoping for. But Downey is a two-time Oscar-nominated actor for a reason. He has a ton of range on-screen, and now he has a chance to exercise some different creative muscles.
Still, leaving the MCU was no doubt a bittersweet decision for Downey, especially considering the friendships he made along the way. In particular, Downey holds the MCU's Captain America himself, Chris Evans, in high esteem.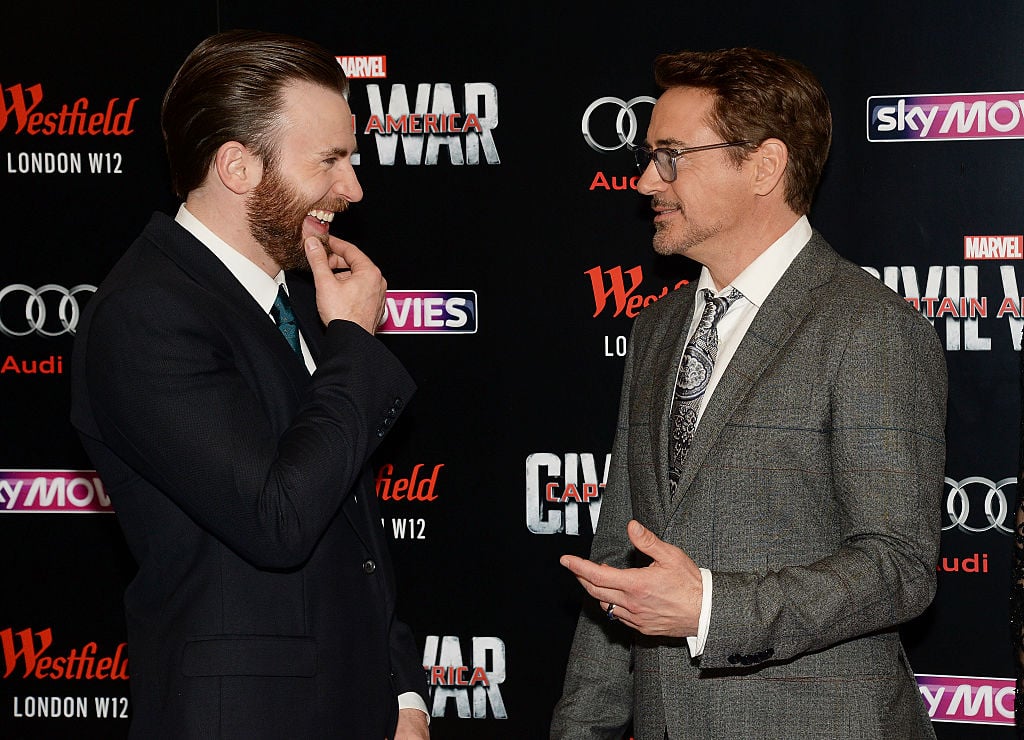 The two leads of the Marvel Cinematic Universe
From The Avengers onward, Marvel Studios made it clear that Downey's Tony Stark and Evans' Steve Rogers were co-leads of the MCU. Together, they lead Earth's Mightiest Heroes in all but one of the four Avengers films. And it's their falling-out in Captain America: Civil War which proves instrumental in Thanos' success at the end of Avengers: Infinity War.
Plus, Avengers: Endgame provides a definitive ending to both Iron Man's and Captain America's stories. If nothing else, this a testament to how much they've dominated the MCU's first three phases. With them gone, it feels like a seismic shift not only within the MCU itself but for fans who've been watching Tony and Steve bicker and fight alongside each other for so long.
Robert Downey Jr.'s undying love for Chris Evans
Their character relationships in the MCU are already epic enough. Now Downey recently discussed on The Joe Rogan Experience podcast how important those connections are on a film set. Moreover, he attempts to explain why he and Evans naturally hit it off.
I adore Chris Evans. I can't even tell you why. He's a Boston guy. He's technically such a brilliant actor. But he also doesn't take himself seriously. He's flaky, but he's the first guy you'd want to have your back if something went down. And yet we're different enough where I feel like by being who we are and both having those characters we were able to — I thought [Captain America: Civil War] was a special moment in the arc of the Marvel films, about turning one against the other, what it meant.
Downey and Evans might share a special bond, but the Iron Man star believes this connection extends to just about everyone within the MCU cast.
"Sometimes you just get lucky," he told Rogan. "As a matter of fact, the whole Marvel universe — possibly without exception — just happens to be a really well-curated group of souls."
Could Iron Man or Captain America return?
Given this emotional connection with his MCU family, one might think Downey's return is inevitable. But the actor feels a lot more conflicted about coming back to the iconic role. In just about every interview, Downey speaks about his time in the MCU with a sense of finality. In fact, he and Evans both do.
Part of their hesitation is likely out of respect for their characters' stories. Avengers: Endgame served them both incredibly well, and neither actor wants to jeopardize the integrity of that film. But at the same time, comic books tend to play fast and loose when it comes to death. So, if they're interested, Marvel could find a way to reintroduce either hero.
So there's always the chance years down the line Iron Man and/or Captain America might return. In the meantime, we might get a cameo here or there — on the animated Disney+ series What If…? or in Black Widow, for instance — but Downey and Evans' time as leaders of the MCU is behind them. Let's just hope their friendship remains just as bright off-screen as it has so far.