Here's Why Robert Downey Jr. Left Jars of Urine Around the Set of 'Zodiac'
Robert Downey Jr. did not like the grueling filming schedule for David Fincher's 'Zodiac' so he messed with the director.
During the late 1990s and into the 2000s, Robert Downey Jr. was arrested multiple times. He also spent time in prison. However, after his last arrest in 2001, Downey Jr. began rebuilding his career. One of the first celebrities to have faith in him was Mel Gibson, who paid for Downey Jr's insurance bond for 2003's The Singing Detective. Another person who gave him a chance was David Fincher, who cast Downey Jr. in his 2007 film Zodiac.
Starring in the thriller proved to be one of the hardest things Downey Jr.'s ever done in his career. But, at the time, beggars couldn't be choosers, and Downey Jr. had to find coping mechanisms.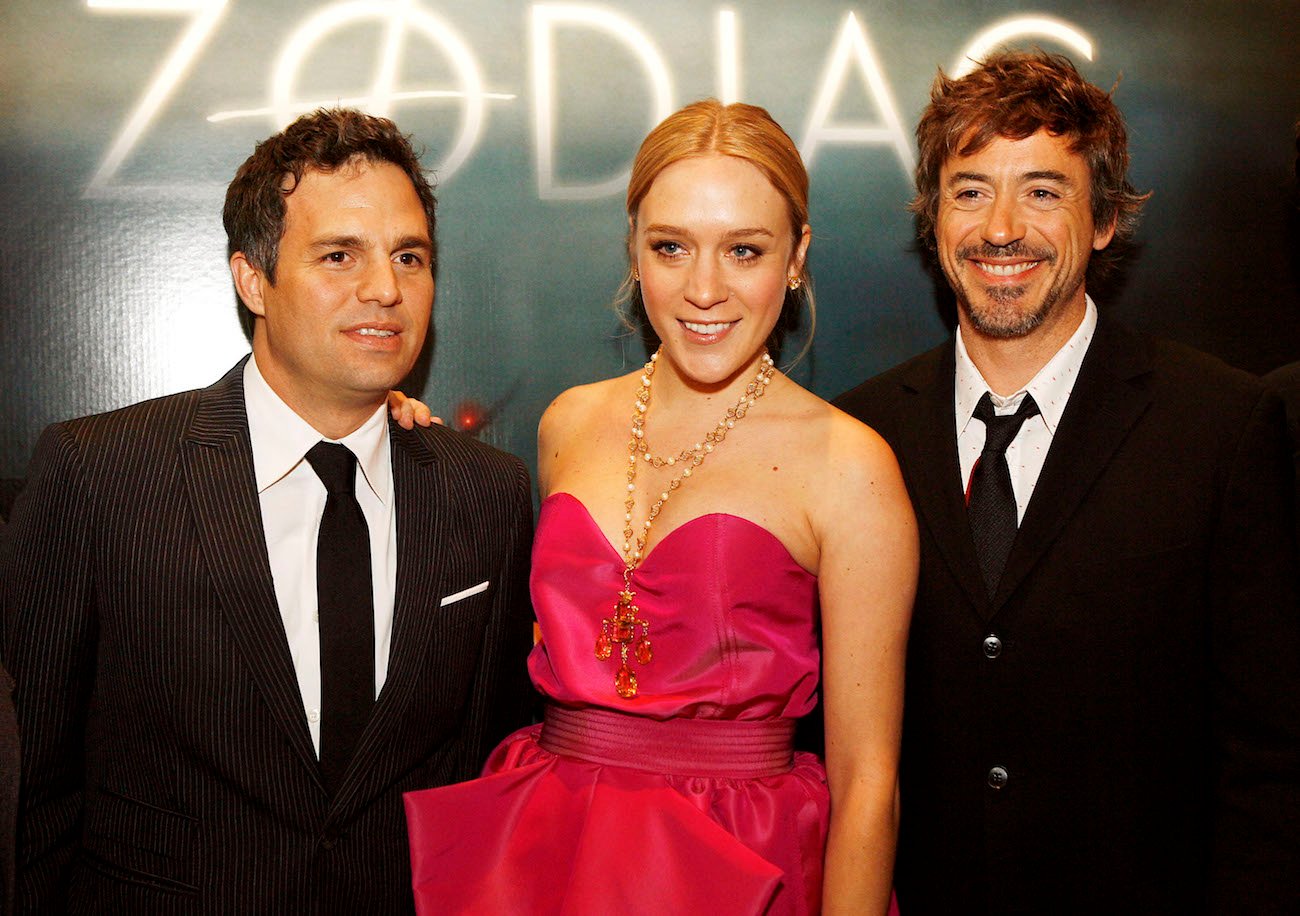 What is 'Zodiac' about?
If you love true-crime drama, then Fincher's Zodiac is the film for you. Den of Greek calls it "a masterpiece" that keeps "haunting us all these years later," and in fact, it does because we still don't know who the Zodiac killer is.
The film's official synopsis read: "In the late 1960s and 1970s, fear grips the city of San Francisco as a serial killer called Zodiac stalks its residents. Investigators (Mark Ruffalo, Anthony Edwards) and reporters (Jake Gyllenhaal, Robert Downey Jr.) become obsessed with learning the killer's identity and bringing him to justice. Meanwhile, Zodiac claims victim after victim and taunts the authorities with cryptic messages, ciphers, and menacing phone calls."
Zodiac is by no means a fast-paced murder thriller. It's more of a tense, slow-burner, and "a finely detailed procedural." While Gyllenhaal's character, Robert Graysmith, gets obsessed and too wrapped up in it, Downey Jr's Paul Avery is more "dissolute." Still, it's one of Downey Jr.'s best films in the reinvigorated half of his career.
It's roles like this that made Jon Favreau want to champion for him and not accept no as an answer from Marvel about casting him as Iron Man. Plus, Zodiac allowed Downey Jr. to work with Mark Ruffalo for the first time.
Robert Downey Jr. and Jake Gyllenhaal had problems with David Fincher on 'Zodiac'
Zodiac required a lot of hard work and dedication from the director and the entire cast and crew. Because of how Fincher works, Fincher did not have a great relationship with his cast. Downey Jr., Ruffalo, and Gyllenhaal "endured multiple takes of 70 shots and beyond," the New York Times reported.
"Mr. Downey affectionately called him a disciplinarian, while Mr. Gyllenhaal, saying that as a director he 'paints with people,' added, 'It's tough to be a color,'" they wrote. Gyllenhaal said working on the film was hard because he came from a collaborative family, and Fincher wasn't like that.
"David knows what he wants, and he's very clear about what he wants, and he's very, very, very smart. But sometimes we'd do a lot of takes, and he'd turn, and he would say, because he had a computer there, 'Delete the last 10 takes.' And as an actor that's very hard to hear," Gyllenhaal explained.
To this, Fincher said, "When you go to your job, is it supposed to be fun, or are you supposed to get stuff done?" He added that he felt lucky to have the cast and was shocked by Gyllenhaal's reshoot comments. Downey Jr., on the other hand, explained that Fincher is "always the smartest guy in the room." But that's not all.
Robert Downey Jr. didn't have time to use the bathroom on 'Zodiac'
While Downey Jr. said he works with Fincher well enough, it's was not for the best reason. Continuing to The Times, he said, "Sometimes it's really hard because it might not feel collaborative, but ultimately filmmaking is a director's medium," he explained. "I just decided, aside from several times I wanted to garrote him, that I was going to give him what he wanted. I think I'm a perfect person to work for him, because I understand gulags."
According to actor Barry Livingston, Downey Jr. seemed to be the "most stressed" from Fincher's multiple takes. "He is a performer who thrives on spontaneity. Repetition can sometimes lead to stagnation for such quicksilver artists. After the 20th take (occasionally more), Downey would look at me and quietly roll his eyes from fatigue," Livingston wrote in his book The Importance of Being Ernie: From My Three Sons to Mad Men, a Hollywood Survivor Tells All.
However, Fincher's comments in Keanu Reeves' 2012 documentary Side by Side (per Esquire) can explain one of the biggest reasons the cast hated the number of takes. The shooting schedule was so grueling that it barely left the cast time to use the bathroom.
"Robert Downey actually came up to me and said, 'I can't work like this. I never get to go to my trailer," Fincher said. "I can never get my shit together. I'm on my feet 14 hours a day.' He actually left mason jars of urine on the set, like over in the corner. He'd pee and bring it back as a form of protest."
Whether or not the story is true, Downey Jr. and Gyllenhaal went through the wringer shooting Zodiac. But at least they got one of the best true crime dramas ever.