Robert Pattinson Had a Hilarious Reaction to Taylor Lautner Bulking up for 'New Moon'
There are plenty of characters that go through some sort of metamorphosis within The Twilight Saga. However, Jacob Black's transformation from teen to werewolf is one of the most important ones. What makes this transformation one of the most intense is that Taylor Lautner, the actor who portrayed Jake, actually had to go through a physical transformation alongside his character. Unlike his fellow castmates, Kristen Stewart and Robert Pattinson, he couldn't utilize film technology to look a certain way.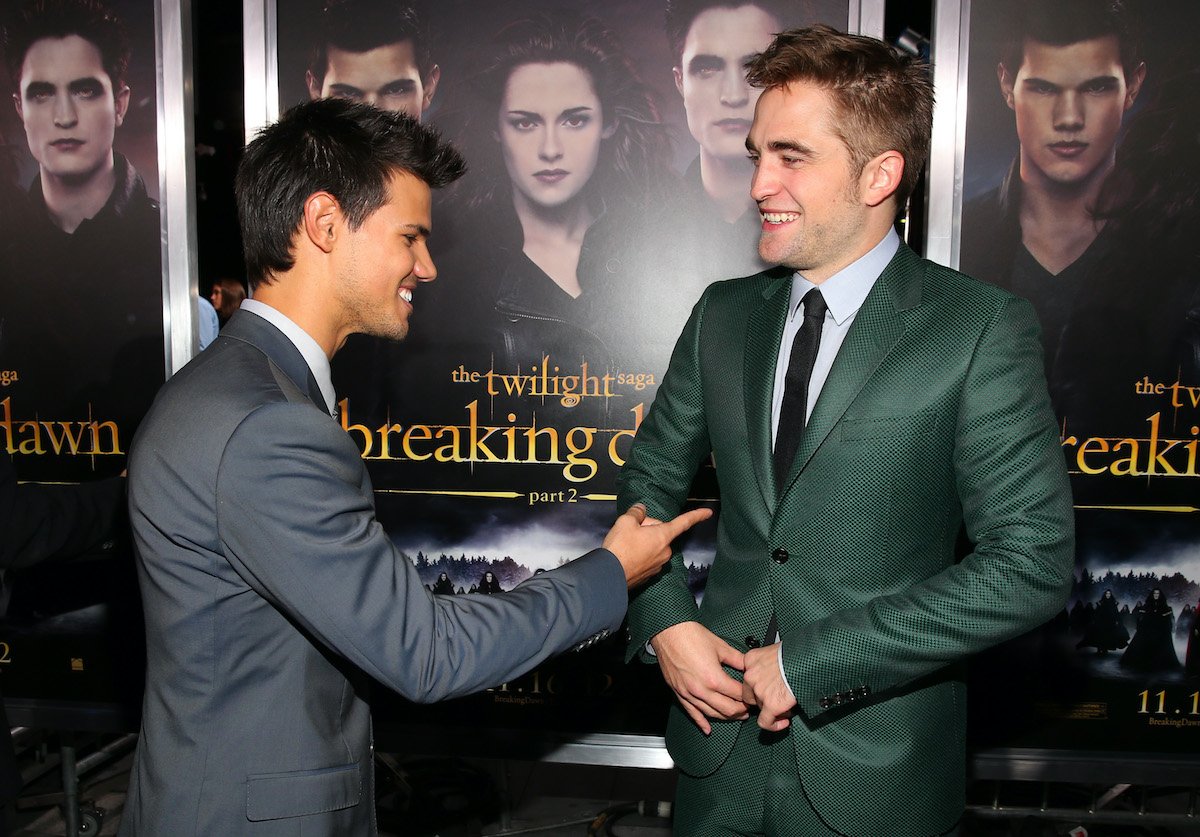 Though Lautner portrayed Jake in Twilight and fans seemed to enjoy his character, his part in the four subsequent movies was anything but guaranteed. In fact, there were talks of replacing Lautner with an older and buffer actor since Jake went through such an obvious physical change. But Lautner was determined to keep his lead role in the film franchise alongside Stewart and Pattinson and he committed to gaining the muscle he needed to hold on to his role.
Taylor Lautner gained 30 pounds of muscle for 'New Moon'
"As soon as I finished filming Twilight, I knew I had to get to work right away; there could be no waiting involved," Lautner recalled in a conversation with Interview Magazine. "The day I finished Twilight, I came home and started bulking up. For New Moon, I'm 30 pounds heavier than I was in Twilight."
The 'Twilight' star adopted a strict diet and exercise regiment
But how did Lautner manage to gain so much muscle in such a short period of time? The actor shared that he was in the gym for two hours a day at least five days a week. And while the fitness elements of bulking up were challenging, the New Moon actor shared that it was eating that he truly struggled with. In order to pack on and maintain his new weight, Lautner had to consume an exorbitant amount of calories. This meant that the actor was often forced to eat constantly, sometimes even consuming burger patties in brief moments of downtime in his busy schedule.
How did Robert Pattinson react to his fellow 'Twilight' castmate?
Clearly, Lautner's hard work paid off because he was able to keep his coveted role in The Twilight Saga. His physical transformation was shocking and impressive to fans of the Twilight movies. But fans weren't the only ones who were impressed. In an interview with MTV, Pattinson hilariously revealed that seeing Lautner's new physique made him immediately want to work on his own.
"I didn't see Taylor until just a little bit before we started shooting, so when he came back, I had the same reaction as everybody else, Pattinson shared. "I was like, 'Now I have to go to the gym.'" Pattinson joked. Continuing on, The Batman star shared that it was strange that he didn't really get to interact with Lautner that much in New Moon.
Pattinson and Lautner didn't share many scenes until 'Eclipse'
"It was weird because I hardly did any scenes with Taylor," Pattinson shared about Lautner. "We just did the scenes at the beginning, and the scenes at the end, and he had his entire storyline develop without me being around, which is interesting because I had no idea where his performance was going." Fortunately, the pair were able to interact a lot more during Eclipse and really flush out the dynamic between their characters. But whether or not Pattinson was actually inspired enough by Lautner's transformation to hit the gym himself is a question we still don't have an answer to.