Robert Pattinson Says Tom Holland Hilariously Wore a Spider-Man Suit Before Joining Marvel
Tom Holland may have manifested his role as Spider-Man, according to Robert Pattinson, who worked with him on the set of 'The Lost City of Z.'
Robert Pattinson and Tom Holland both know what it's like to play two of the most popular superheroes in the world. Robert Pattinson will make his debut as Batman in The Batman, and Tom Holland has played Spider-Man in the Marvel Cinematic Universe since 2016. Although they've found success in their respective superhero films, the two actors have worked together before. And Pattinson has a hilarious story about Holland and a Spider-Man suit.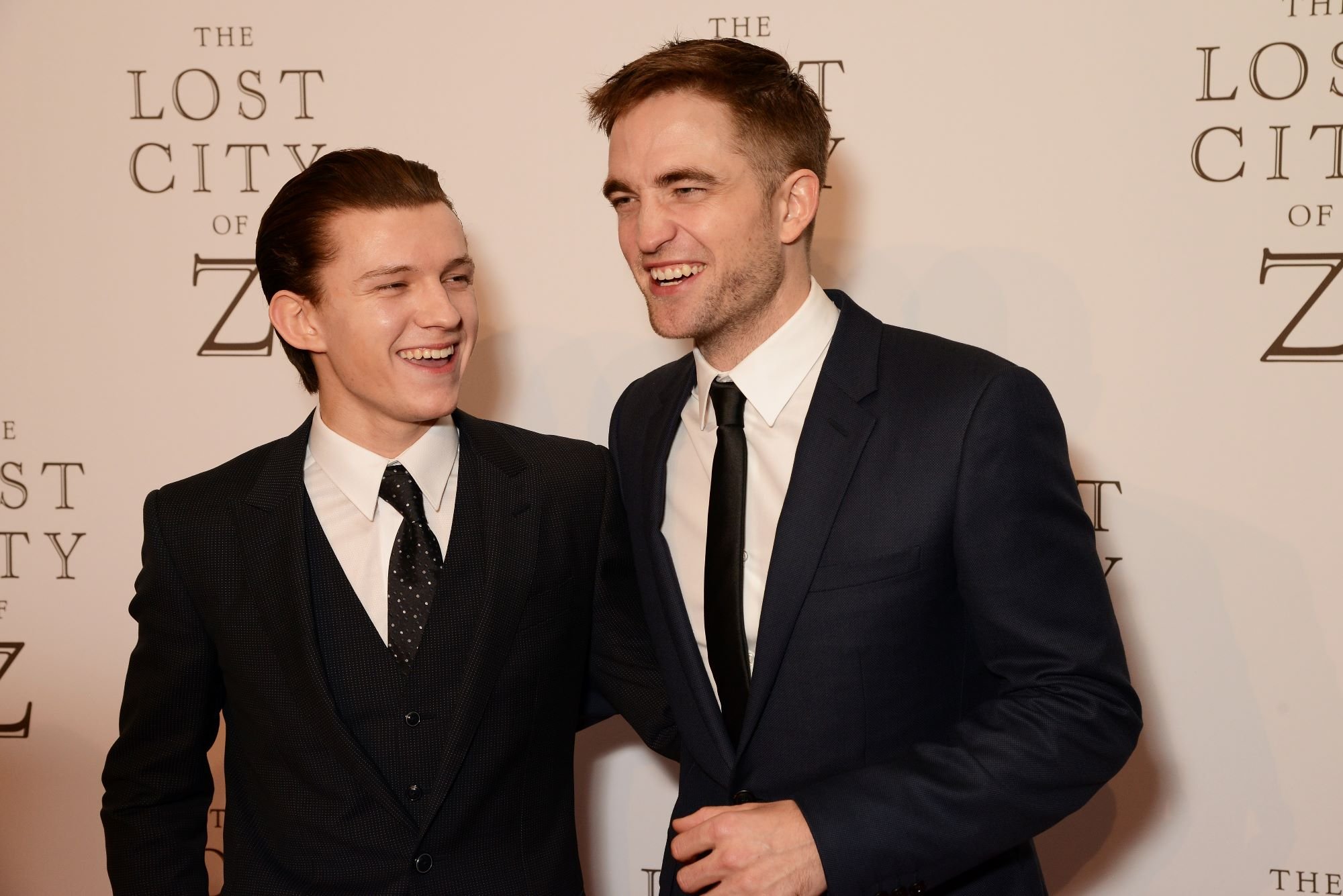 Robert Pattinson shares a Spider-Man story about Tom Holland
While on the press tour for The Batman, Robert Pattinson appeared on Jimmy Kimmel Live to discuss the film. And during the interview, they began talking about Tom Holland.
"I actually worked with Tom Holland," he shared. "I did this movie called The Lost City of Z years ago. And I think he hadn't even been cast as Spider-Man, and he was wearing a Spider-Man outfit when I was shooting that movie. And I was like, 'He really manifested that part.' I mean, he was wearing a Spider-Man [suit], I swear to god. We were in Columbia, and I'm 99 percent certain he was in costume."
When Jimmy Kimmel asked him if he meant that Holland was wearing an actual Spider-Man costume or just a shirt with Spider-Man on it, Pattinson clarified, "It looked like a proper costume. And we were in the middle of nowhere in Columbia, with no one around. No one witnessed this except for me."
The Lost City of Z actually premiered a few months after Tom Holland's first appearance as Spider-Man in the MCU in Captain America: Civil War. So he was possibly wearing the costume to celebrate getting cast as the superhero. Either way, picturing Holland in the suit on a non-Marvel film set is quite funny.
Robert Pattinson wore various Batman suits while reading for the movie
In the interview, Jimmy Kimmel brought up that Robert Pattinson wore different Batman suits from previous movies while auditioning for The Batman. And Tom Holland, in his Spider-Man suit, was not the only one who got excited about playing a superhero.
"I tried on every single one," Pattinson said. "And every single one still has the actor's, kind of, sweat inside it … There's a little cage [of the costumes] somewhere in Warner Brothers' costume department. It comes out with its own little guard, and they're both are wearing little Batman outfits as well [laughs]. They're wearing Robin outfits."
He added, "But they really don't care. It's the same people in the costume department who worked on every single one of the Batman movies. So they really don't care who the director is or anything. They're like, 'Do not mess these suits up.'"
"I tried on all of them," Pattinson shared. "And it's the size of your head that's the defining factor. I think the body fit more on Val Kilmer's one, and the head fit on [George] Clooney's one. So they kind of 'Frankensteined' it."
Will Tom Holland ever play Spider-Man again?
During an interview with Entertainment Weekly, Tom Holland addressed whether or not there are more plans for him as Spider-Man in the MCU. He shared, "We've had conversations about the potential future of Spider-Man, but at the moment, they are conversations. We don't know what the future looks like."
Although he couldn't reveal much about what those talks entailed, Holland said that he thinks Marvel Studios President Kevin Feige, Sony Pictures Chairman Tom Rothman, and producer Amy Pascal are "thinking of something … But at this moment, I don't know what that is."
Given the success of Spider-Man: No Way Home, it's highly plausible that fans will see Holland play Peter Parker again. And if The Batman performs as well as it's expected to, Robert Pattinson will likely have a bright future as Bruce Wayne.
Spider-Man: No Way Home is now playing in theaters. The Batman premieres exclusively in theaters on March 4.