'Rodgers and Hammerstein's Cinderella': Why No One Wanted To Play Evil Stepmother To Brandy's Cinderella
Rodgers and Hammerstein's Cinderella first aired on Disney in July 1997. The movie featured a diverse cast. At the time Disney had never featured a Black princess. Brandy portrayed Cinderella and Whitney Houston played her fairy godmother. But one role the movie's production team found especially difficult to cast was the role of Cinderella's evil stepmother. 
People behind 'Cinderella' asked multiple actors to play stepmother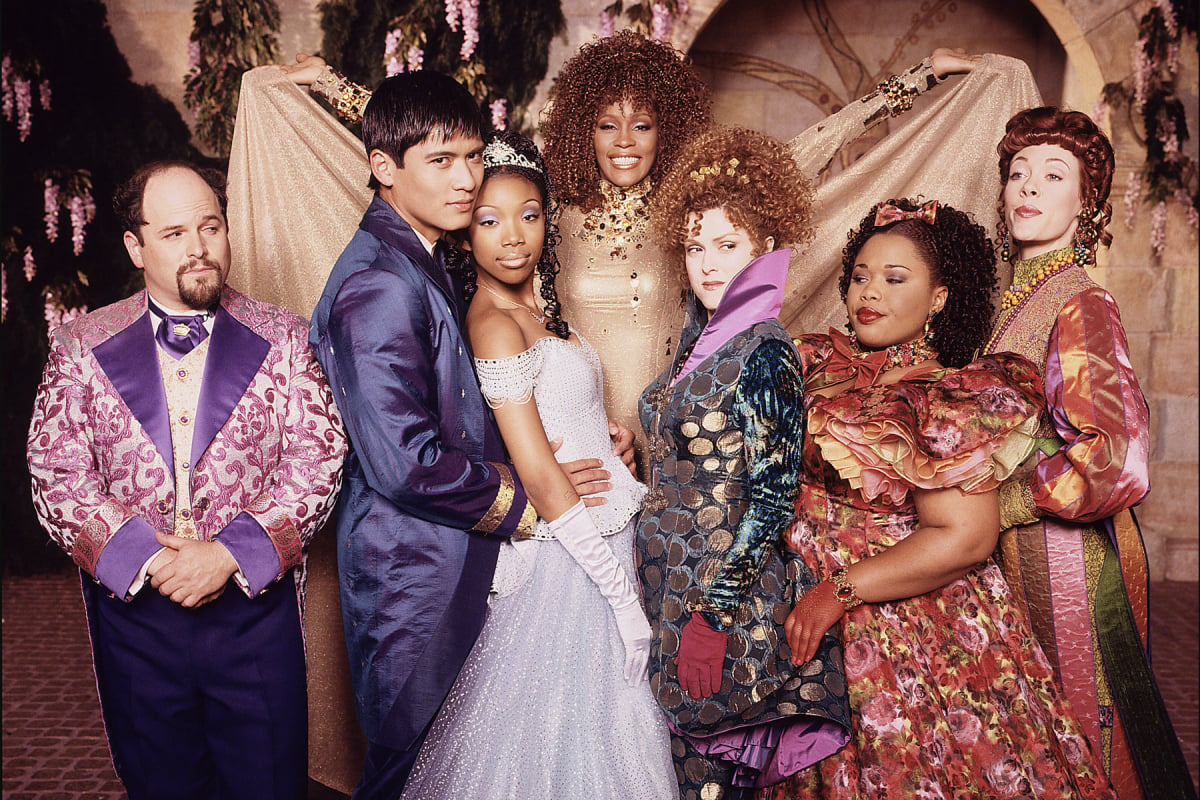 In an oral history of Cinderella 20 years after its debut, members of the cast and the production team reflected on the making of the made-for-TV movie. When it came to casting, it wasn't the Prince or Cinderella that posed the greatest challenge but rather another important character. 
"The hardest role to fill was the Stepmother," Debra Martin Chase, an executive producer of the film, told Shondaland in 2017. 
They started with Whoopi Goldberg, who went on to play Queen Constantina, but she declined. Then they moved on to other well-known stars including Bette Midler, who also passed on the part.
"I cannot emphasize enough what a b***h it was to cast this role. No white actress wanted to be seen as being mean to the black Cinderella," she said. "We went to Bette Midler — I remember Bette in particular, because Craig [Zadan] and Neil [Meron] had done Gypsy with her. She and different people kept giving us the same 'no' response." 
Chase recalled writing lengthy letters to potential cast members detailing the role and what they hoped to achieve with the film. 
"I would write these long letters putting the role in context, explaining the importance of what we were doing with the multicultural cast, and the cultural impact we hoped to have," she explained. "I wanted them to understand that they wouldn't just be coming on board for a great show; it was also going to be important culturally."
Bernadette Peters accepted the evil stepmother role without hesitation
Finally, Cinderella found their evil stepmother. Bernadette Peters, a Tony Award winner and Golden Globe-winning actor, accepted the role. 
"Craig and Neil invited me to come and play this wonderful role, and I immediately said yes," Peters said. 
She continued, saying she didn't consider race when she took on the role. 
"I don't remember if I thought about the optics of playing a white evil stepmother to a black Cinderella. We weren't really playing 'real' people — it's a fairy-tale, and I just wanted to play the role as best as I could, as cruelly as I could. I think that's how we all approached it," she said. 
So Peters became the evil stepmother to Brandy's Cinderella.
Bernadette Peters got her own song in 'Cinderella'
The movie added three songs to Cinderella. Unlike the original, Peters got her own song as the evil stepmother. Taking one of Rodgers and Hammerstein's earlier songs, she performed her own rendition of "Falling in Love With Love." 
It became all about what was happening at the moment in that scene — going to the ball, getting ready, and the expectations the Stepmother had for her daughters that night," the actor said, noting that she had to put her "own spin" on the song. "And to give it the right energy, I had to perform it as if there was an audience there, despite the fact that we were in a studio or, later, on a set."
The song is part of the Cinderella soundtrack that's never been released because of a reported dispute between Houston and Brandy's respective record labels. 
Head to Disney+ to stream Cinderella starting Feb. 12, 2021.