Ron Howard's Wife Cheryl Has Played This Role in Every Film He's Made
Every fan of filmmaker Ron Howard has come to expect certain elements in his projects: powerful storytelling, great talent, and even in his more melancholy films, an overarching sense of optimism threaded throughout.
Another feature every Howard film can be depended on to have, much more visibly, is the presence of his wife of 45 years.
Whether you've noticed her or not, Cheryl Howard is an essential part of each of her husband's movies.
Howard and his wife are school sweethearts
Ron and Cheryl met at John Burroughs High School in Burbank, California.
In her biography of the director, Ron Howard: From Mayberry to the Moon…and Beyond, author Beverly Gray noted Cheryl's hope for Ron to ask her out when they first got to know one another.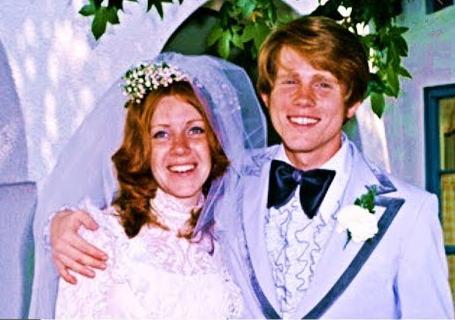 "During their first real conversation," Gray wrote, "Cheryl recalls that 'we talked about my dog for nearly an hour before he asked me out.'"
The former Andy Griffith Show star, in a 2019 conversation with People, explained the secret to the success of their marriage, which seems as straightforward as he appears to be.
"People say, 'How'd you do it?' There's no technique," he said. "There's no tactic other than communication is really important. You have to learn to communicate and have difficult conversations in constructive ways. Beyond that, there's an element of luck because people either grow together or they don't and I don't think you can force that."
Cheryl appears in every single one of the director's movies
RELATED: 'Happy Days' Henry Winkler on Ron Howard's Emotional Departure: 'When I Said Goodbye to Richie, I Said Goodbye to Ron'
The part Ron's wife plays in each of his films? That of "good luck charm," as he told the Archive of American Television.
"That's my wife Cheryl," he said. "She's actually been in everything I've ever done, including the Super 8 days," he said, referring to his very early years as aspiring director when his equipment consisted of a Super 8mm motion picture camera.
"We met in high school and at a certain point, I became very superstitious about making sure that she appears, that's she's at least identifiable in one frame," he said. "They don't have to be big cameos, but she's gotta be in there."
Cheryl is more than a muse
From the start of their enduring marriage, Cheryl has been more collaborator than muse in her husband's endeavors putting, according to Gray, "her husband's movie projects (and later, the rearing of their children) ahead of her personal career goals."
The mother of four has her own ambitions as well, investing "seven years researching and writing an adventure novel" dealing with "an American woman's quest to locate a sister who has vanished in India."
Her husband, equally supportive of his wife's pursuits as she is of his, was quoted by Gray as describing his bride as "a strong, creative woman, highly opinionated, and I wouldn't change a thing."