Ron Swanson Says He's 'Been Practicing Social Distancing Since I Was 4 Years Old' in Clip from 'Parks & Rec' Reunion Special
Ron Swanson was ready for the coronavirus (COVID-19) lockdown. 
"I've been practicing social distancing since I was 4 years old," the character played by Nick Offerman tells Leslie Knope (Amy Poehler) in a clip from the upcoming Parks & Recreation reunion special. 
'Parks & Recreation' returns for a one-time scripted episode 
Parks & Rec ended its seven-season run in 2015. But now the cast is getting back together — virtually — in a 30-minute special to benefit Feeding America. 
All your favorite original characters will be back for the special, including Rashida Jones as Ann Perkins, Aziz Ansari as Tom Haverford, Aubrey Plaza as April Ludgate, Chris Pratt as Andy Dwyer, Adam Scott as Ben Wyatt, Rob Lowe as Chris Traeger, Retta as Donna Meagle, and Jim O'Heir as Garry Gergich. 
A video announcing the special also features Jay Jackson as newscaster Perd Hapley, and it seems we'll see some other beloved Pawnee residents in the special. Parks & Recreation's executive producer Michael Schur confirmed to Variety that about half-a-dozen "super fun and enjoyable side characters and tertiary characters" will also be in the episode.  
The special airs Thursday, April 30 at 8:30/7:30c on NBC. The show's cast and writers, along with State Farm, Subaru of America, and NBCUniversal will match donations to Feeding America up to a combined $500,000. 
The episode will be available to stream the next day. Money raised during the broadcast will go to support food banks around the U.S. 
Ron is hanging out in his cabin and hunting instead of going to the grocery store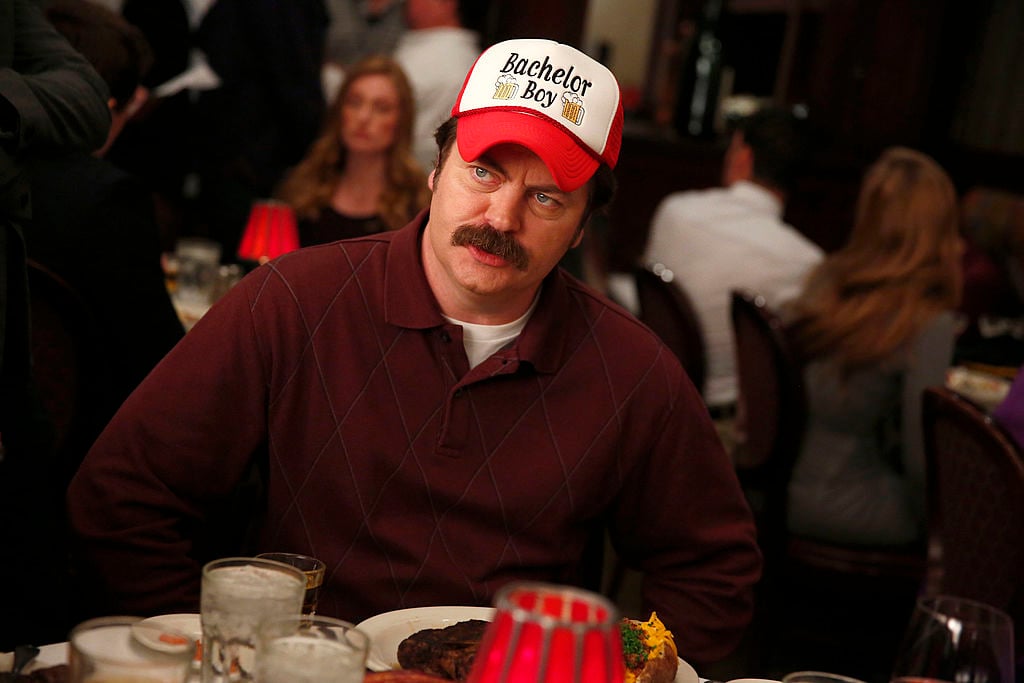 In the clip from the new episode — which focuses on Leslie's efforts to stay in touch with her friends despite social distancing orders — the former deputy director of the Pawnee parks department checks in with one-time boss Ron, asking him if he's in his cabin. 
"I am," he replies. "I come up here to hunt meat so I don't have to go to the grocery store." 
He then tells Leslie he has a 12-year supply of venison jerky. He offers to ship her some, but warns her she might need to "get your incisor teeth sharpened."
It only took 45 minutes for the 'Parks & Rec' cast to agree to the reunion special 
It's been five years since we said goodbye to Parks & Recreation, but it didn't take long for the cast to agree to get back together for a good cause. 
"Like a lot of other people, we were looking for ways to help and felt that bringing these characters back for a night could raise some money," Schur said. "I sent a hopeful email to the cast and they all got back to me within 45 minutes."
The new episode was shot from cast members' homes. But it looks like they did their best to make their real living spaces match those with those of their characters. In the clip, a photo of Leslie and her husband Ben Wyatt on their wedding day can be seen in the background.
A Parks & Recreation Special airs Thursday, April 30 at 8:30/7:30c on NBC.