Ronan Farrow's Net Worth and How 'Catch and Kill' Led to 'This Watershed Moment in Our Culture'
Find out Ronan Farrow's net worth and how his book, 'Catch and Kill' changed our culture.
As the son of famous parents Woody Allen and Mia Farrow, Ronan Farrow has been in the spotlight all his life.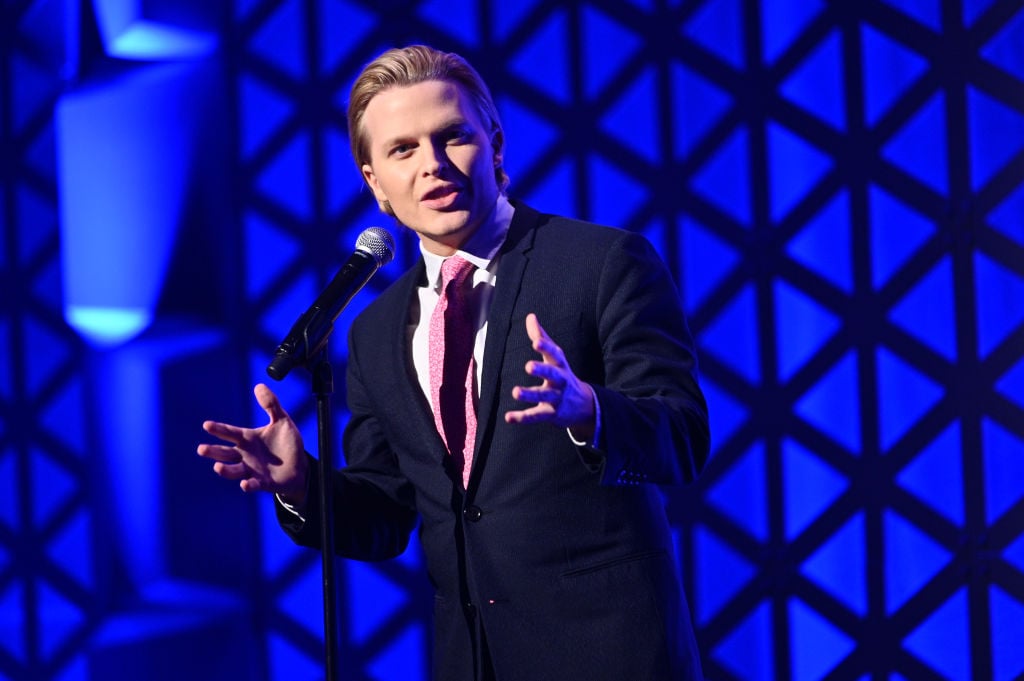 He's made his own way as a journalist and writer and his name has been coming up a lot in the past thanks to his publications and works.
Here's his net worth, plus what he's working on now.
His recent outrage with his publisher over Woody Allen's memoir
Book company Hachette Publishing had produced Farrow's Catch and Kill last year, which examined the ease with which powerful men such as Matt Lauer, Harvey Weinstein, and Woody Allen got away with sexual abuse allegations.
The 32-year-old author was furious to learn that his publisher had welcomed Allen with open arms at the same time that they were developing and producing Farrow's own book.
Farrow said earlier this month in a statement, "I was disappointed to learn through press reports that Hachette, my publisher, acquired Woody Allen's memoir after other major publishers refused to do so and concealed the decision from me and its own employees while we were working on Catch and Kill — a book about how powerful men, including Woody Allen, avoid accountability for sexual abuse."
Allen's memoir was turned down by several publishing companies because of sexual abuse baggage looming over him since the early 1990s: his affair and marriage to Mia Farrow's and his adopted daughter, Soon-Yi and allegations by Allen and Farrow's other adopted daughter, Dylan Farrow, of sexual abuse when she was seven years of age in 1992.
His seismic book 'Catch and Kill'
Farrow's book Catch and Kill in part chronicles the journalist's attempt to report for NBC on Weinstein's crimes. Weinstein's tactics for suppressing ("catching and killing") the story involved legal action against Farrow, smears against him and his family and, Farrow claims, even the use of a shady Israeli detective agency.
Farrow clearly is not won to give up easily and persisted in reporting on Weinstein. He, in fact, was awarded a Pulitzer Prize for his 2017 reporting at the New Yorker on the disgraced movie producer.
One of the stories Farrow has shared in the process of writing his Weinstein story for the New Yorker is of his feeling he might not survive the process.
Farrow told NPR in 2019 of his suspicions of being followed and of his home being bugged as a result of his work on the story. He made the decision to move into a safe house and even placed his documents while reporting into a safe deposit box with a note reading, "Should anything happen to me, please make sure this information is released."
"Doing these kinds of investigations of powerful interests means that you get a whole smear machine spun up against you every single time," he said in his conversation with NPR. "[A]ll I can say is I've been immensely heartened . . . by the way in which fellow reporters have rallied around the journalism in this book and defended it and independently corroborated it."
Farrow's net worth and his new documentary
Farrow has been tapped by HBO to helm a new series of investigative documentary specials for the cable giant. The stories that Farrow has chosen to focus on continue to look at the abuse of power not only by individuals, but also by organizations and institutions.
HBO's president of programming, Casey Bloys, issued a statement about the partnership with Farrow, saying, "Ronan Farrow's extraordinary, revelatory reporting for the New Yorker has helped to propel a string of other investigations, breakthroughs and overdue conversations."
"His work has contributed to this watershed moment in our culture, and we are excited to provide a platform for this dogged reporter to pursue projects that continue to speak truth to power."
Ronan Farrow's net worth is $12 million, according to Celebrity Net Worth.
He was ranked No. 1 on Forbes' 30 Under 30 Most Influential people in 2012 and in 2014 he hosted 'Ronan Farrow Daily' on MSNBC.