Ronnie Wood Gave a Rolling Stones Roadie a Job for Life After a Chance Meeting and a Mugging
He wasn't a founding member of The Rolling Stones, but Ronnie Wood is one of the longest-serving players. Of the original five members, only Mick Jagger and Keith Richards remain. They weren't his first band, but Wood knew he'd end up with the Stones one day. When he got the call to join his dream band, Wood gave a lifelong job to a Rolling Stones roadie he randomly met in Detroit and befriended after a London mugging.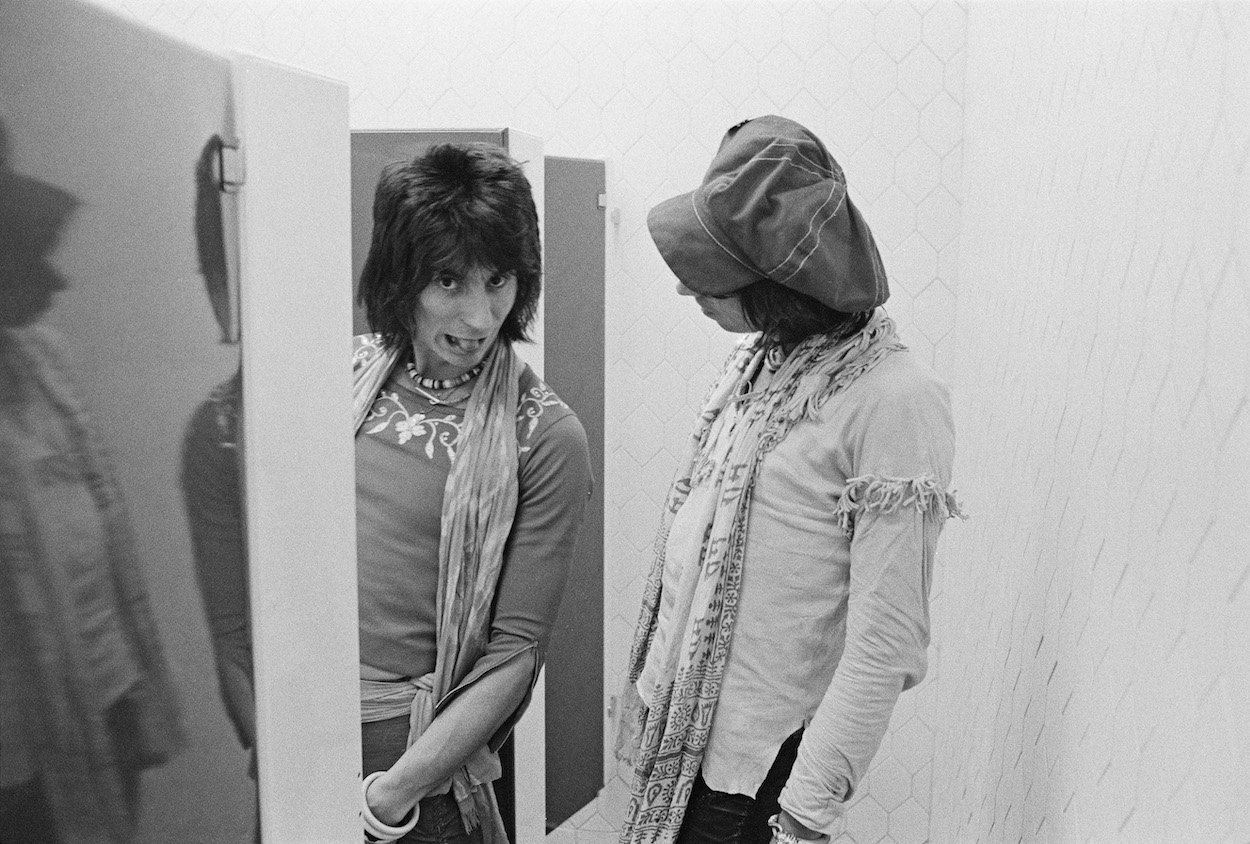 Ronnie Wood played in several bands before he joined The Rolling Stones
Wood took up the guitar at a young age and formed his first band, The Birds, as a teenager. The group found some success in England but didn't last long.
A short-lived project preceded Wood's big breakthrough — playing a stolen bass in the Jeff Beck Group. When he grew tired of the constant touring with Beck, Wood and Rod Stewart joined the Faces, where Wood penned several notable songs, including "Ooh La La." 
A pair of solo albums and a Rolling Stones hit he helped write before he joined the band followed in the mid-1970s. Wood jumped on the offer to join The Rolling Stones, and he brought along his own roadie, whom he randomly met years earlier and grew close to after a mugging in London.
Wood gave a Rolling Stones roadie a job for life after a chance meeting him and London mugging
Wood first met Royden Walter Magee, aka Chuch, when he was Wood's roadie for two shows when the Faces played in Detroit in the 1970s. Chuch was assigned to help the band set up and pack up. The guitarist and the roadie had never met before then.
As he writes in his autobiography Ronnie, Wood got on well with Chuch. He never thought he'd see him again, so Wood told Chuch to call him if he was ever in England. Well, Chuch showed up, as Wood writes:
"A few months later, Chuch arrived on English soil for some reason. I'm not sure l ever knew what he was supposed to be doing here, but he promptly got mugged and lost everything, even his luggage. He had absolutely nothing except he did have my phone number in his pocket, so he rang me and told me what he'd just been through. I said, 'Then you better come over. Welcome to England.'

"I hired Chuch as my full-time roadie, and he stayed with me through the Faces and the Stones. It was unheard of in those days to have an American crew working with an English band in England, so Chuch was the first, but Chuch was also the best, in spite of the fact that he was tone deaf."

Ronnie Wood
Wood writes that he and Chuch remained friends for 32 years. The guitarist states that his one-time personal roadie became the head roadie for The Rolling Stones before his 2002 death. Wood's chance encounter and Chuch's mugging eventually led to a lifelong job with The Rolling Stones since the guitarist brought his friend with him when he joined the band.
Keith Richards said adding his friend was a no-brainer
Wood fanboyed over the Stones before he joined, but the respect and admiration went both ways.
Keith Richards said the band rehearsed with several guitarists when they had to replace Mick Taylor. Their search ended close to home with someone they already knew well, and Richards said adding Wood was one of the easiest decisions The Rolling Stones ever made.
Before that happened, Ronnie Wood hired a roadie he barely knew to work with him full-time after a London mugging, and that random timeline led to a lifelong job in The Rolling Stones for Royden Walter "Chuch" Magee.
For more on the entertainment world and exclusive interviews, subscribe to Showbiz Cheat Sheet's YouTube channel.