Rosamund Pike Once Called Working on Sam Worthington's 'Wrath of the Titans' Chaos
Actor Rosamund Pike successfully built up her career with films like Die Another Day and others. But there was one film she did during her rise to the stop that she could only describe as chaos.
Rosamund Pike called working on 'Wrath of the Titans' Chaos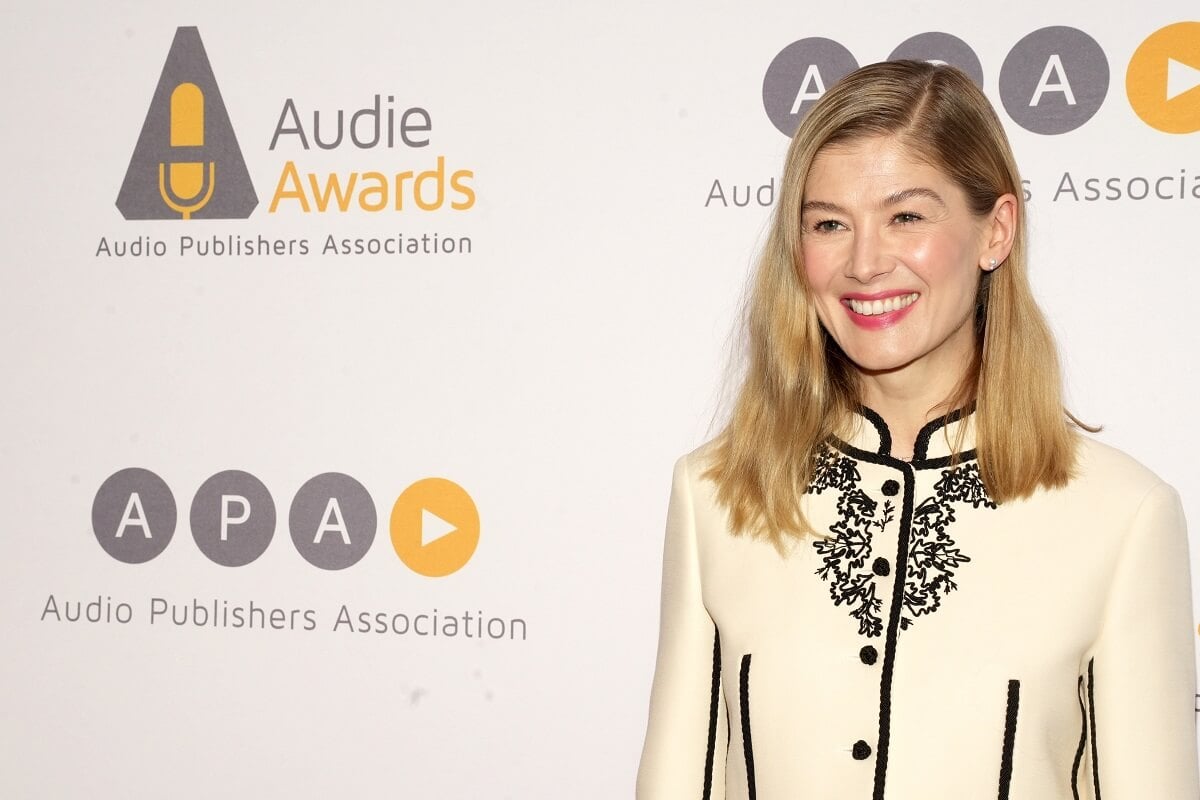 Pike starred in the 2012 feature Wrath of the Titans. The film was a sequel to 2010's Clash of the Titans, which starred Avatar actor Sam Worthington. Worthington would reprise his role for the second film and find himself working alongside Pike for the first time. The story was a big budget action fantasy thriller that Pike was glad to be a part of. But at times, she confided that the scale of the movie could be a bit overwhelming.
"You'd have these immense sets and the CGI green screen elements, but a lot of it was built as well, which is much better for the imagination. We're in the Underworld and it was like walking into chaos," she once told Digital Spy.
But for Pike, the special effects and the stunts also made Wrath of the Titans fun.
"We'd have huge wind machines, rivers of fire, columns of fire being dropped 20 feet down, boulders being thrown at us made of polystyrene. We'd have to run through all this mess and it was like being in a maelstrom. It's exciting, it's a kind of crazy chaos," she said.
Rosamund Pike turned down 'Man of Steel' for 'Wrath of the Titans'
Pike rejected another blockbuster film to star in Wrath of the Titans. Speaking to Collider, Pike revealed that she was in consideration for an undisclosed role in Zack Snyder's Man of Steel. But she ended up focusing more on Wrath of the Titans.
"I think I was very interested in the way that the director was approaching Wrath of the Titans," Pike said. "He was a South African guy called Jonathan Liebesman and he just had this sort of documentary approach to this big world and I thought he'd teach me stuff. You know, sometimes you pick roles based on what you think you can learn from them, and I thought there were things that I would learn from that, which I did, whether or not anyone knew about it. He taught me an awful lot about action, actually."
What she picked up on Wrath of the Titans, Pike felt, could've been applied to other future films later down the line.
"It was a great part, Andromeda. And all of these things, you never know when they're gonna come back. And even just kind of imagining things, how to sell stuff that's not in front of you, all of these skills that you don't realize as a young actor you're gonna need; how to believe something terrifying is right in front of you if you can't see it and all that stuff that has to become a skill," she said.
Rosamund Pike did extensive research for 'Wrath of the Titans' scenes that were cut from the featured
Pike played the warrior-queen Andromedas in the film. Given the nature of the character, the Gone Girl star thought she'd benefit from studying the real-life wars and generals of the past. She applied her studies into her acting, only to find that most of those scenes weren't used in the film.
"There were scenes that were cut. I was very interested in what made a great general for instance, and I had researched all these war films and read books about great generals in the second World War and sort of wanted to be this person who could go from declamatory rousing battlefield speeches to individually speaking to the men as individuals … and I did all that and it's not in the movie because we had to get to the monsters quicker," she said.