Royal Family Net Worth: Here's How Much the Queen and Her Family Are Worth
It's no secret that the royal family has money — just look at their castles, crown jewels, and the queen's rare car collection. That said, they are by no means the richest family in the United Kingdom. In fact, they don't even make the top ten. However, their net worth is still in the billions.
Royal family net worth comes from a host of sources, many of which are kept private, which makes it hard to truly understand the extent of Queen Elizabeth II, Prince Charles, and other members of the royal family's net worth. However, that doesn't stop experts from trying to get a grasp on how much the royal family is worth.
Curious to know more about royal family net worth? Ahead, we take a look at how Queen Elizabeth makes her money, plus how much she and other members of royalty are worth.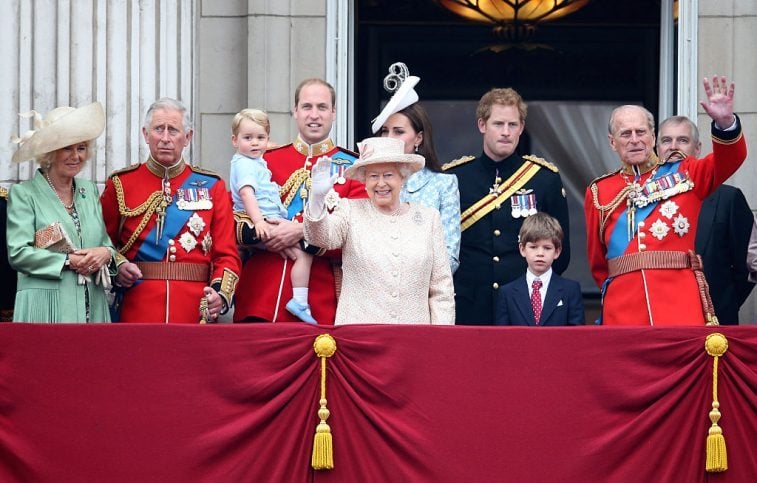 Royal family net worth
It might seem like the royal family has everything — including money — handed to them. However, that's not entirely true. Queen Elizabeth II makes a good chunk of her money from the Sovereign Grant, which is paid for by the United Kingdom government (aka, taxpayers). But, beyond that, she's responsible for making the rest of her (and her family's) wealth. And she does so through various investments and operations.
According to Forbes, the British royal family (aka "The Crown") is worth around $88 billion as of 2017. And, most of their wealth comes from a portfolio of assets and business ventures — including racehorses, rental properties, and art collections.
Find out more about each royal family member's net worth, below.
Queen Elizabeth
Net Worth: $520 million
Believe it or not, the queen is not the richest member of the royal family. That said, her net worth impacts the wealth of Prince Charles, Prince William, and Prince Harry (among other family members). According to Wealth-X, Queen Elizabeth II has a net worth of at least $520 million.
Prince Philip
Net Worth: $30 million
According to House Beautiful, the Duke of Edinburgh is worth around $30 million. On top of that, he also earns an annual salary of $459,161 to cover "the expenses of carrying out his public duties in support of the queen." That said, there's a chance that his annual payout ended when he retired from his public role in 2017.
Prince Charles
Net Worth: $400 million
Prince Charles is one of the richest members of his immediate family. According to Wealth-X, the Prince of Wales has a net worth of around $400 million. Most of his income stems from the Duchy of Cornwall, which is a private royal family estate that provides funds to the person with the Prince of Wales title.
Prince William
Net Worth: $40 million
The net worths of Prince William and Prince Harry are not entirely clear. However, according to Business Insider, each brother is worth between $25 million and $40 million. He allegedly inherited around $14 million from his late mother, Princess Diana. In addition, the Duchy of Cornwall covers the cost of his official royal duties.
Prince Harry
Net Worth: $40 million
Because they inherited the same amount of money from their mother's estate, it is believed that Prince Harry has a similar net worth to Prince William. According to Wealth-X, that net worth is at least $25 million, but many believe it to be much higher — around $40 million. Most of his expenses are covered by the Duchy of Cornwall and he also owns half (William owns the other half) of Princess Diana's jewelry collection, though its worth is unknown.
Check out The Cheat Sheet on Facebook!