Rumored Bachelorette Katie Thurston Had a Pretty Big TikTok Following Before Stepping Foot on 'The Bachelor'
Matt James' season of The Bachelor has had a few key players in the drama game, with some getting sent home because of it. Katie Thurston has been a major proponent of standing up to the drama in the house and has gained quite a following because of her sincerity this season. But it turns out that she was pretty popular on TikTok before appearing on The Bachelor. [Spoiler alert: Spoilers ahead for The Bachelor Episode 6]
Katie Thurston brought a vibrator on Night 1 of 'The Bachelor' because it 'summarized' her 'as a person'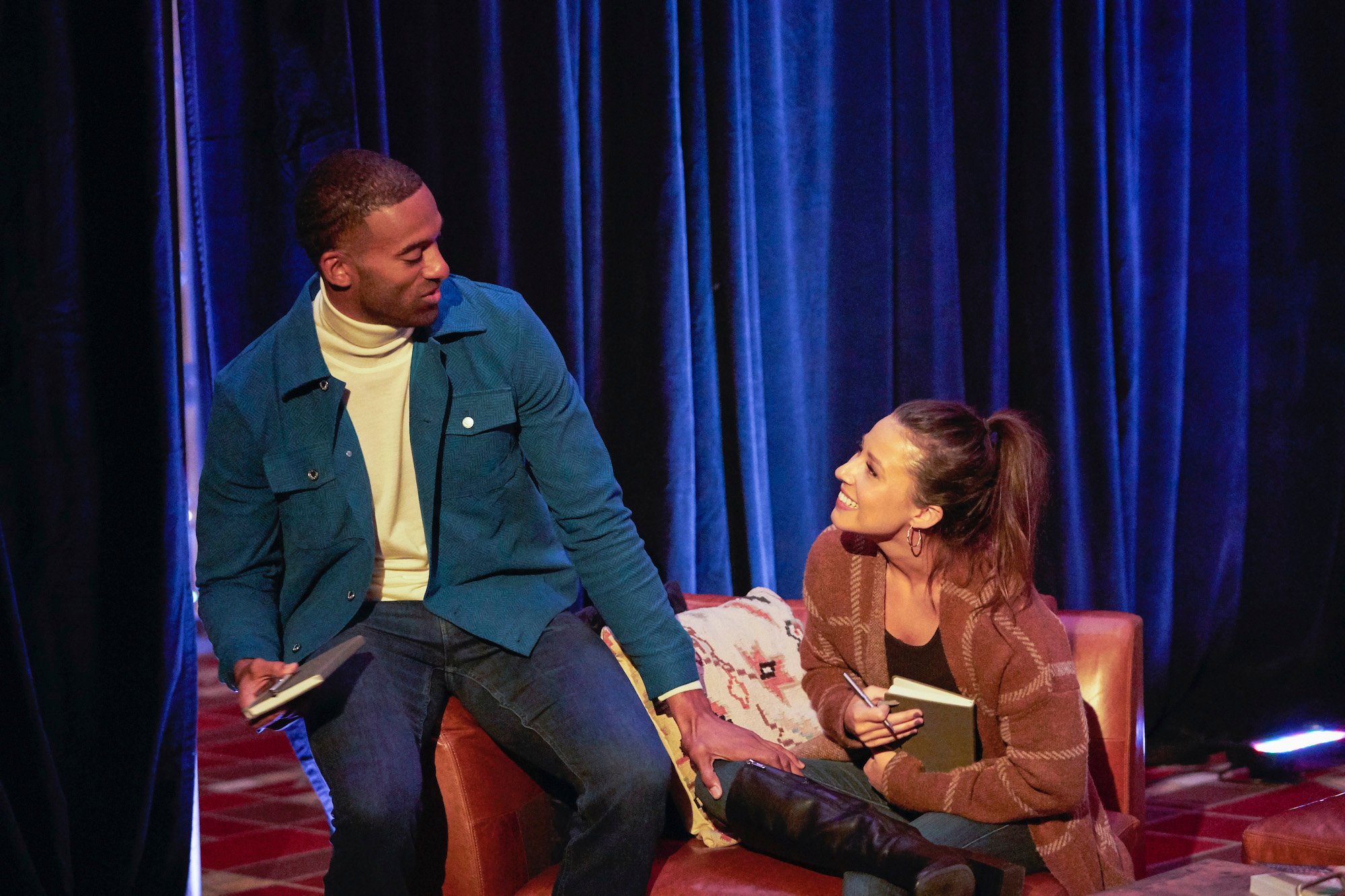 Due to the fact that Thurston has come such a long way since Night 1, it might be hard to remember, but she was the one that brought a vibrator with her as her item to stand out. It matched her dress a bit, she waved it around here and there, and James even called it a lightsaber at one point. And while appearing on Rachel Lindsay and Becca Kufrin's podcast, Bachelor Happy Hour, on Jan. 19, she said that she brought the dildo because it was just an expression of who she is. 
"For me, it actually summarized me perfectly," Thurston said. "And our time is so short and I could do nothing but be myself and I knew Matt is religious, I know I don't know him personally. So I knew it could very well send me home Night 1. And I would have no regrets. Because it really summarizes… my sense of humor, my confidence, my sexual empowerment for females, and I didn't know what to expect with my little stunt."
But, six weeks later and Thurston was still there and going on her first one-on-one. At the time of the podcast, Episode 3 had only aired, but Katie shared how when James let out his big laugh, it really helped ease her nerves.
"I just felt this huge weight lifted off of me after that when I saw his laugh," Thurston said. "It was just the biggest, most genuine laugh. And I was like, alright."
Katie had gone viral on TikTok before going on 'The Bachelor' and her sex-positivity was very much part of her brand 
Of course, Thurston was unfortunately sent home after her one-on-one because James felt that his relationship with her wasn't progressing as fast or as well as it was with the other women in the house. Regardless, Katie will always have her newfound fans. And she's gained many. 
As Kufrin pointed out back in January though, Thurston had a following on TikTok and was already sharing her hilarious "adult" humor on the popular video app, as Thurston's bio said. 
"I've done some creepin' on Instagram and TikTok, and you have some hilarious videos out there that are pretty on par with what we saw Night 1," Kufrin said. 
Again, Katie shared that who she was on the show was exactly who she is in real life and that her TikTok is also an extension of that. 
"Like I said, my entrance kind of matches my personality and what I'm about," Thurston said. "And you know over this last year with the pandemic, of course, we all downloaded TikTok and we just kind of started creating our own videos to entertain us."
As Heavy reported, Thurston had viral videos from the summer of 2020 . They included — but are not limited to — one about imagining sex with a ghost, making out with a girl, and bleeding on someone's face. She had another viral TikTok where she called out a mean dating app trend as well. She has over 263 thousand followers but over 1.4 million likes. And she only has a few videos since being cast on The Bachelor. 
"That was kind of what my thing was this summer about being single and in quarantine, being sex-positive and it just kind of randomly took off," Thurston continued about her TikTok content. "I never expected anything from it, really."
Katie's maturity and personality gained a big fan base who want her as Bachelorette  
So, while Katie no doubt has more fans because of The Bachelor, she also has many "OG" fans pre-Bachelor Nation. With all the love, Thurston has a nice cushion after being sent home following Episode 6. And with that departure, those that like her are also calling for her to get the coveted position of Bachelorette. 
Between Katie, Bri, and Abigail, Reddit has its list of fan-favorites heading into the final weeks of Matt James' season. One fan wrote that Thurston is "the realest most level headed and genuine person this season." Another wrote that they "appreciate that she has backbone" in the house. And another Reddit user pointed out that Katie's "getting… 'the' edit" referring to a particularly favorable edit that producers might use for future Bachelorettes. 
Whatever happens, Thurston definitely left The Bachelor as one of the most-liked contestants from many fans. With a pretty boomin' TikTok to boot.