'RuPaul's Drag Race: All-Stars 5' Episode 4 Recap — SheMZ and Camo Couture
Shea Couleé and India Ferrah live to slay another day. Now, though, the queens must compete in an acting challenge, SheMZ, for their chance to lip-sync against this week's "assassin." Who will be eliminated for this episode of All-Stars 5. Here's what you might've missed from the latest episode of RuPaul's Drag Race.
[This article contains major spoilers from RuPaul's Drag Race: All-Stars 5. Read at your own risk, squirrel friends!]
Mariah has sashayed away from the competition
With Mariah eliminated, the queens return to the Werk Room to unpack the drama from the previous episode. Jujubee gets right into it, tallying up the votes from the safe queens. Of course, Mariah had a lot of votes, but Shea had two votes, one of whom was Mayhem Miller. 
Mayhem is feeling a little surprised that no one else (besides Alexis) wanted to knock Shea Couleé. She comes clean about it, telling Shea that it was nothing personal, but she's still pretty surprised. The next day, Jujubee shares her excitement about winning, but Alexis brings up that every time someone wins, the following week, they're in the bottom. Coincidence?
Just then, RuPaul shares what this week's challenge is. It'll be an acting challenge, called SheMZ, where the contestants will be caught doing some naughty stuff on a Hollywood gossip show. They're working in teams, picked by RuPaul. The first team is India and Mayhem. The second is Jujubee, Blair, and Miz Cracker, leaving Alexis and Shea in the final group.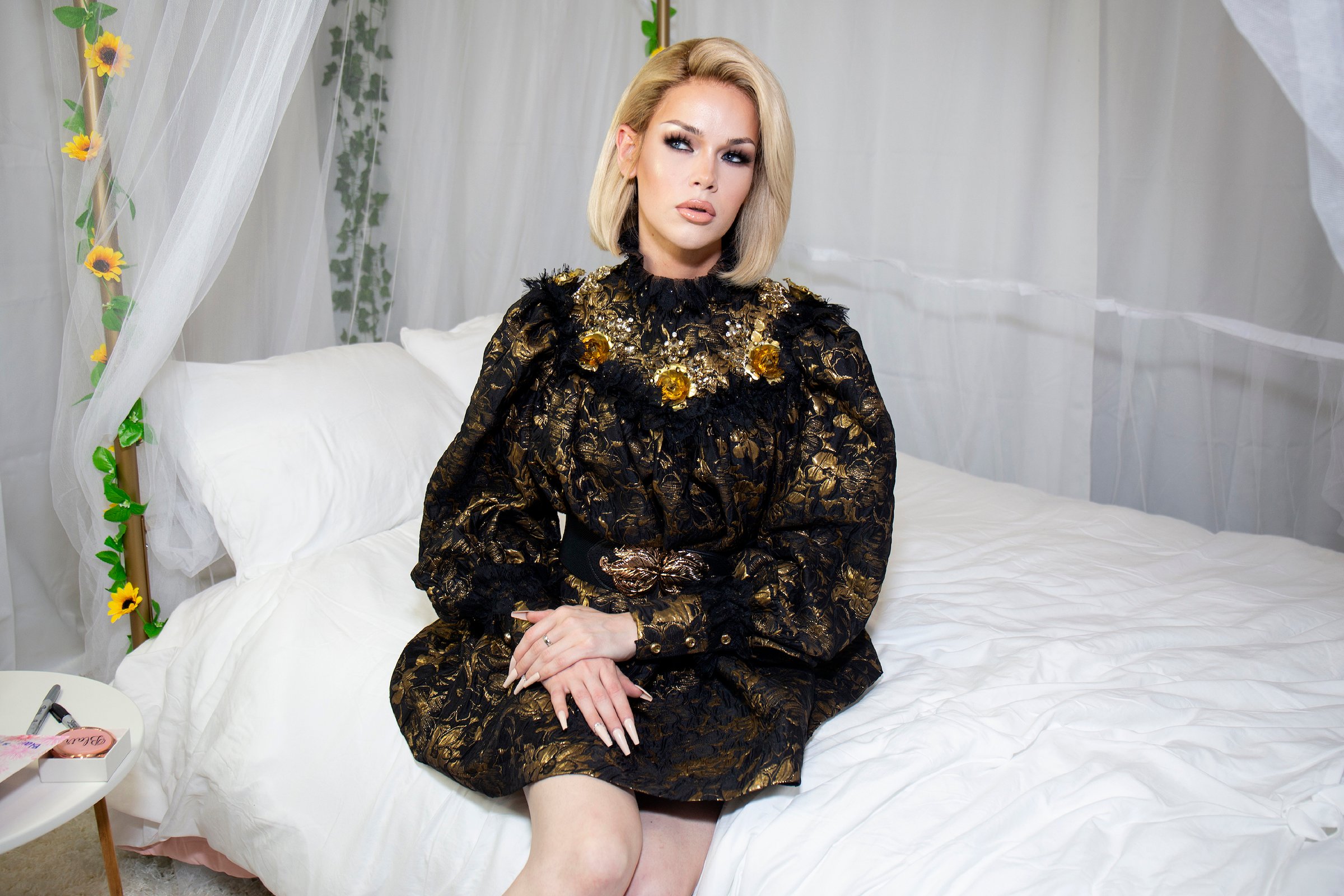 The queens must compete in an acting challenge this week
The queens break off into their respective teams and India and Mayhem start laughing because India was an actual shoplifter before coming on All-Stars. Like, got in trouble for stealing three dresses. So she thinks her character is perfect for her.
For Shea and Alexis, even though they had a mini-fight during the beginning of the episode, they're ready to put it behind them to work together. That doesn't mean Shea forgets, though.
With the team of three, Miz Cracker wants things out in the open and says that Blair's feathers might've been ruffled earlier. In fact, she heard that Blair wanted to push her out of the competition. Blair says she never said that. Miz Cracker can even ask Mayhem, ask anyone! Poor Jujubee is just stuck in the middle, "like a Juju sandwich between two pieces of white bread."
Already it's time for the challenge, and the queens dress in boy drag as "SheMZ reporters," as well as their celebrity characters getting caught by the paparazzi. There are a few standouts, including Miz Cracker suspiciously looking through a window and Jujubee protecting her daughter. Before fans know it, it's time to get ready for the runway.
On the runway, category is Camo Couture
The queens head back to the Werk Room to put on their best "Camo Couture." Blair has a moment to talk about her actual experience with TMZ and her DUI. Mayhem opens up, saying that she actually has two DUIs. For one of them, she was in drag and the cops stripped her naked and took a picture of her. Miz Cracker says she didn't even know that happened to her.
Each queen gives their Camo best on the runway and then it's time for the critiques. Blair and Shea are safe. Mayhem gives Michelle a bit of an attitude, but she's just "kiking." Ru decides that Miz Cracker is the winner this week and Mayhem and India are in the bottom.
After the contestants vote with their lipsticks and Miz Cracker gets a costume change, they head about to the main stage to see who the secret lip-sync assassin is — Morgan McMichaels!
The two give an iconic performance to "Where Have You Been" by Rihanna and RuPaul decides that they're both winners. As a result, the two have the power to eliminate both of the bottom queens. Morgan McMichaels ruveals and that queens chose Mayhem. Cracker reveals her lipstick with the same name. Mayhem sashays away.