Former 'RuPaul's Drag Race' Contestants Like Shea Couleé, Shangela, Aquaria, and Trixie Mattel Are Stepping up for Their Communities
From Shea Couleé's empowering speeches to Trixie Mattel's "Twitch Tuesdays" to Aquaria's Lady Gaga Megamix, these drag performers are keeping busy during times of social distancing and protesting. Here's how Drag Race queens (and their fans) are getting involved with a number of different causes.
Shea Couleé spoke at a protest in Chicago
Aside from appearing on All-Stars 5, Shea Couleé is oftentimes an activist on social media, speaking out against racial injustice in the United States and beyond. As a result, the drag performer appeared at the Drag March for Change in Chicago during the beginning of June.
According to one article, the people involved with this event demanded "justice for George Floyd, Breonna Taylor and Tony McDade, a Black transgender man who was fatally shot by a Tallahassee Police officer last month." Shea Couleé appeared alongside other Chicago natives, including Drag Race alumni The Vixen and Dida Ritz.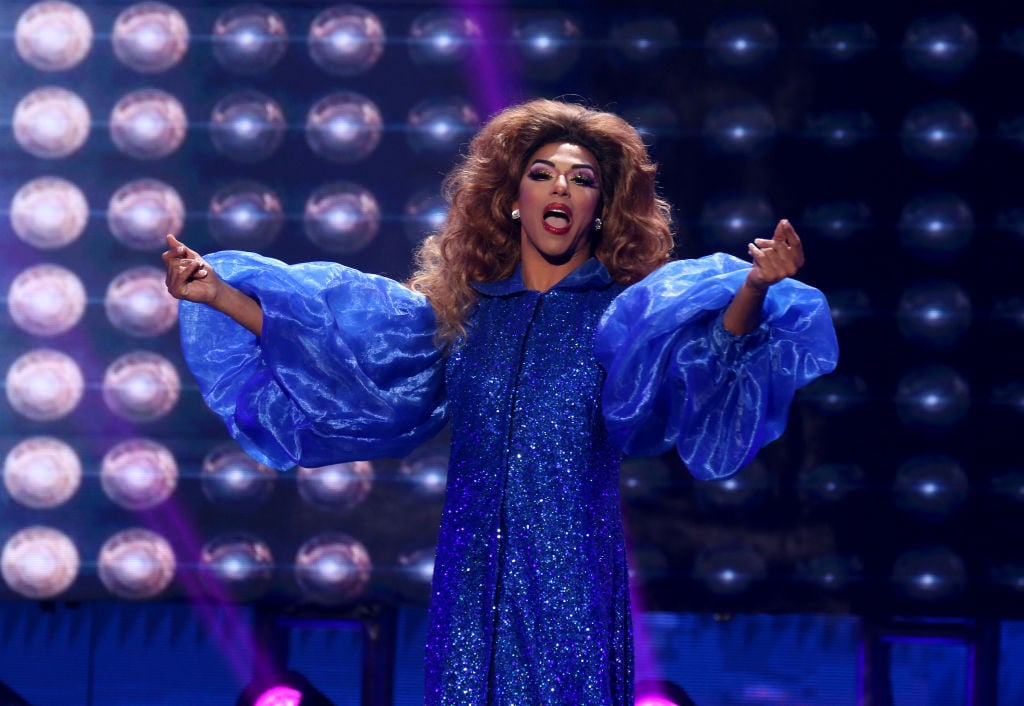 Shangela started her own nonprofit organization to help local drag queens
With so many performers out of work due to the coronavirus (COVID-19) pandemic, Shangela decided it was time to create her own organization to help members of the drag community. Feed the Queens aims to combat hunger for local drag queens and kings, most of whom are out of work right now.
"I thought if we could help out 1,000 queens across America, to give each a $100 gift card for groceries. We could really make a big step towards fighting hunger in the drag community," Shangela said of her cause, according to one interview with People.
Trixie Mattel raised over $60,000 with her 'Twitch Tuesday' streams
Although Trixie Mattel paused her world tour due to the coronavirus (COVID-19) pandemic, she's still using social media, live streamed performances, and even video games to connect with fans. Thanks to her "Twist Tuesday" broadcasts, Trixie Mattel raised over $60,000 for a number of nonprofits.
The performer played video games for fans, raising thousands of dollars in the process. Each week, she chose a charity the money would benefit. In honor of Pride Month, she chose The Trevor Project. As a response to the growing Black Lives Matter movement, she chose The Bail Project.
Trixie Mattel is a skinny legend, of course, but she's also a musician. Recently, she recorded a version of "Stranger" featuring Lavender Country. All the proceeds raised via iTunes and other platforms benefited the Marsha P. Johnson Institute.
Aquaria raised money with a live stream to fight the coronavirus (COVID-19) pandemic
This performer is very supportive of the Black Lives Matter movement on Twitter. Even before then, Aquaria wanted to use her platform to help those impacted by recent events. On TikTok, the winner shared that she'd be donating her profits from the song "American" to a nonprofit organization, encouraging RuPaul to do the same.
For Lady Gaga's birthday, the drag performer turned to Instagram, where she performed a live "Gaga Megamix" set (socially distanced,) with her venmo attached to the stream. Half of the money raised went towards the Food Bank For New York City.
RELATED: 'All-Stars' Rules Are Officially 'Suspended' for 'RuPaul's Drag Race: All-Stars 5' — What Could That Mean for the Competition
RELATED: Lip-sync Assassins Bring It to the Runway for 'RuPaul's Drag Race: All-Stars 5'