'RuPaul's Drag Race' Season 13 Premiere Recap — A Gag-Worthy, Pork Chop-Inspired Twist
Even a pandemic can't keep a good drag queen down. After months of anticipation, the next set of contestants sashayed into the Werk Room, but not without a twist from RuPaul and the judge's panel. Here's our Ru-cap of the latest episode of Drag Race.
[This article contains major spoilers from the first episode of RuPaul's Drag Race season 13. Read at your own risk!]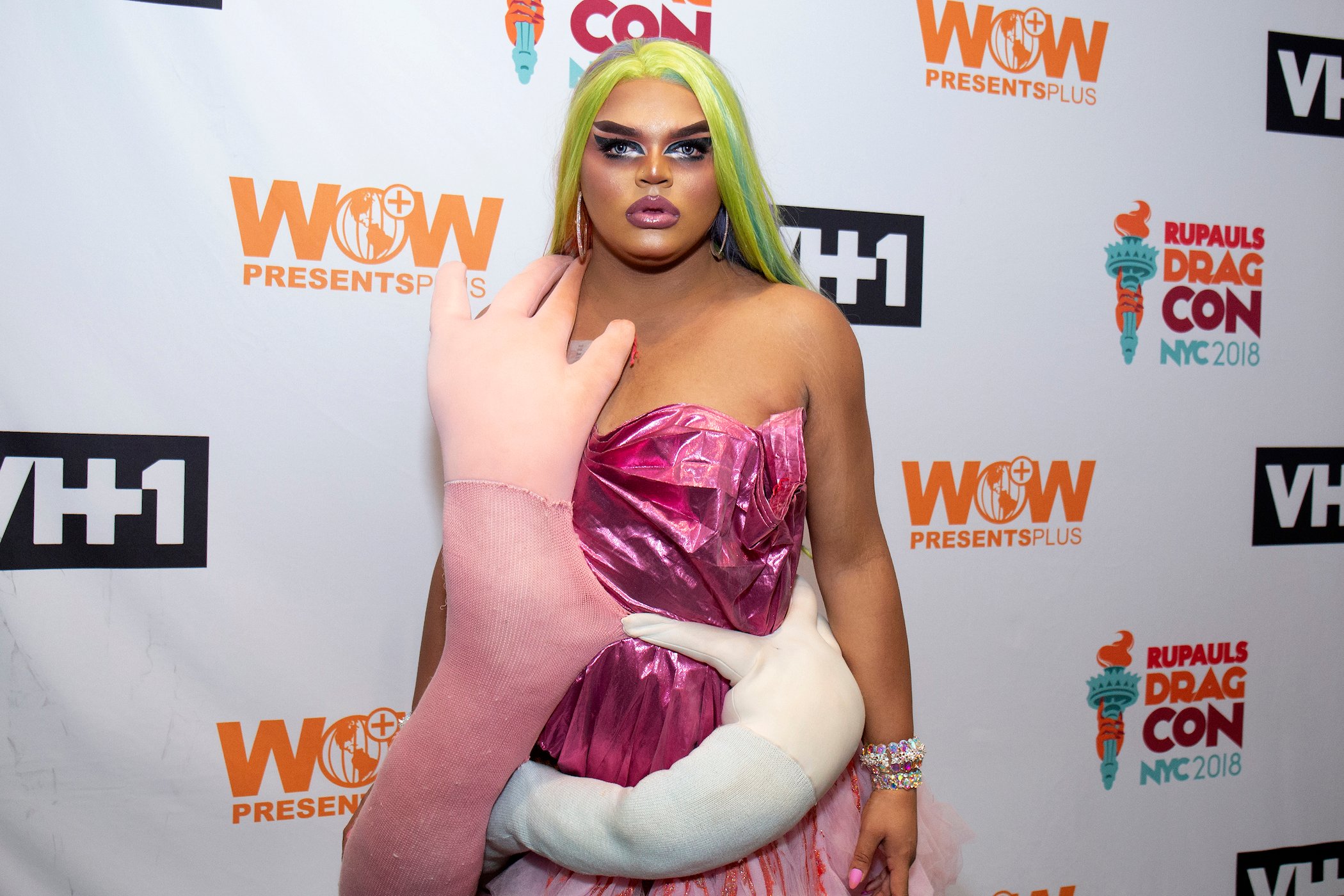 Fans meet Kandy Muse and Joey Jay
It's a new era for this reality series. The first queen to walk into the Werk Room is Kandy Muse, a New York City-based former Haus of Aja member with no reservations about spilling the family tea. After that, Joey Jay, a part-time drag performer for full-time, self-proclaimed "lip-sync assassin" sashays into the room.
The two get to know each other but are interrupted by the "she-mail" sound. It can't be time to head to the mainstage already… can it? RuPaul welcomes them to the runway and then shares the twist for this season, they will be lip-syncing in pairs before the first challenge starts, meaning that some contestants will sashay away.
Like Kandy Muse says — she just met the judges and this is crazy. Both queens are pretty animated in their lip-syncs to Carly Rae Jepsen's "Call Me Maybe," but in the end, Joey Jay gets "the Pork Chop."
Are the 'pork-chopped' queens really sashaying away?
Denali is icy, spicy, and a little bit dicey, strutting into the Werk Room with ice skates on. LaLa Ri is next, giving glamour, but Denali thinks her look is kind of basic. The two head to the runway and lipsync to "When I Grow Up" by The Pussycat Dolls, Denali continuing to wear her ice skates through the performance. LaLa Ri is the winner.
When Denali leaves the runway, she sees Joey Jay sitting in the Untucked room, surrounded by pictures of the queens who were eliminated first. They still don't exactly know what's happening, but they'll find out later, they guess.
Symone walks in next, covered in polaroids and bursting with confidence, followed by Tamisha Iman. Tamisha shares that she's a pageant queen and the mother of a drag dynasty. The two are called to the mainstage. After Tamisha opened up about her colon cancer, she and Symone lipsync to "The Pleasure Principle" by Janet Jackson.
Symone gets the "shante" and Tamisha joins the other eliminated queens. Denali says she doesn't think it's the end. Joey Jay agrees, saying it wouldn't be RuPaul's Drag Race without a twist. Tamisha is still pretty apprehensive. They got eliminated for a reason!
Gottmik enters the Werk Room, saying she's inspired by artists and sharing her love for drag right before losing a shoe. (She's also a transgender man, a first in Drag Race herstory.)
Utica Queen enters the Werk Room next, sharing that she's ready to be the weird and kooky queen. They head to the mainstage and lip-sync to "Rumors" by Lindsay Lohan. Gottmik wins the lipsync, which means Utica gets the "Pork Chop."
Fans meet more 'Drag Race' contestants
Rosé comes into the Werk Room with a "missing" tooth, sharing that she's a comedian, a singer, and a dancer. Olivia Lux sashays in, lighting up the room as soon as she walks in. The two know each other from New York, but Rosé is surprised that Olivia is there. She just started doing drag.
The two lipsync to "Ex's & Oh's" by Ellie King and after being "one with the music," Olivia Lux is the winner. Rosé sashays away and is pretty confused while doing so. Then, viewers head back to the Werk Room, where Tina Burner showcases a fireman-inspired outfit. She's a costume queen, she's large and in charge, and she's ready to set the competition on fire.
Kahmora Hall, the self-proclaimed Barbie doll of the season sashays in, followed by the "Housewife with a Secret," Elliott with 2 Ts. Kahmora throws some shade about their outfits when they're interrupted by the "she-mail."
The three introduce themselves to the judges and then lip-sync to the Moulin Rouge version of "Lady Marmalade." Tina Burner gets the "shante." That means Kahmora and Elliott head backstage and meet the other "pork-chopped" queens, who are wondering what the winning queens are doing.
They're all hanging out in the Werk Room, celebrating with drinks. The New York queens are surprised to hear Rosé is here and lost a lipsync. Well, they have no clue if she's still here.
Then, the "pork-chopped" queens recieve a message from RuPaul. She wishes them safe travels. Actually, RuPaul takes it back. They have a chance to return to the competition only if they vote to give one queen the chop.
New episodes of RuPaul's Drag Race premiere on a weekly basis on VH1.