'Rush Hour': Chris Tucker and Jackie Chan's First Meeting Changed the Movie
Buddy cop movies have a long history of success. Films like Lethal Weapon hit upon a winning formula that pairs two seemingly disconnected stars. And in the best of cases, both thrilling action and hilarious hijinks ensue. In the late 1990s, moviegoers flocked to theaters to see Jackie Chan and Chris Tucker in Rush Hour, and a franchise was born. But many fans might not realize how directly its stars' first meeting led to Rush Hour's most quotable moment.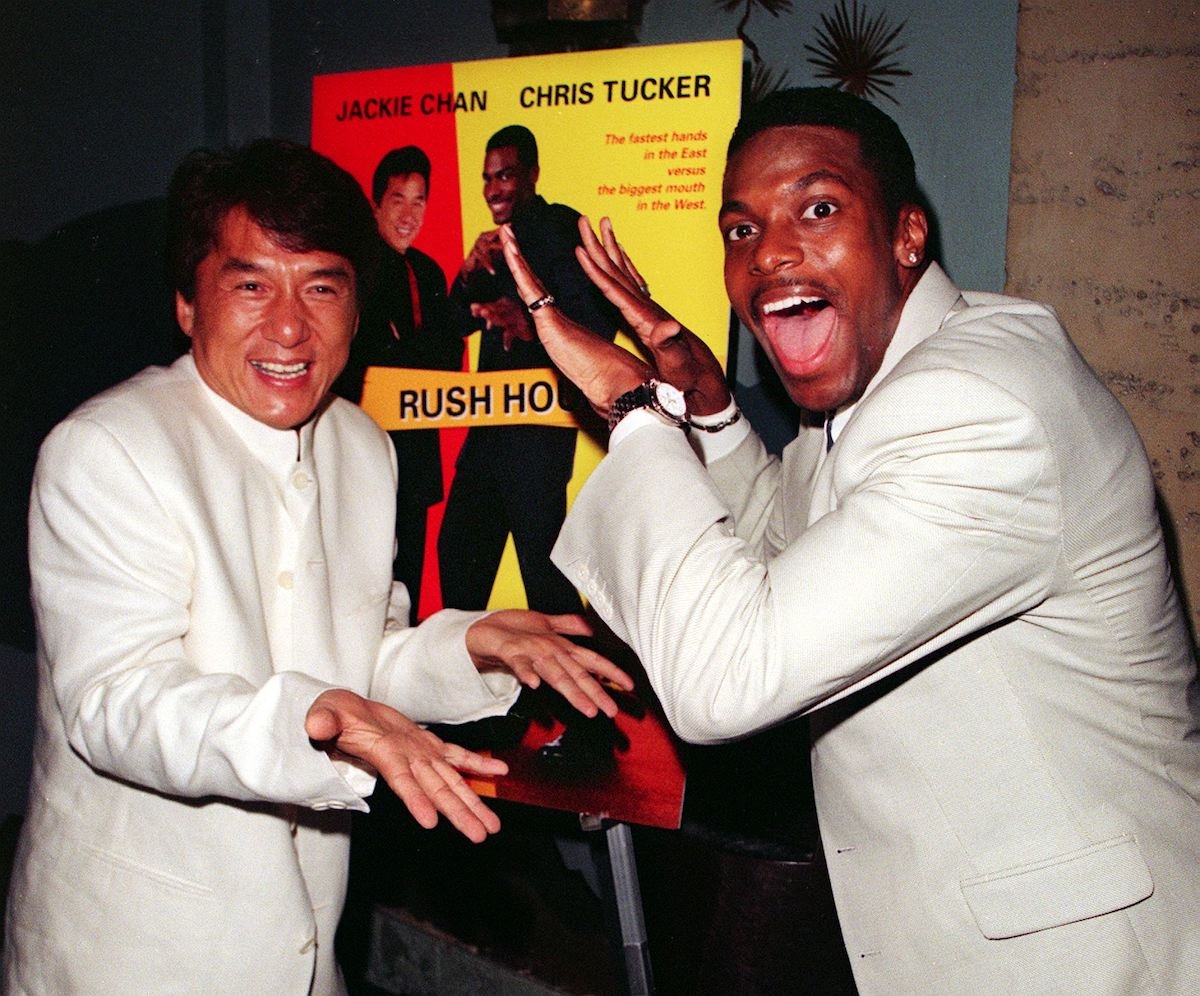 Chris Tucker considers 'Rush Hour' his most important movie
Prior to Rush Hour, director Brett Ratner had only made one movie: 1997's Money Talks. That movie took Tucker from Friday breakout to leading man for the very first time. And its modest success likely made a reunion between the director and actor for Rush Hour an easy decision. But even with martial arts legend Jackie Chan in the other lead role, no one could have predicted the movie would become as successful as it was.
Released on Sept. 18, 1998, the movie follows Chan as a Hong Kong cop who travels to Los Angeles to locate a missing girl. There he reluctantly teams up with a hot-headed LAPD detective (Tucker) to crack the case. With a $33 million production budget, Rush Hour earned $245 million worldwide, according to Box Office Mojo. No wonder Tucker once called it the most important movie he's made on radio show East Coast Drive with Bongani and Mags.
RELATED: 'Friday': How Chris Tucker's Co-Stars Feel that He Rejected the Sequels
The actor's first meeting with Jackie Chan was uncomfortable
Indeed, Rush Hour would be a huge movie for Tucker and Chan alike. The former became an A-list star and Chan finally achieved cross-over success in Hollywood. But in the same interview on East Coast Drive, Tucker revealed how his introduction to Chan played a huge role in shaping Rush Hour's most oft-quoted scene.
"I was kind of scared because [Jackie Chan] didn't say anything in the first meeting when we met each other… We were in a meeting, talking about the movie. Jackie didn't say anything the whole time. He was just nodding his head. I pulled the director aside after the meeting, and I was like, 'Does he speak English? There's no way we can do this movie if he doesn't speak English. I got to have him communicating with me. 'He's just checking you out. He's Chinese. That's what they do.' 'I need him to say something.' So that was the whole thing I came up with 'Do you understand the words that are coming out of my mouth?' The first time I met him I was like, 'Does he understand English? Does he speak English?' I just took that, and that was the movie right there."
Sometimes art imitates life in such a pitch-perfect way. Throughout Rush Hour, Chan's Lee and Tucker's Carter learn to communicate, find common ground, and ultimately become close friends. And by the sounds of it, the actors' relationship followed a similar trajectory during the movie's production.
Chris Tucker and Jackie Chan might reunite in 'Rush Hour 4'
Naturally, Chan and Tucker reunited for sequels. The actors nabbed tremendous pay increases — including an epic $20 million salary for Tucker — for 2001's Rush Hour 2. And then they finally closed out the trilogy with 2007's Rush Hour 3, both of which outperformed the original film at the worldwide box office.
Since the early 2010s, rumors swirled about a possible Rush Hour 4. Instead, a short-lived TV series attempted to reboot the franchise, only to be cancelled after one season. Tucker confirmed to CNN in 2019 his and Chan's interest. So fans should stay tuned for updates. Rush Hour could very well be among the next franchise revivals.
RELATED: 'Friday': Chris Tucker Explains the Story Behind Smokey's Funniest Line