'Rush Hour': Chris Tucker and Jackie Chan Almost Starred in a Different Buddy Movie
For a time, the Rush Hour movies were among the most popular comedies ever made. The first film's pairing of Chris Tucker and Jackie Chan took audiences by surprise. After all, the actors' awkward real-life first meeting mirrored that of their characters. But the success of the sequels — released in 2001 and 2007 — proved the stars have a winning chemistry audiences couldn't get enough of. But they almost starred in a very different franchise.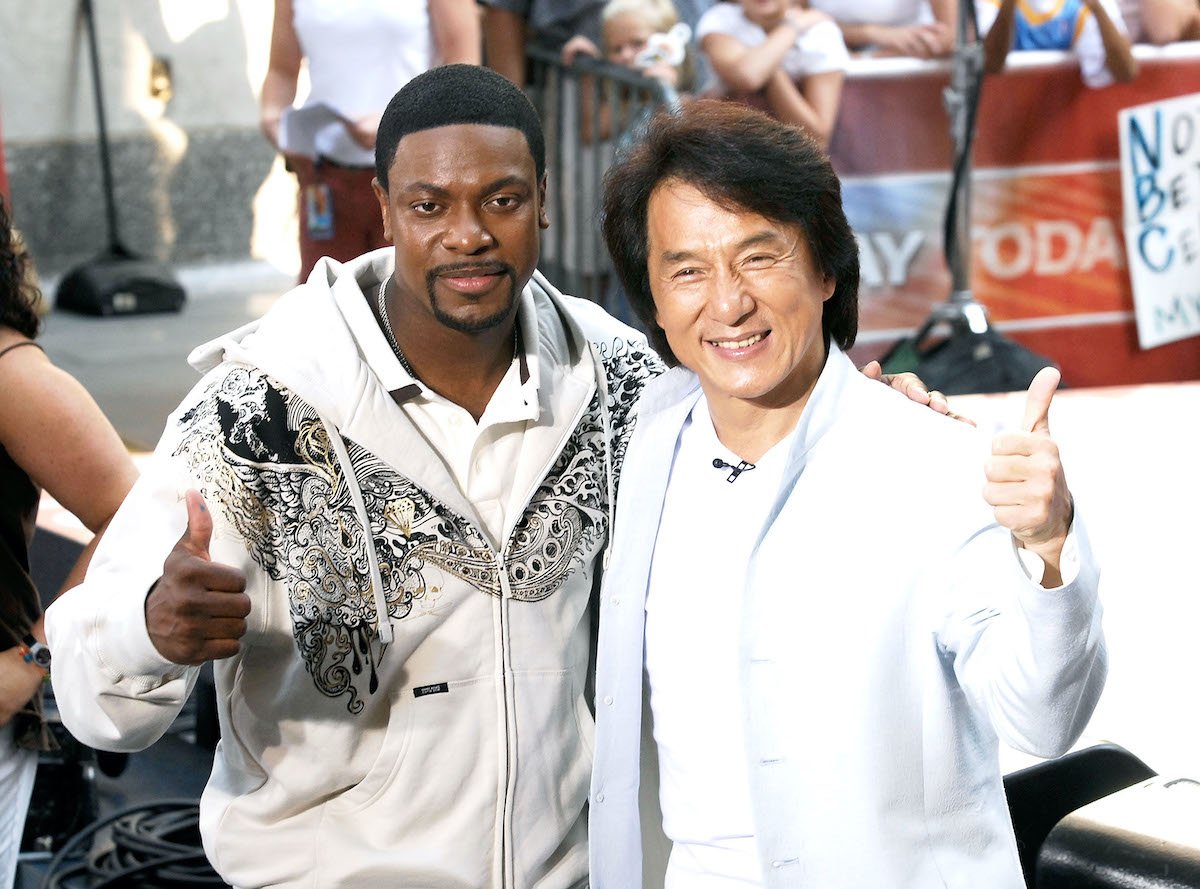 Chris Tucker and Jackie Chan co-star in 1998's 'Rush Hour'
Tucker and Chan couldn't have been in more different places when Rush Hour came together. Chan had been appearing in movies for more than 20 years. He was already one of Hong Kong's most famous and beloved martial arts stars. Meanwhile, Tucker hailed from the world of stand-up comedy, with barely any starring movie roles behind him.
In fact, 1995's Friday was the actor's breakthrough role. And although he appeared in films like Dead Presidents, Jackie Brown, and The Fifth Element, only 1997's Money Talks — a modest hit also made by Rush Hour director Brett Ratner — saw Tucker take on a leading-man role. Yet, against all odds, Rush Hour wowed audiences with a worldwide gross of $245 million, according to Box Office Mojo.
RELATED: 'Friday' Fans Can Now Stream Chris Tucker's First Lead Role for Free
The 2 actors nearly appeared in a very different action-comedy
The success of Rush Hour called to mind other popular buddy-cop movies, such as 1987's Lethal Weapon. Ironically, according to Vulture, Tucker was once in talks to join the fourth installment of the franchise. The actor would have joined stars Mel Gibson and Danny Glover in the role of Lee Butters, which ultimately went to Chris Rock. Ironically, Rock was among those names considered to play Smokey in Friday, which Tucker won instead.
Even more ironically, Chan was reportedly offered a role in Lethal Weapon 4 as well. As the story goes, Chan turned the chance to play Wah Sing Ku because he avoids playing villains. And seeing as Chan had only just begun to achieve cross-over success in Hollywood, that decision might have been for the best. Jet Li — another martial arts legend — made his international film debut in the role instead.
This 'Lethal Weapon 4' could have prevented the 'Rush Hour' series
Lethal Weapon 4 hit theaters on July 10, 1998, just two months before Rush Hour's September 18 debut. Seeing how both films came together around the same time, it's safe to say Tucker and Chan wouldn't have made the latter film if they had been busy making Lethal Weapon 4. If that's the case, would Rush Hour have been a hit at all?
So much of the movie's success hinges on the chemistry between Chan and Tucker. Both actors went on to make huge salaries on the sequels. Rush Hour even outperformed Lethal Weapon 4 in domestic theaters, earning $141 million to the latter film's $130 million. It's safe to say everything worked out for Chan and Tucker in the end.
RELATED: Chris Tucker Had a Hilarious Joke About Michael Jackson's 'Reaction' to His 'Don't Stop 'Til You Get Enough' Performance in 'Rush Hour 2'