'Rush Hour': Why Chris Tucker Felt a 'Rare' Friendship with Jackie Chan
Movies are, above all, collaborative efforts. Depending on the production, they can take hundreds or even thousands of people to complete. So there's a big opportunity there for friendships to blossom. And it seems that's what happened with Jackie Chan and Chris Tucker on the set of 1998's Rush Hour. Here's why Tucker said he and Chan established the friendship while making their hit action-comedy.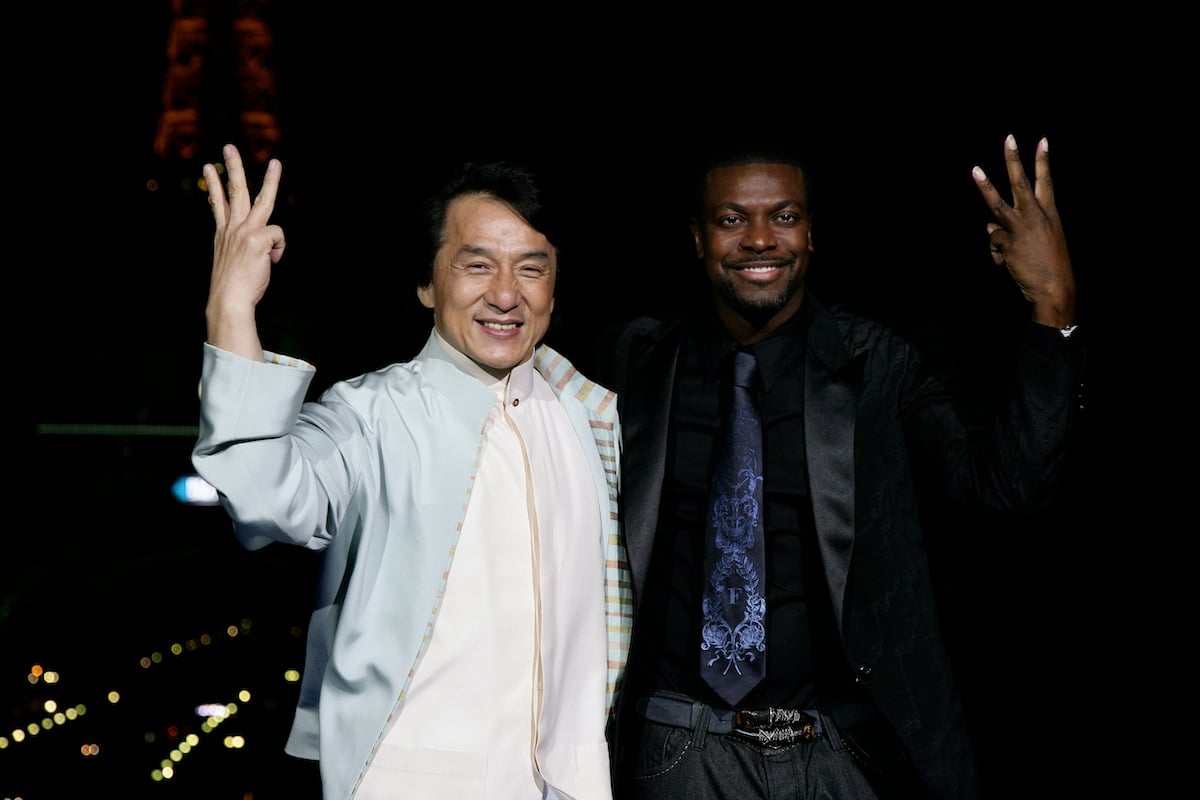 Chris Tucker's career hit a new high with 1998's 'Rush Hour'
When Rush Hour was released, Tucker's career was very much on the rise. Starting out as a stand-up comedian, he nabbed small roles in The Meteor Man and House Party 3. But it wasn't until 1995's Friday that Tucker made a big impact on moviegoers. In fact, the actor beat out both Chris Rock and Tommy Davidson to star opposite Ice Cube in the hit comedy.
In the years between Friday and Rush Hour, Tucker continued to pay his dues. He appeared in Panther, Dead Presidents, The Fifth Element, and Jackie Brown in the mid-to-late 1990s. Then finally he linked up with director Brett Ratner for 1997's Money Talks. That action-comedy was Tucker's first time as a big-screen leading man and set the tone for his reunion with Ratner on the filmmaker's next movie: Rush Hour.
RELATED: 'Friday': How Chris Tucker's Co-Stars Feel that He Rejected the Sequels
The actors were in similarly awkward positions on the set
Audiences love a good buddy cop movie. After all, the Lethal Weapon series — which, incidentally, released its fourth installment two months before Rush Hour — is a testament to that. But in the case of Chan and Tucker, the two stars were both relatively new to leading a major Hollywood movie. On radio show East Coast Drive with Bongani and Mags, Tucker addressed Chan's lack of English-speaking skills and the dynamic between them on set.
"My English is not that great either. So it works. And that's how we felt on the set. We were so comfortable around each other because Jackie would mess up. I would mess up. And we were both outsiders in Hollywood. So we would do anything, say anything to each other because we were comfortable. We didn't have ego with the whole thing. Jackie trusted me on a lot of stuff. That's rare. One actor might have a big ego, and that chemistry might not work. But Jackie was coming from Hong Kong, and I'm coming from stand-up. We were like, 'We don't care. Let's make this work.' Jackie didn't care. He'd be like, 'Be funny. Help this movie work.'"
Thankfully, that loose way of working translated onto the screen, just as it did when Tucker starred with Ice Cube in Friday. Tucker even went on to say he considers Rush Hour his most important movie. It did establish him as an A-list talent and allowed Chan to finally achieve cross-over success in Hollywood. Needless to say, the box office hit wouldn't be the only time the actors would work together.
Chris Tucker and Jackie Chan reunited for 2 more movies
Rush Hour earned $245 million worldwide against a $33 million production budget, according to Box Office Mojo. So it didn't take long for Hollywood to pursue a sequel. But this time, Chan and Tucker received significant pay increases. Tucker even negotiated a $20 million salary for 2001's Rush Hour 2, a figured he'd top with the third film.
Both sequels outperformed the original film during their theatrical runs. But since 2007's Rush Hour 3, the franchise has struggled to keep going. A short-lived TV series attempted to reboot the series with neither Chan nor Tucker involved in 2016. And though rumors persist about Rush Hour 4, it's unclear when or if the movie will really happen.
RELATED: 'Friday': Chris Tucker Explains the Story Behind Smokey's Funniest Line