Rush Limbaugh Left a $50 Million Home to Wife Kathryn Adams Limbaugh
Rush Limbaugh is known for his controversial, conservative views, and he shared them on his radio show. Unfortunately for fans, he died on Feb. 17, 2021. And Rush Limbaugh's wife, Kathryn Adams Limbaugh, will be left with his massive $50 million estate. Here's what we know about the multi-million-dollar home.
Who is Rush Limbaugh's wife, Kathryn Adams Limbaugh?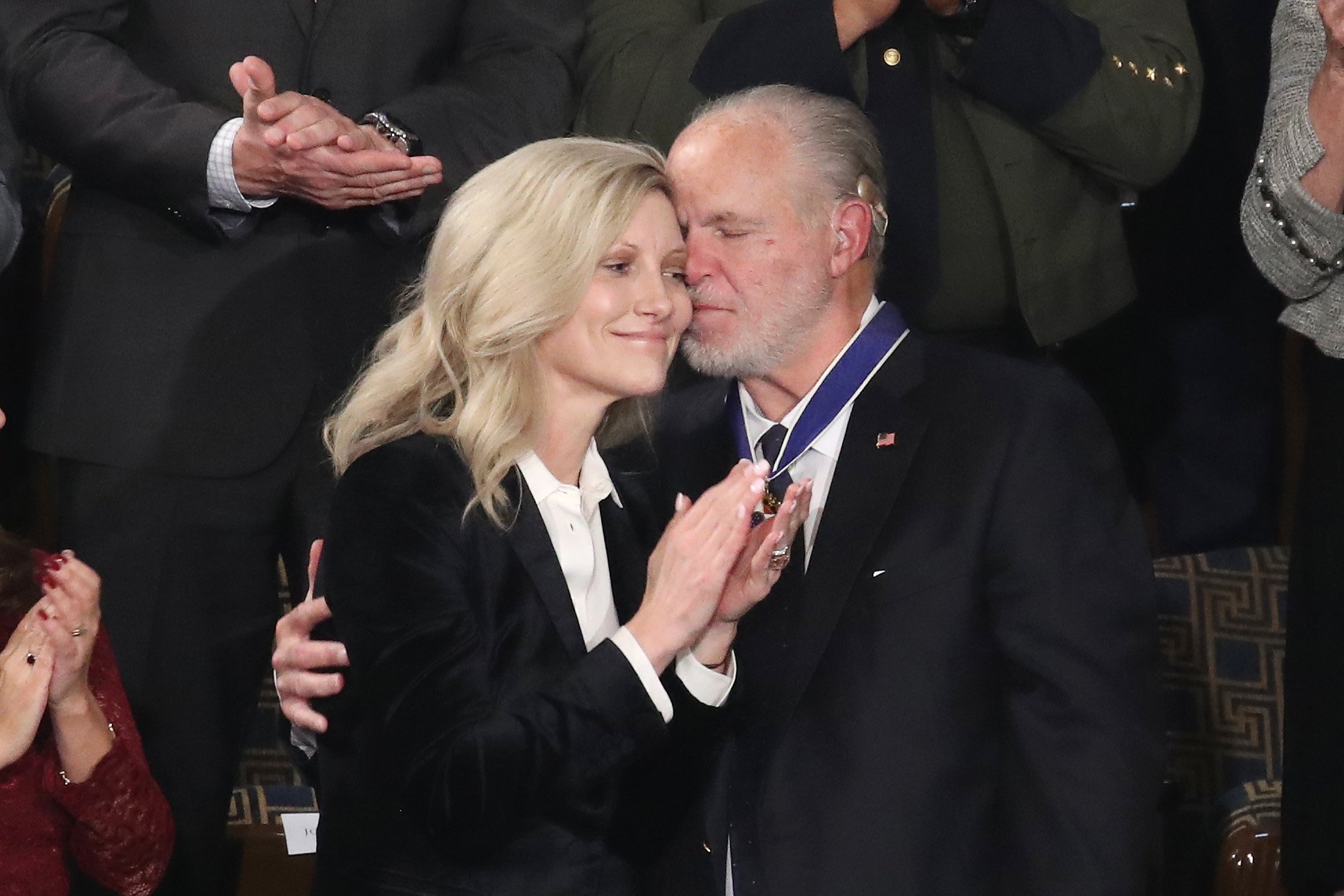 Rush was married four times total throughout his lifetime, and he was married to Kathryn Adams Limbaugh at the time of his death. Kathryn was just 44 years old and 26 years Rush's junior, and they tied the knot back in 2010. Kathryn was also the one to announce Limbaugh's death on his radio show.
"As so many of you know, losing a loved one is terribly difficult, even more so when that loved one is larger than life," Kathryn said. "Rush will forever be the greatest of all time."
So, how did Rush and Kathryn meet? In 2004, Kathryn planned a charity golf event Rush was attending. From there, the two hit it off, though Rush was married to his third wife, Marta Fitzgerald, at the time. Rush then announced his separation from Fitzgerald in 2004 while on his radio show.
It seems Kathryn and Rush had a star-studded wedding, too. The couple reportedly had Elton John perform on their big day for $1 million. While Kathryn didn't enter the political sphere too much, she did work on children's books with Rush titled Adventures of Rush Revere.
Where is Rush Limbaugh's home he's leaving to his wife?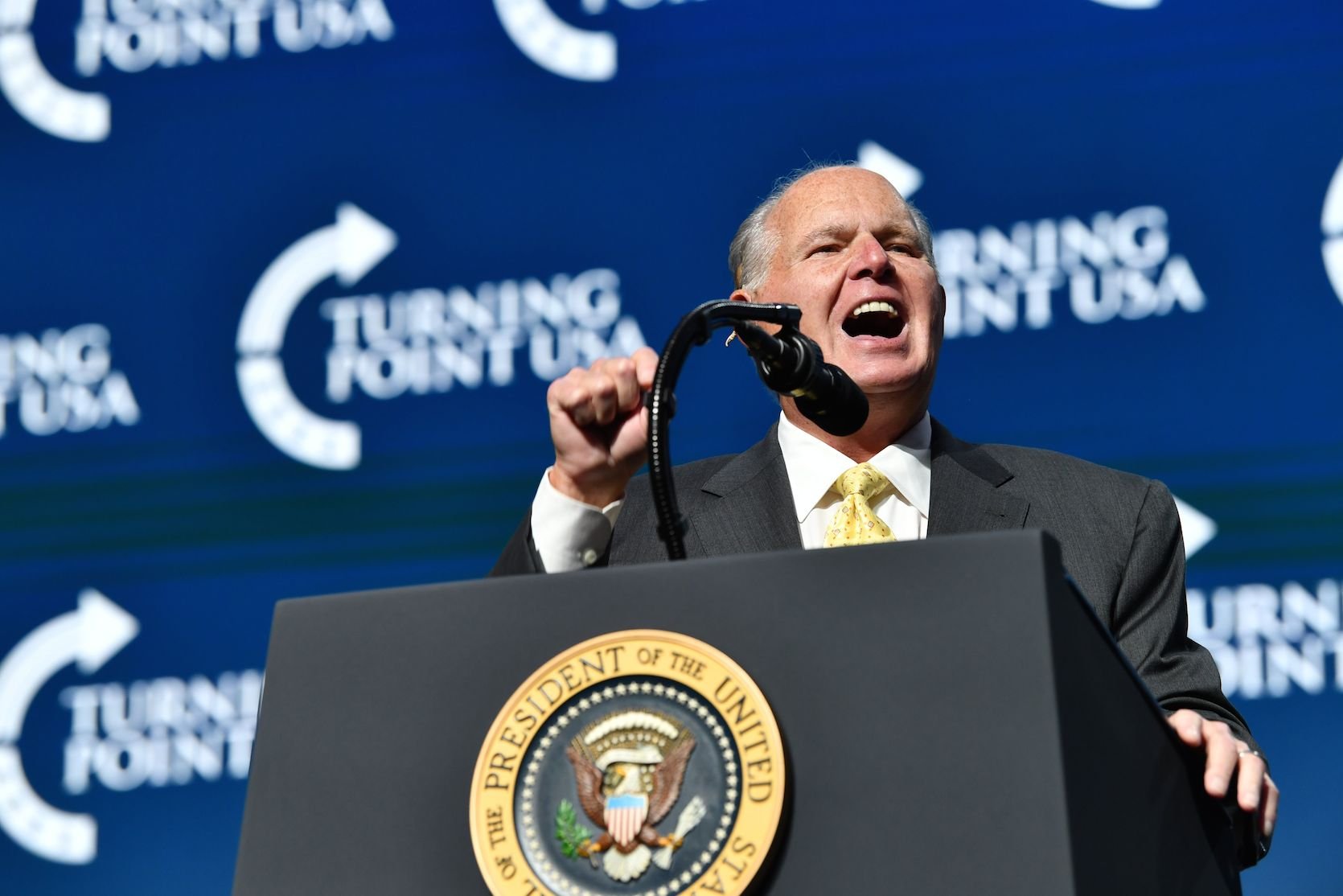 So, where is Rush's home he's leaving to Kathryn Adams Limbaugh? It seems his wife has inherited quite the estate in Florida. The New York Post explains Rush originally moved to New York to further his career back in 1988. But he permanently headed south to Palm Beach, Florida, in 2010 — and it seems Kathryn went along with him.
Prior to Rush's permanent move, the publication notes he bought his Palm Beach property in 1998 for $3.98 million. It was originally meant to be his vacation house, but once he and Kathryn made the house their permanent home, they built on the structure. The couple bought neighboring land and added three structures.
In total, the primary Limbaugh residence is 34,000 square feet and has seven bedrooms, 12 bathrooms, an elevator, a two-story library, four guest houses, and a special station for 24-hour security guards. The house now has an estimated value of $50 million.
Once Rush was back in Florida, he also relocated his radio show, too. He was able to broadcast just a mile away from his home.
The bomb squad once had to visit Rush Limbaugh and Kathryn Adams Limbaugh's home
Rush's wife is now left with a hefty slice of paradise in tropical Palm Beach. But it wasn't always all quiet in Florida. Back in 2012, CBS reported the bomb squad had to investigate Rush's home after the couple received an unsolicited package. The package appeared to have wires in it, which concerned security. The Palm Beach County Sheriff's Office bomb squad was then called to investigate.
All in all, the package wasn't deemed dangerous, though. A spokesperson for the Palm Beach police said the item was an electronic plaque sent to Rush by a fan of his radio show. The police later contacted the sender, who apologized for any trouble his package may have caused.
We'll be curious to see what Kathryn does with the Florida property going forward.
Check out Showbiz Cheat Sheet on Facebook!