Russell Brand Has Never Done This for His Children
Russell Brand is an actor, comedian, and author. He is best known for his roles in Forgetting Sarah Marshall and the spinoff film Get Him to the Greek. Brand is also the voice of Dr. Nefario in the Despicable Me franchise.
Not much is known about Brand's personal life, but he does have a wife and children. Despite being a dad, there's one interesting thing Brand has never done for his kids.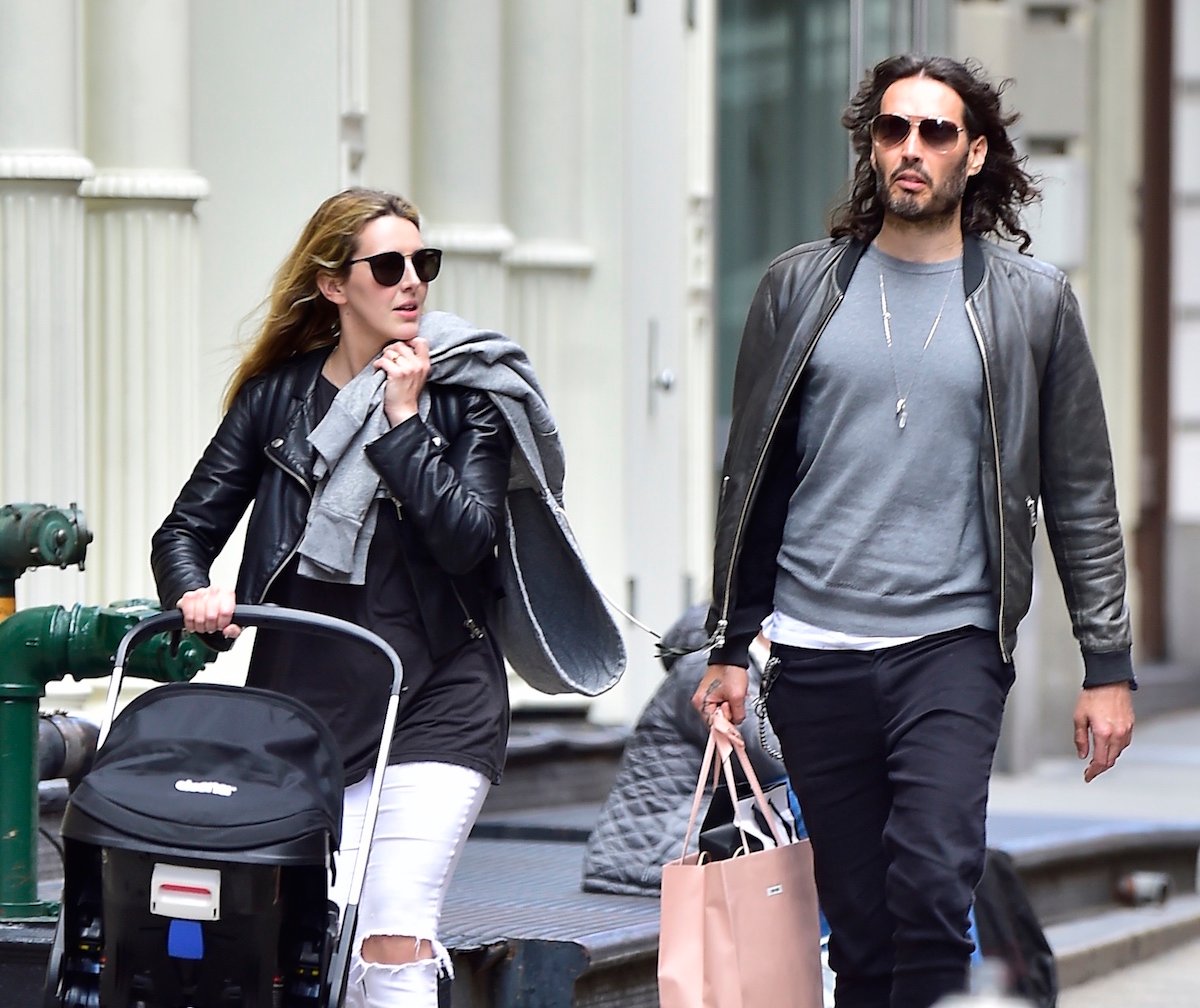 Russell Brand and Laura Gallacher are married
Brand was previously married to pop star Katy Perry, who he met in 2008. They were married by 2010, but by December 2011, their fairytale romance started to disintegrate. On Dec. 30, Brand filed for divorce from Perry for "irreconcilable differences."
Brand and Laura Gallacher have allegedly known each other since 2007, entering into a relationship in 2015. Brand proposed to Gallacher in 2016 after learning that she was expecting a child. In August 2017, Brand and Gallacher tied the knot. 
Who is Russell Brand's wife Laura Gallacher?
Gallacher is the sibling of British television presenter and model Kirsty Gallacher. Laura is a Scottish lifestyle blogger, clothing designer, and author. 
Her Instagram bio reads: "creative play, nature, joyful craft, author." Her book, The Joy Journal for Magical Everyday Play: Easy Activities & Creative Craft for Kids and Their Grown-ups," showcases fifty engaging activities for creative, everyday playtime to encourage a connection to nature, sense of joy and bonding" for parents and their children. 
Gallacher also runs Forestcraft with Ed Stafford. The project features outdoor activities parents can do with their children, from den making to sourcing and painting with natural materials.
Russell Brand has two daughters with Laura Gallacher
Mabel Brand was born in November 2016. Though the Brands like to keep much of their family life private, the comedian mentioned Mabel's birth during a performance.
"He was conscious of the clock and made sure he was off stage by just approaching 9pm as he 'needed to get down the f*cking M21 as [his] girlfriend has just had a baby,'" an attendee told The Mirror.
In June 2018, The Sun published an article highlighting Gallacher's second baby bump. The photo showed the couple in front of The Catherine Wheel Pub, a venue near their home in Henley-On-Thames. Peggy, the couple's second child, arrived in July 2018. 
Russell Brand has never watched his kids alone for 24 hours
In a 2019 interview, Brand revealed to the Sunday Times how Gallacher wouldn't leave him alone with his daughters for 24 hours.
"I've done like, a night," Brand said of the amount of time he had been charged with caring for his children alone. "But they're asleep then. She wouldn't go away for 24 hours, Laura. She respects and cares for their safety too much."
RELATED: 'Jersey Shore' Fans Defend Lauren Sorrentino Against Mom-Shaming Comments
"When I looked after Mabel on her own, she dropped two social classes in an hour," Brand added. "I'm very, very focused on the mystical connotations of Mabel's beauty and grace. Not so good on the nappies and making sure that they eat food."
Brand admitted he is dedicated to his family, but his wife is more "well-versed" in raising children.
"It turns out that she is extremely well-versed in the nuances and complexities of child-rearing," he added. "Me, I am dedicated to it, devoted to it, but I am still surprised when it's like, 'Oh my God, this is f*cking really hard and it's so exhausting.'"