Ryan Murphy Said Monica Lewinksy Will Be Able To Tell Her Side of The Bill Clinton Scandal in 'American Crime Story: Impeachment'
Ryan Murphy's upcoming season of 'American Crime Story: Impeachment' highlights the Bill Clinton-Monica Lewinsky scandal and he's excited to tell her side.
Ryan Murphy is known for many shows of varying genres. He created Glee, which was a runaway success at the time; it won awards which musical series hadn't really done before. He also created American Horror Story which was another genre television show that gained more notoriety than usual in the horror field. Now he's taken his success to more franchises and series like American Crime Story and Pose. He also has a massive Netflix deal creating content for them; he's just a powerhouse at the moment, with everything he touches turning gold. Murphy recently gave an update on the next season of American Crime Story: Impeachment.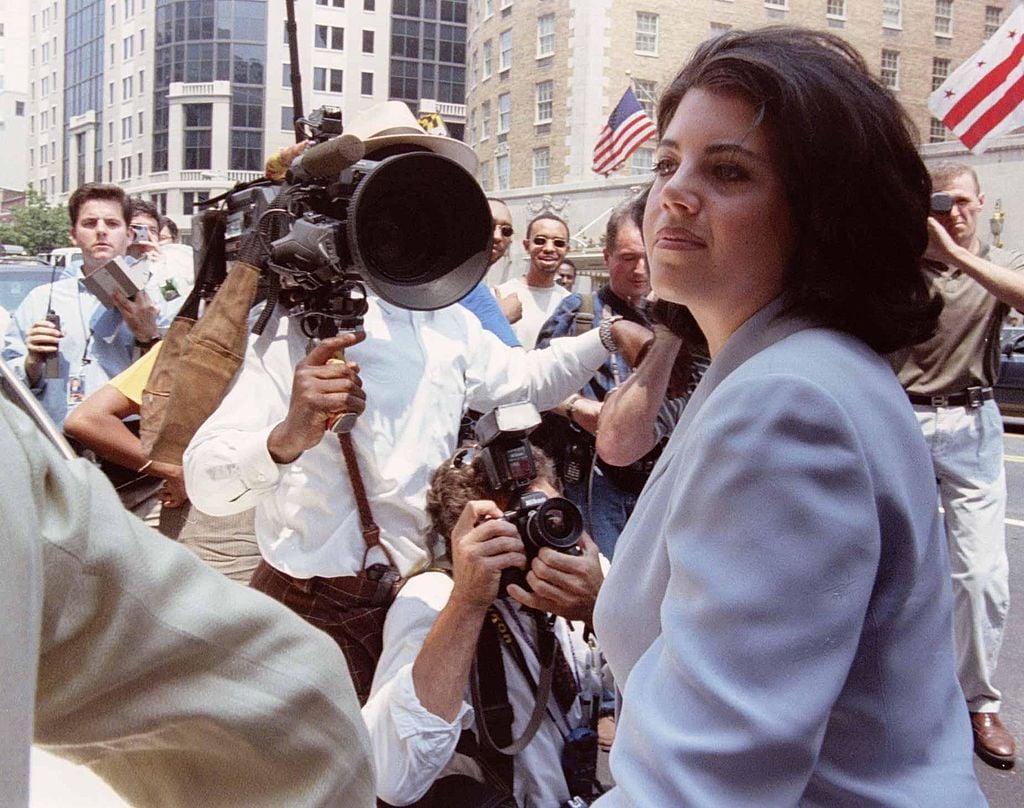 What is 'American Crime Story: Impeachment'?
Just like Murphy popularized the anthology TV model in recent years with American Horror Story, he started another series with a similar setup, but about crime. Whereas AHS deals with a new setting and supernatural topic to scare audiences every season, American Crime Story focuses on a new scandal or crime each season (as you probably guessed). 
Season 1 was The People v. O. J. Simpson and last season was The Assassination of Gianni Versace. Both performed rather well and went on to win awards. The upcoming season is American Crime Story: Impeachment and will focus on the Bill Clinton-Monica Lewinsky scandal in the late '90s. It's based on the novel by Jeffrey Toobin, A Vast Conspiracy: The Real Story of the Sex Scandal That Nearly Brought Down a President, according to The Hollywood Reporter. 
The show stars Beanie Feldstein as Lewinsky, Sarah Paulson as Linda Tripp (the whistleblower of sorts), Clive Owen as Bill Clinton, and Billy Eichner as Matt Drudge (political commentator). 
Ryan Murphy said that this will be a retelling of the scandal, from Monica Lewinsky's side
In an interview with Collider on April 27, Murphy revealed that, of course, production of the series was postponed due to the coronavirus (COVID-19) pandemic. It was supposed to start filming last week. However, he shared more information on the project, including how Lewinsky's side will be portrayed. 
"I'm very, very excited to have Monica Lewinsky's version of what happened be put out there in the world, and I think that she's earned the right to be able to tell her story, how she wants to tell it," Murphy said. "And I think her version of what happened and the facts will be very startling to people, and I think it's important. I love and care for her as a person."
In fact, Lewinsky is working on the project as an executive producer. Murphy equated Feldstein's role as the former White House intern to Paulson's role as Marcia Clark in The People v. O. J. Simpson for its possible redemptive properties. 
"You forget how vilified and misunderstood Marcia Clark was, and I feel the same way about Monica," Murphy explained. "That she's not been treated fairly, and that she is a cultural figure who literally deserves her day in court and in this show she will get it."
Murphy said they're taking their time writing the 'Impeachment' scripts
Murphy shared that one of the original ideas for this season was about Hurricane Katrina, but it proved too hard and massive to tackle, at least for now. With American Crime Story: Impeachment, the scripts "are fantastic" and Murphy said they're going slowly with writing them.
"We're in no rush to make them. We just want them to be good…The writing is hard on those shows because you have to be writing about something, I think, very American and profound," Murphy said. "The show has a very strong beating social heart. You got to get it right.
Murphy also explained the importance of "getting it right" because it can't just be exploitative. He said that's why he takes so long casting for the show and making sure it's all just right. 
"It takes a lot of time and we spend a lot of time doing it. I like doing a show where it's like, 'Okay, well, we'll do it when it's ready.' That's our sort of how we look at it."
Well, with the pandemic, it's unclear when filming could actually happen. But with a script and cast this carefully picked out, it should be good.