Ryan Seacrest Net Worth: How the Busiest Man in Hollywood Earns His Money
Ryan Seacrest is everywhere in Hollywood. Find out how much he's worth and how he makes his money.
What does it take to become one of the richest men in the entertainment industry? Great acting skills and chiseled abs may help, but they're not a necessity. Just ask Ryan Seacrest. He's one of the richest men in Hollywood — astronomically rich — and yet his main gigs are simple hosting jobs. How does he do it? Let's take a look at how much Seacrest is worth, and how he makes his money.
Ryan Seacrest makes a pretty penny on 'Live With Kelly and Ryan'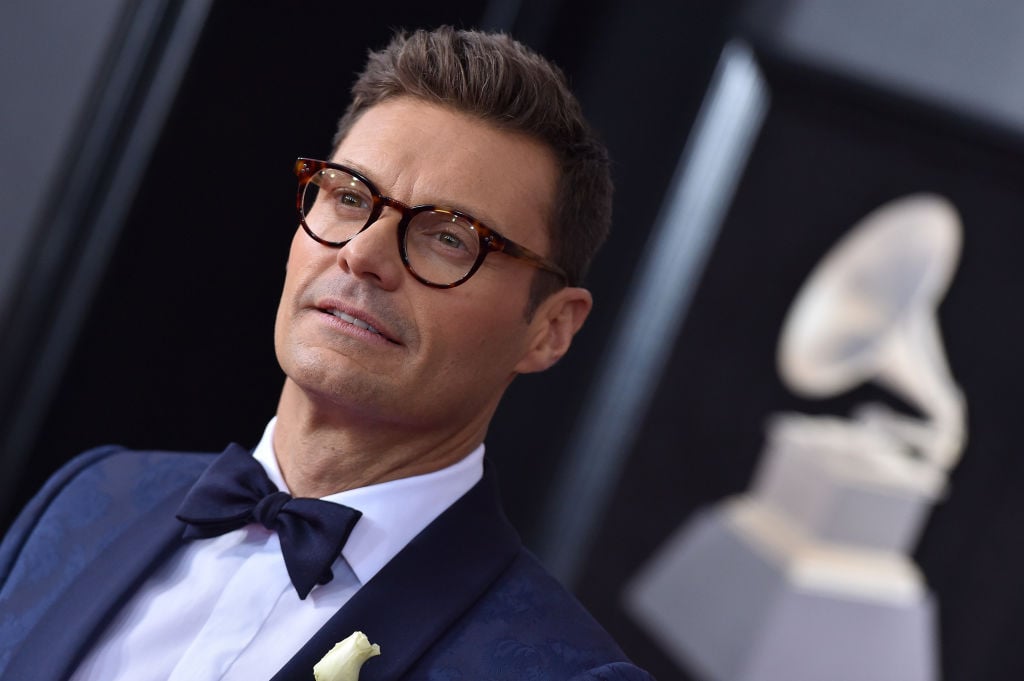 Two years ago, Seacrest joined Kelly Ripa as a co-host on one of the most popular daily morning news shows, Live With Kelly and Ryan. Before Seacrest started, he was based primarily in Los Angeles. Since the new show is broadcast from New York City, he now splits his time between the two coasts, so he's able to do multiple shows. That's quite a commute! 
According to Forbes, Live With Kelly and Ryan brings in an estimated $85 million to $90 million a year for ABC. Ripa, who has been with the show since 2001, is reported to make $15 million a year from the show. While we don't know the exact amount that Seacrest makes from his part in the show, based on those numbers, we can estimate that it's fairly high. Seacrest is a well-known name, at the top of his game. After joining Live With Kelly and Ryan, the ratings indicated that audiences loved him. Based on this, we can estimate Seacrest probably makes at least $15 million, and probably even more. 
'American Idol' brings in the big bucks for Ryan Seacrest
Since 2002, Seacrest has hosted the insanely popular show, American Idol. According to the Hollywood Reporter, when he first started, the show earned him $5 million a year. But when he renegotiated in 2009, his salary tripled to $15 million. In 2011, he was able to get it raised to a whopping $45 million. That's a huge amount to pay a host, but we have to also consider that American Idol is television's most-watched reality show, with 2 million viewers in its 17th season. When you consider those kinds of numbers, it starts to make more sense why Seacrest is paid so much for the show. 
Ryan Seacrest adds to his salary by hosting radio shows and special events
Seacrest must have a personal goal to host as many shows as possible, because, in addition to Live With Kelly and Ryan and American Idol, he also hosts two radio shows for iHeartRadio: On Air With Ryan Seacrest and American Top 40 With Ryan Seacrest. In 2015, Billboard reported that Seacrest had signed a three year deal for the shows worth at least $25 million. At this point, he's probably making even more from iHeartRadio, although we can't confirm an exact number. 
Whenever there's a special event on TV, you can pretty much assume that Seacrest will be hosting the coverage, and he gets paid big bucks to do it. These events include, but are not limited to Dick Clark's New Year's Rockin' Eve, which Seacrest started hosting in 2005 with Dick Clark. After Clark's death in 2012, Seacrest has continued to host the New Year's Eve show every year for a huge $1 million paycheck. That might not seem like it's as much money as some of Seacrest's other gigs, but remember, he makes that amount for just one night of work. 
E! Live from the Red Carpet is another show hosted by Seacrest for E! Entertainment Television before major award shows. It hasn't been reported how much he earns from this gig, but more than likely, it's comparable to his other shows- which means it's probably a whole lot. 
Ryan Seacrest is also a producer
In addition to all his hosting jobs, Seacrest is also a producer. In 2006, he started Ryan Seacrest Productions, which is responsible for shows like Keeping Up With the Kardashians (and all of its spin-offs) and several other celebrity-based reality shows. We don't know how much he makes off these shows, but considering that the Kardashians are paid $150 million for their show alone, we're sure his reality shows are making him a pile of cash. 
What is Ryan Seacrest's net worth?
According to Forbes, last year Seacrest made $71.5 million in income from all of his separate endeavors. His net worth is estimated to be between $410 and $430 million. That's a giant pool of money!