Salma Hayek's Heartbreaking Tribute to Cameron Boyce and the Late Actor's Incredible Civil Rights Legacy
Actress Salma Hayek remembered her Grown Ups "son," Cameron Boyce, on what was supposed to have been his 21st birthday.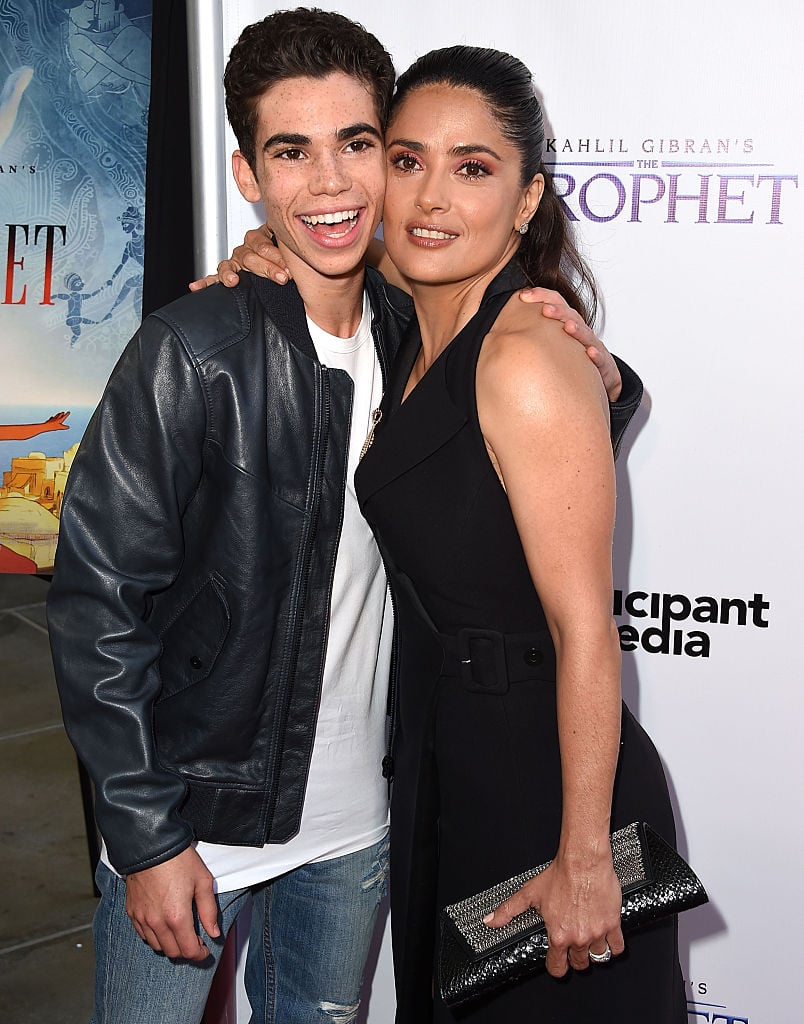 RELATED: Salma Hayek Reveals the 1 Workout She Counts On to Look Amazing
In a poignant Instagram post, the actress fondly wished her former co-star a happy birthday.
The actor sadly died in July 2019 after an epileptic seizure in his sleep.
Hayek's motherly message to Boyce
On what would have been actor Cameron Boyce's milestone 21st birthday, his former Grown Ups costar, Salma Hayek, posted a maternal and affectionate message on Instagram remembering the former Disney Channel star. It's clear the young man was special to Hayek, and his death grieved the mother of one.
RELATED: Why Salma Hayek Turned Down 'Selena' and What She Really Thinks of Jennifer Lopez's Performance In the Movie
"Happy birthday to my beautiful angel Cameron," she wrote. "What a privilege to this world that you came on a day like today. May your legacy leave [sic] forever."
As Hayek likes to do on most of her posts, she included a Spanish translation of her message: "Feliz cumpleaños a mi bello ángel Cameron. Que privilegio para el mundo qué vinieras en un día como hoy. Que tu leyenda viva por siempre."
Cameron Boyce's final interview featured his Civil Rights legend Nana
In what appears to have been his final interview in June 2019, Boyce spoke with Haute Living about his grandmother, Jo Ann Allen Boyce, and her role as one of the first African-American students to attend a desegregated school in the South.
"Her story doesn't just inspire me," he told the publication. "It hits home with everyone who stops to listen to it."
RELATED: Fans and Celebrities React To Disney Star Cameron Boyce's Unexpected Passing
Boyce spoke of how his grandmother paved the way for his future and that of his generation. The 20-year-old urged people everywhere to follow his grandmother's example and not give up on their passion and hopes.
"She and the other eleven students set the stage for our generation to come together," Boyce said a month before his death in a remark that is just as relevant today. "We have to ensure, especially with some of the controversy plaguing us now – that we continue to push towards dreams that have yet to be realized."
Twitter lovingly remembered Cameron Boyce on his birthday as well
It wasn't lost on Boyce's Twitter fans that his birthday had passed. Clearly, the energetic and passionate actor made an impact on their lives.
One fan tweeted, "happy 21st birthday to the kid that made everyone smile. you were truly a bright light and taken too soon. fly high cam<3 #CameronBoyce"
"cameron boyce would've been 21 today," said another fan. "he was such a kind soul who used his platform to speak up about important topics and i'll never forget the impact he left on me and the rest of the world. i miss you."
Finally, a tweet that spoke for Boyce's fans everywhere said, "Despite everything that's going on, May 28th is also Cameron's Day and I won't allow him to ever be forgotten. He will be in history books as one of our young activists, his name engrained [sic] in time forever. I will continue to speak his name. #CameronBoyce"
RELATED: Cameron Boyce Said This One Act Was the Most Fulfilling Thing in Life Before He Died