Sam Heughan Confirms He Is Just Like 'Outlander' Fans — He Loves Jamie Fraser Too!
ARTICLE HIGHLIGHTS
Outlander star Sam Heughan has been busy on social media promoting his new Tequila and getting fans excited about the end of the longest Droughtlander in history.
It all started when Canada's W Network Twitter account posted a photo of Jamie Fraser, and shared a few reasons why they love the character.
Heughan's response confirmed he too loves the character that has made him a star.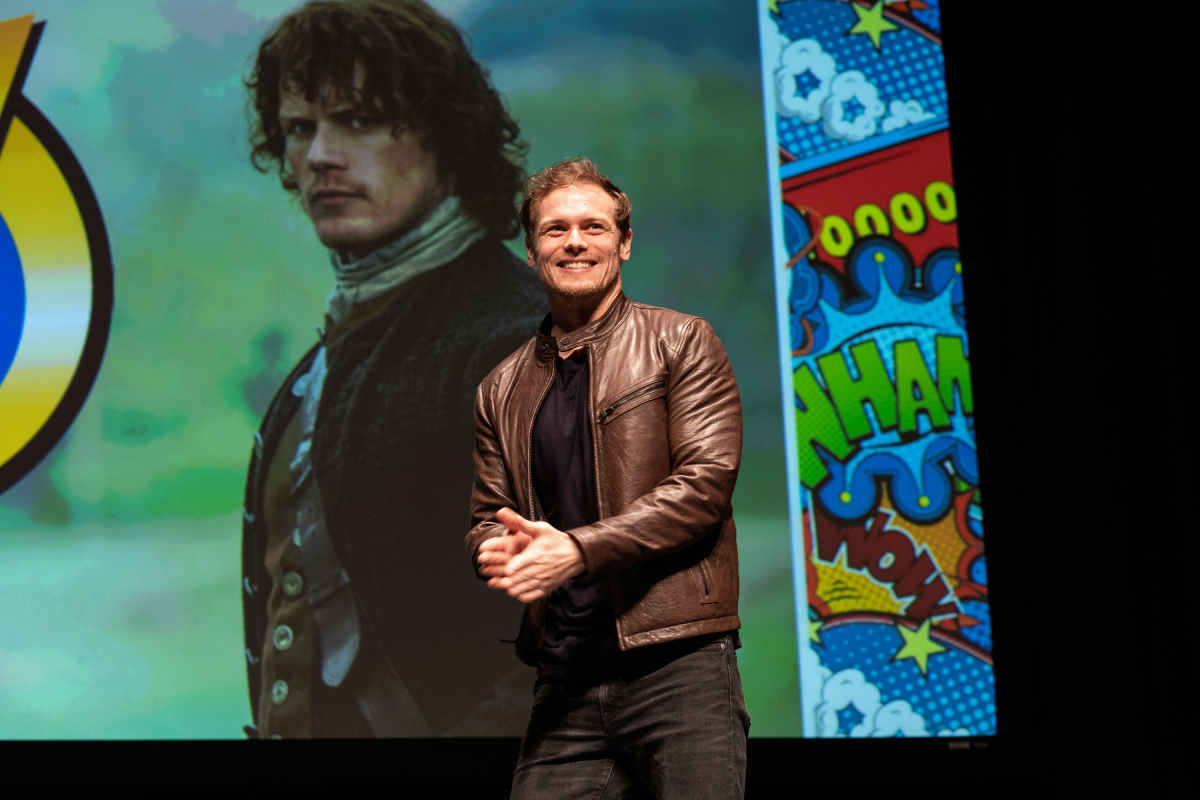 Sam Heughan will soon be back on TV screens as 18th century Scottish Highlander Jamie Fraser for Outlander season 6. After a nearly two-year Droughtlander, fans will finally get to see the next chapter in Jamie and Claire's (Caitriona Balfe) story.
Heughan's recent social media activity has made it clear that he is just as excited as fans are for the new Outlander season. He's also confirmed that he loves Jamie Fraser, too.
'Outlander' season 6 will be a short one
Outlander season 6 will be a short one, featuring just eight episodes. The reason for the truncated season was the production delay due to the pandemic. Producers opted to get the new season on Starz as quickly as possible. And the best way to do that was to produce just eight episodes. The upside is that season 7 will be super-sized and feature 16 episodes.
Executive producer Maril Davis promised that there will still be something for everyone in season 6 despite its brevity.
"Jamie and Claire, their love deepens; Roger and Brianna, they have their own journey, and something fun and new happens with them. Caitlin O'Ryan, who plays Lizzie, has a great story, and she is such a phenomenal actress. There are just so many exciting things," Davis said, per Parade.
The new season is based on Diana Gabaldon's 'A Breath of Snow and Ashes'
Outlander season 6 will be loosely based on the sixth book in Diana Gabaldon's series — A Breath of Snow and Ashes. Set in the years leading up to the Revolutionary War, the story will continue to focus on Jamie and Claire in Colonial America.
They've built a life on land that was granted to them by the British crown. And they're facing conflict in their community as political unrest unfolds around them.
Since Jamie knows the outcome of the war, he's aware that those who are loyal to the king are not on the right side of history. Will he support the crown? Or, will he fight for independence with the colonists and risk the home they've built at Fraser's Ridge?
Sam Heughan loves Jamie Fraser, just like 'Outlander' fans
As the promotion push for season 6 of Outlander goes into high gear, Heughan has been posting about the upcoming season on social media. Recently, he confirmed that he was just like Outlander fans when he shared that he loves Jamie Fraser, too.
It all started when Canada's W Network Twitter account posted a photo of Jamie Fraser, and shared a few reasons why they love the character.
RELATED: 'Outlander': Sam Heughan Reveals the Real Reason Some Season 6 Scenes Had to Be Re-Shot
"There's a million reasons we love Jamie Fraser, but here's a few of the best ones.🙌 What do you love most about him?😍," they wrote in the caption.
In response, Heughan wrote, "There isn't enough room to list it all! 😉"
The reasons fans love Jamie Fraser
In the photo, Heughan poses as his Outlander character that features the title "Characters We Love — Jamie Fraser." The first reason listed is "luscious locks to run your fingers through," along with an arrow pointing to the character's signature red hair.
The second reason pointed to his eyes and was described as "that smoldering stare." Another reason was Jamie's ears because he "actually listens to you." The last reason for loving Jamie was that he is "confident in a kilt."
Sam Heughan's response sent "Outlander' fans into a frenzy
The W Network post immediately received a bunch of fan interaction. But when Heughan responded, it sent them into a frenzy.
"Jamie Fraser is the most memorable and amazing male character written, the things we love about him are too many to list! Then add the collaboration of Diana and Sam, writer + actor and you have absolute magic! Dazzling MAGIC! ⚡️💫🌟," one fan wrote.
RELATED: 'Outlander': Sam Heughan Offers Up a Major Season 6 Spoiler in the Midst of the Longest Droughtlander Ever
A second added, "The way Jamie loves Claire & makes her the center of his universe. Good looking, intelligent, charming, amiable, passionate & with a sense of humor. His love of family, leadership, sense of duty & honor. A Jamie whom millions of women would love to have in their lives!? 😘❤️🔥❤️‍🔥"
A third wrote: "His knees! It's all about the knees for me! Dirty, clean, I don't care." And a fourth noted, "OMG his pecs, did I say pecs??"
Outlander season 6 premieres Sunday, March 6 on Starz.