Sam Heughan May Shock Some 'Outlander' Fans With His Latest Revelation About Jamie Fraser — 'He Is a Bit Too Good to Be True'
Outlander stars Sam Heughan and Caitriona Balfe are in Scotland and getting ready for season 6. Production is set to begin soon, and the stars are starting to give hints about what fans can expect when the time-traveling drama returns.
Heughan has also shared the reason why he thinks Jamie and Claire Fraser are so popular with fans. But one thing he said about Jamie, could shock some Outlander fans.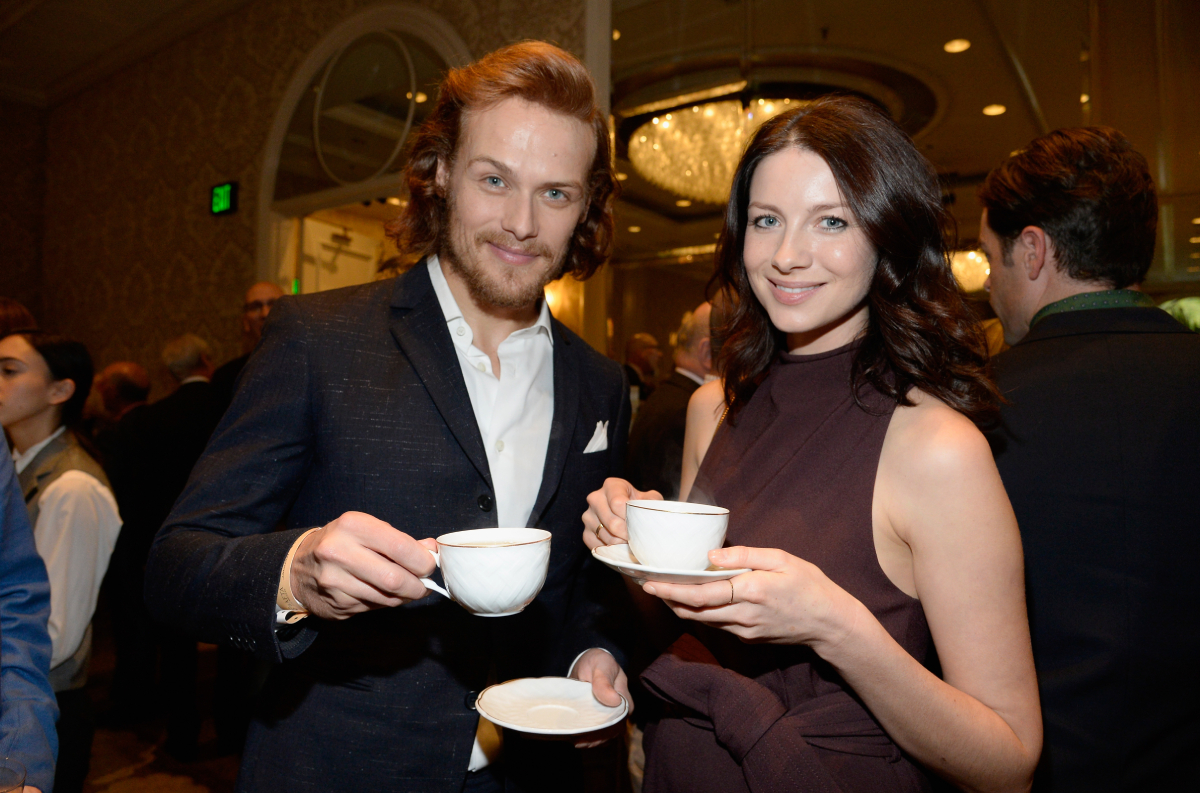 Sam Heughan and Caitriona Balfe will take extra precautions to film season 6 of 'Outlander'
Production for season 6 was supposed to begin in May 2020. But due to the pandemic, they put everything on hold. Because of the large cast and the steamy sex scenes, they had to figure out how to shoot the new season while keeping everyone safe.
According to Parade magazine, Outlander bosses spent $200,000 to build a private COVID testing center at Wardpark Film Studios in Cumbernauld where the show is filmed.
To make sure everyone is safe, Heughan, Balfe, and the rest of the cast and crew will be tested three times per week. As long as their tests are negative, they will be allowed to continue working.
"It doesn't matter if it is an intimate scene or a regular scene, we are going to be in contact with each other, so we will be in our own bubble," Heughan explained. "It won't just be the actors, it will be our core team, hair and makeup. You literally cannot do the job without having everyone around you."
Heughan added that the strict set of rules will take some getting used to. But the most important thing is that everyone will be safe.
Season 6 could cover more than Diana Gabaldon's sixth book
Diana Gabaldon is currently working on the ninth book in her Outlander series. And she's made it clear that Jamie and Claire's story will end with book ten.
For the most part, each season of the Outlander TV show has drawn from the corresponding book. But during season 5, they added two significant events from Gabaldon's sixth book A Breath of Snow and Ashes.
Season 5 included Claire's kidnapping and Bonnet's death. And Heughan says it's possible they will pull from multiple books in season 6.
"Actually, if I could tell you–I can't because I haven't seen all the scripts–I would say because we have so much history and time travel and all that, we can pull from any book. So there may be not just book seven but other books we pull from," Heughan told Parade magazine.
'Outlander' star Sam Heughan thinks Jamie Fraser is 'too good to be true'
Jamie and Claire Fraser's romance was a hit with Outlander book fans. But their popularity has skyrocketed since the premiere of the STARZ drama. Heughan believes that the reason fans love the couple is because of their "pure" love.
"I think the reason people like him is his and Claire's love is so pure, so eternal and without question. It is something to admire and I would like to be like him. Jamie is extremely loyal. I think I am. He is a bit too good to be true. He is pretty perfect," Heughan explained.
The 40-year-old Scot added that Jamie has been "wonderful" and "fun" to play. In fact, he already wishes he could go back and do it all again. But luckily, he most likely has another five seasons to go.
"I hope we get to the end and I hope we finish it properly. We love the story," Heughan shared.
Seasons 1 through 5 of Outlander are available on the STARZ app and Amazon Prime Video. Season 6 is expected to premiere in the fall of 2021.