Does Saquon Barkley Have a Wife? He and Anna Congdon Welcomed a Baby Girl 2 Days Before the Giants Drafted Him
Fans see Giants running back Saquon Barkley every week on the field, but they still have questions about his personal life.
New York Giants fans love watching young running back Saquon Barkley. He was the No. 2 overall draft pick in 2018, in the same class as Baker Mayfield, Josh Allen, and Lamar Jackson. Barkley came out of Penn State, where he had over 5,000 rushing yards in three years there.
The now-24-year-old has been with the Giants since he was drafted and has 19 total touchdowns so far. Fans see him every week on the field, but they have questions about his personal life. They want to know if he's married and who he's dated. They'd also like to know if he has a family.
Saquon Barkley has helped revitalize the Giants' running game
Barkley has helped put the Giants back on the NFL map. When he isn't sidelined by injury, the running back is putting up numbers that the team hasn't seen in years. He became the NFL Rookie of the Year in 2018, a year that included names like Mayfield and Jackson. 
In 2019, Barkley missed three games because of an ankle injury. In 2020, he was sidelined by a season-ending ACL tear. It was 11 months before he played his next game, details Pro Football Reference. Recently, in a devastating loss to the Dallas Cowboys, Barkley injured his ankle. He'll likely miss more time this season, although it remains to be seen how much.
Even with all of that, Barkley is putting up numbers the Giants hadn't seen when he was previously healthy. Hopefully, his injuries won't mess with that, and we'll get to see him play more often. Fans are paying attention to him. This means that they want to know more about his personal life.
Is Saquon Barkley married?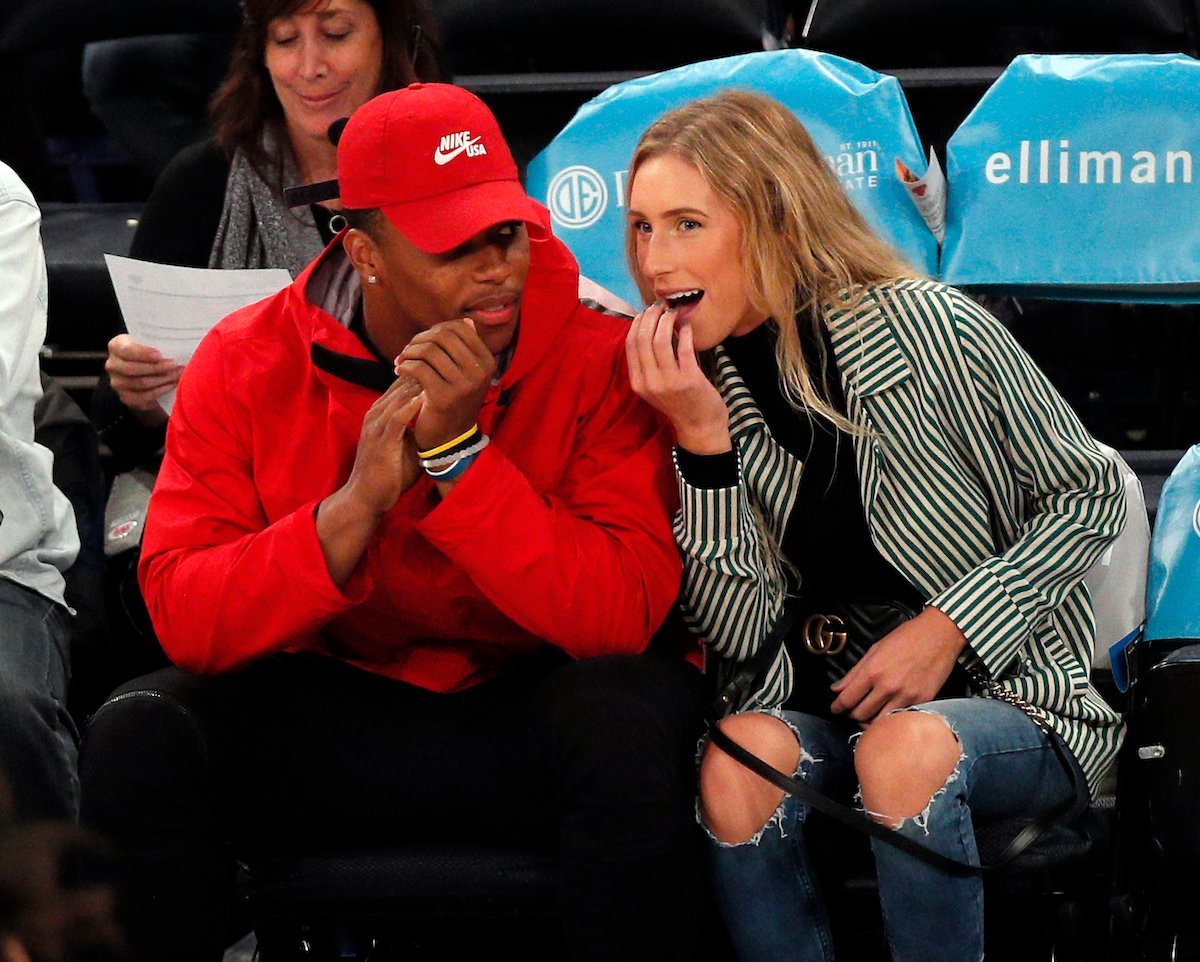 Barkley met Anna Congdon in 2017 when he was playing for Penn State, according to Fan Buzz. She was also attending the school, pursuing a degree in nursing.
Now, Congdon is a self-made model on Instagram with nearly 96,000 followers. The influencer modeled for the Savage x Fenty show in 2019. There's no word on if she's actively pursuing a modeling career, but that wouldn't be a stretch, since she's actively modeling on Instagram.
Barkley and Congdon are not married, but that doesn't mean they aren't committed to each other. They are both active on social media and speak extensively about each other and their family. They both post many pictures of life together.
It's unclear exactly when the couple began dating, but they knew each other well before the 2018 NFL Draft.
Barkley and Anna Congdon have a daughter together
According to SB Nation, Barkley's daughter was born at a unique time. Jada Clare Barkley was born on April 24, 2018 — just two days before the 2018 NFL Draft.
Barkley experienced not one, but two life-changing events within the span of just two days. He was drafted No. 2 overall and became a first-time father.
Jada Barkley is absolutely adorable. In the above tweet, Jada has a video message for her dad: "Run super fast… Run faster! Touchdown!" the three-year-old says in the video. She also tells her dad to be safe and to do his best, before ending the video with "I love you."
Now that's super cute motivation.