Sarah Jessica Parker and Robert Downey Jr. Planned on Getting Married in the 1980s
Before marrying Matthew Broderick, Sarah Jessica Parker had plans to spend the rest of her life with Robert Downey Jr. The celebrities were a couple from 1984-1991, and at the time, they were madly in love. But sadly, after multiple years of passionate romance, the two decided to call it quits.
Fortunately, they are both on good terms and wish nothing but the best for each other.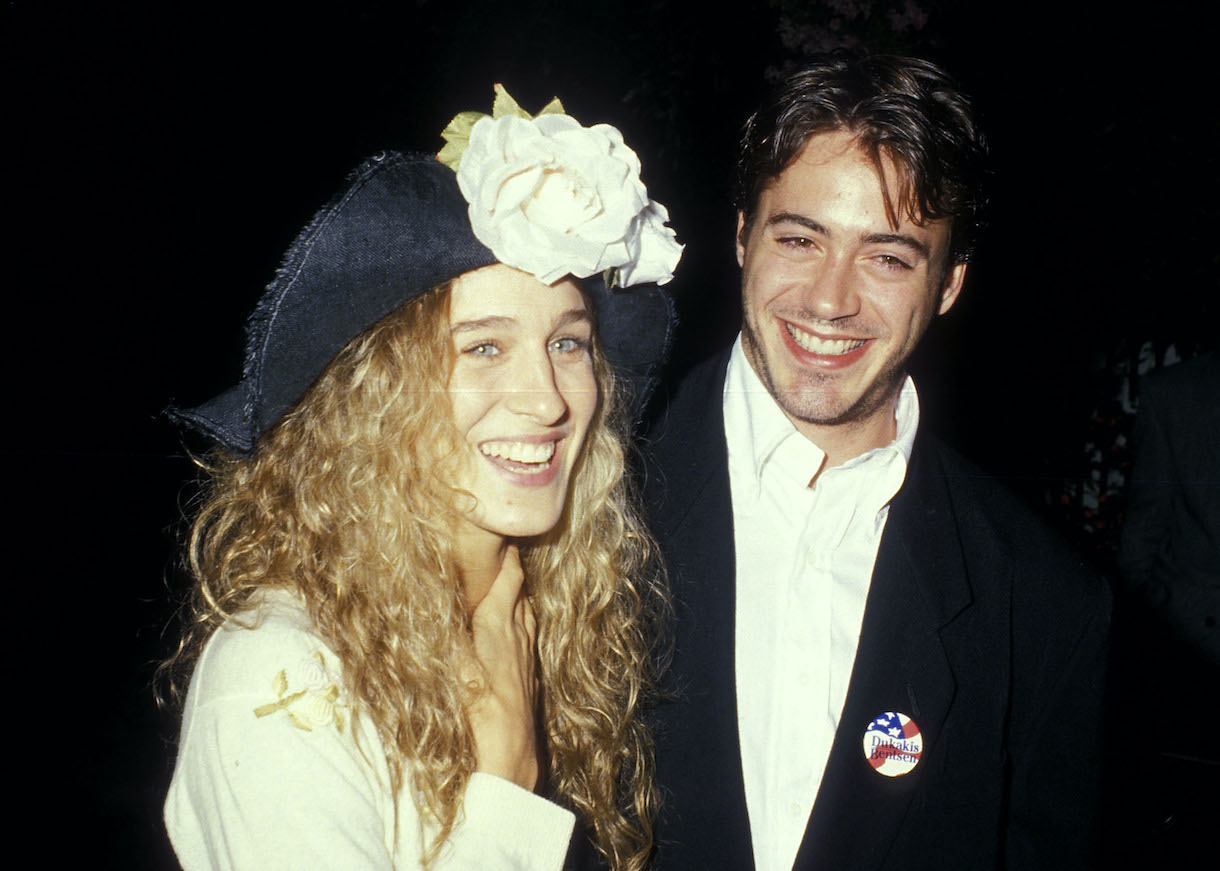 Sarah Jessica Parker and Robert Downey Jr. met in 1984
Parker and Downey met on the set of the movie Firstborn in 1984. At the time, both were just getting started in the entertainment business, and they had each other to lean on through that exciting yet terrifying time.
And although they were merely teenagers back then, they decided to move in together only a few weeks after meeting. They moved into a Hollywood mansion that celebrities like John Lennon and Bette Davis had previously resided in.
Their relationship was filled with love and lots of silliness. One of their favorite activities as a couple was chucking water balloons at their neighbors from the top floor window of their home. Often, their neighbors would retaliate by spraying the couple with a garden hose.
"You have to run to each window and hope you get there in time to close it," Parker told People Magazine in 1985. "It's very immature, I know," she said, "but fun."
Sarah Jessica Parker and Robert Downey Jr. were planning on having a wedding together
RELATED: Why Sarah Jessica Parker Says Her Relationship With Robert Downey Jr. Was 'Genuinely Scary'
Although Parker and Downey were incredibly young when they fell in love, they had serious plans about getting married.
Instead of going to extravagant Hollywood parties during their free time, the couple preferred to stay in.
"The reason you go out," claims Downey, "is to find somebody with whom you can live comfortably. I don't think I need to look any further."
In fact, he felt so comfortable with Parker that he wanted to marry her. The two admitted that they were both a bit wary of marriage because both of their parents divorced. But still, this didn't stop Downey from granting Parker a diamond ring.
"It's kind of a hanging-out-together ring," said Parker.
But despite their concerns about marriage, they still saw a future together.
"We want a Jewish wedding at Le Mondrian Hotel with flamenco dancers," said the Iron Man actor.
"And a band that's not half as good as Lawrence Welk," said Parker. "And lots of balloons and bubbles and a nice linoleum floor that looks like marble."
"I'm really happy with Sarah, and I don't want to ruin it by planning too far ahead," said Downey. "But the way I feel now, marriage looks like where we're headed."
Sarah Jessica Parker and Robert Downey Jr. are still on good terms with one another
Despite their eventual split, Parker and Downey have nothing but good things to say about each other.
And according to Downey, he's thrilled that Parker has found herself in such a loving relationship with her husband of over 20 years, Matthew Broderick.
"I was in love with Sarah Jessica," he confessed to Huffington Post, "and love clearly was not enough. I was meant to move on. And, after some heartache, she was meant to find her home with a great star." Commenting on Matthew Broderick, Downey says, "He is a lot more gifted and grounded than I ever was."