Sarah Jessica Parker and Kim Cattrall Have Differing Opinions on Why Samantha Jones Was Not a Part of 'And Just Like That…'
Sarah Jessica Parker and Kim Cattrall have been feuding ever since the days of Sex and the City. As a result, many fans believed the tension between the two co-stars was the reason why Cattrall did not reprise her role of Samantha Jones on the HBO Max reboot And Just Like That….
Both Parker and Cattrall recently gave their respective sides of the story — in separate interviews — explaining Samantha's absence in the new series. But they have very different opinions on the reason why Cattrall wasn't part of the cast.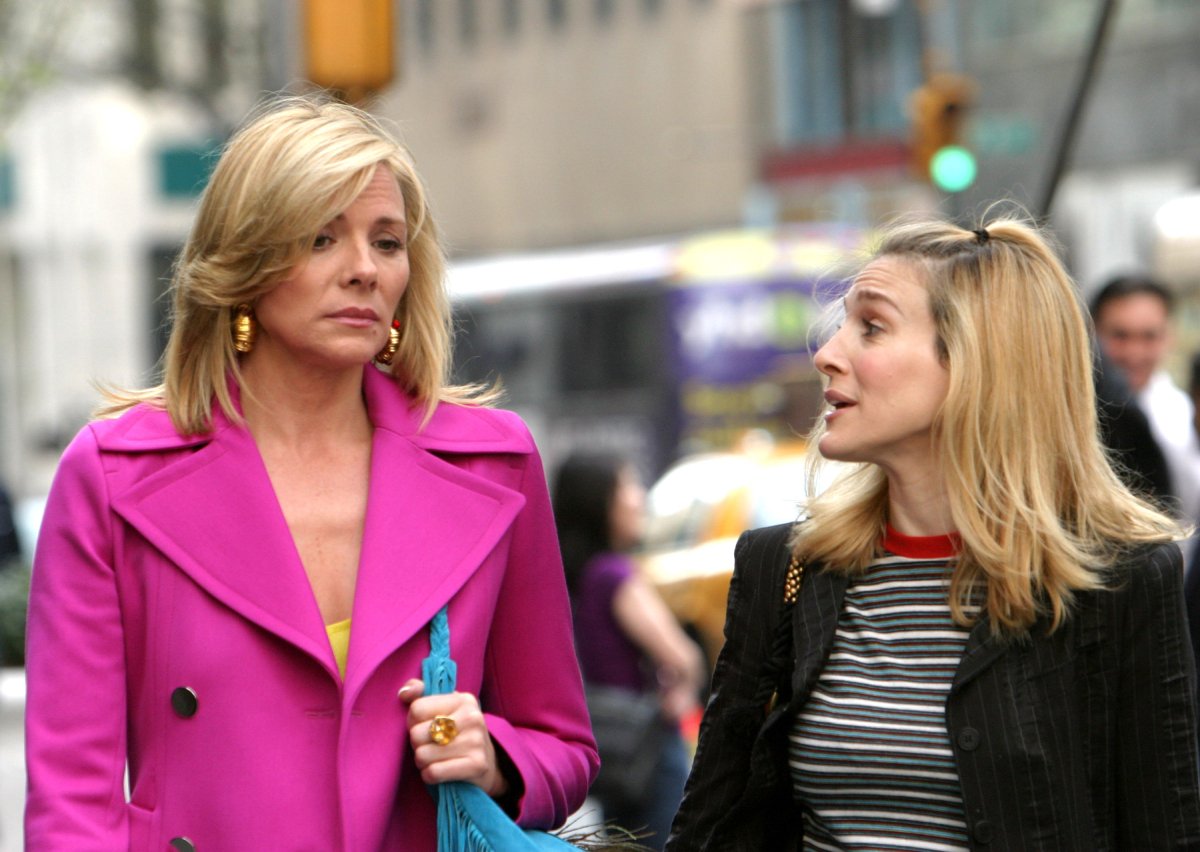 Sarah Jessica Parker admits 'it's very hard to talk about' the situation with Kim Cattrall
Parker returned as Carrie Bradshaw for And Just Like That… along with Cynthia Nixon as Miranda Hobbs and Kristin Davis as Charlotte York Rosenblatt. But noticeably missing from the reboot was Cattrall's Samantha Jones, the character who literally put the sex in Sex and the City.
The decision to move forward with the reboot without Cattrall left a lot of fans skeptical. And when the episodes dropped, the Samantha-less storylines created an entire community of hate watchers — self-described fans of Sex and the City — who couldn't believe what they were seeing.
RELATED: 'Sex and the City': Sarah Jessica Parker Has Played Carrie Bradshaw for More Than 20 Years
Parker has spoken in the past about her rift with Cattrall. But she recently detailed for the first time why they didn't ask Cattrall to be part of the reboot. Parker told The Hollywood Reporter that "it's very hard to talk about the situation with Kim," but she wanted to clarify what happened because she says it's not a two-way "catfight" like the media has portrayed it to be.
"It's so painful for people to keep talking about this 'catfight' — a 'fight,' a 'fight,' a 'fight.' I've never uttered fighting words in my life about anybody that I've worked with — ever. There is not a 'fight' going on," Parker noted. "There has been one person talking."
Sarah Jessica Parker dates the problems back to the third 'Sex and the City' movie
Parker believes that the issue with Cattrall can be traced back to 2017 when the third Sex and the City movie "fell apart." She says that Cattrall made contractual demands that Warner Bros. "didn't feel comfortable meeting." As a result, they didn't do the third movie because they "didn't want to do it without Kim."
At the time, Parker says that she, Davis, and Nixon were "disappointed" that the third movie didn't happen, but sometimes that's how it goes in Hollywood. But then, Cattrall began calling out Parker in public and making accusations about her behavior during the original run of Sex and the City.
Kim Cattrall's experience on the set of 'Sex and the City' wasn't the same as her co-stars
Cattrall claimed that Parker was cruel to her, and that they were never really friends, and she made similar claims about Nixon and Davis. Cattrall doubled down on her claims by publicly rebuffing Parker when she extended her condolences after Cattrall's brother died in 2018.
"There were just a lot of public conversations about how she felt about the show," Parker said, which she admits she found "very painful" because that didn't reflect the experiences of Parker and her other co-stars.
RELATED: 'Sex and the City' Star, Sarah Jessica Parker, Has Not Spoken to Chris Noth Since Sexual Assualt Allegations Against Him Came to Light
"I've spent a lot of years working really hard to always be decent to everybody on the set, to take care of people, to be responsible to and for people, both my employers and the people that I feel I'm responsible for as a producer of the show. And there just isn't anyone else who's ever talked about me this way," Parker said.
Kim Cattrall made it clear she didn't want to be part of 'And Just Like That…'
Parker acknowledges that Cattrall "was a huge contributor to the success" of the Sex and the City TV show and films. However, they didn't ask her back for the reboot because Cattrall "made it clear that that wasn't something she wanted to pursue."
"It no longer felt comfortable for us, and so it didn't occur to us [to ask Cattrall to be part of the reboot]," Parker admitted.
"That's not 'slamming' her, it's just learning. You've got to listen to somebody, and if they're publicly talking about something and it doesn't suggest it's someplace they want to be, or a person they want to play, or an environment in which they want to be, you get to an age where you're like, 'Well, we hear that.'"
Parker added that because they knew what showrunner Michael Patrick King wanted to do with the reboot, they "felt comfortable" moving forward without Cattrall and Samantha. And, she believes they "handled it beautifully."
How would this work without Samantha Jones?
For her part, Cattrall told Variety that she found out about the Sex and the City reboot just like everyone else did — on social media. She confirmed that she was never asked to be a part of the series after making her feelings clear about the third movie. Cattrall also revealed her first thought when she discovered they were going to make a reboot without Samantha.
"I was like, 'Ooooh. How's …' Cattrall said before stopping herself. Then, the interviewer completed her thought by saying "How's that going to work?" Cattrall replied, "You said it. Not me."
RELATED: 'Sex and the City': Chris Noth Blasts Kim Cattrall Over 'Sad and Uncomfortable' Feud With Sarah Jessica Parker
The 65-year-old actress then called out the writers for not being creative with the reboot, explaining the first season "was basically the third movie." She says that the storyline of Mr. Big's death and Carrie grieving the loss remained, just like movie number three. But, there was one "heartbreaking" storyline they left out that Cattrall wanted nothing to do with — Samantha receiving unwanted "d*ck pics" from Miranda's 14-year-old son Brady.
Kim Cattrall knew she was "done" with Samantha Jones after 'Sex and the City 2'
Cattrall now admits that after filming wrapped for the second movie, "everything in me went, 'I'm done.'" She says her character wasn't progressing, there was no conflict to her story, and there was no event that warranted a third film.
The actress insists she hasn't "deserted anybody" when it comes to talking about Samantha Jones, but she has no interest in going back to a job she had 25 years ago.
"Can you imagine going back to a job you did 25 years ago? And the job didn't get easier; it got more complicated in the sense of how are you going to progress with these characters?" Cattrall posited.
"Everything has to grow, or it dies. I felt that when the series ended, I thought that's smart. We're not repeating ourselves. And then the movie to end all the loose ends, and then there's another movie, and then there's another movie?"
Sarah Jessica Parker has played Carrie Bradshaw for over 20 years, but Cattrall will never play Samantha Jones again
Because of all the negative publicity about Parker and Cattrall, Parker said she wouldn't be okay with Cattrall reprising the role of Samantha Jones in season 2 of And Just Like That…. Cattrall says that no one has to worry about that because her returning as Samantha "would never happen anyway."
"It's a great wisdom to know when enough is enough," Cattrall says. "I also didn't want to compromise what the show was to me. The way forward seemed clear."
The actress hasn't watched And Just Like That…, but she says she's "certainly heard about it." She says that she's come to the conclusion that the greatest compliment she could have as an actor is "to be missed."
"This feels like an echo of the past. Other than the really wonderful feeling of — it's rare in my business — people wanting more, especially at 65," Cattrall said. "That feels powerful, that I've left something behind that I'm so proud of. I loved her. I loved her so, so, so much. It's tough competition. The original show is in all of our imaginations."
All six seasons of Sex and the City and season one of And Just Like That… are now playing on HBO Max.
RELATED: 'Sex and the City': Sarah Jessica Parker Has 1 Ask When It Comes to the Kim Cattrall Feud