Sarah Silverman's Brother Died and She Turned It Into Her 1st Joke: 'My Grandmother Burst Into Tears'
Sarah Silverman has a reputation for being both outrageously funny and pushing boundaries. Although, this isn't anything new for the comedian. 
Sarah Silverman is no stranger to the spotlight. When it comes to humor, the comedian is a bit of a legend. Her standup and writing has made Silverman a worldwide favorite. However, more recently, the conditions of the global pandemic reluctantly inspired her to begin her own podcast, The Sarah Silverman Podcast. 
The star has a reputation for being both outrageously funny and pushing boundaries. Although, this isn't anything new for Silverman. 
Sarah Silverman's childhood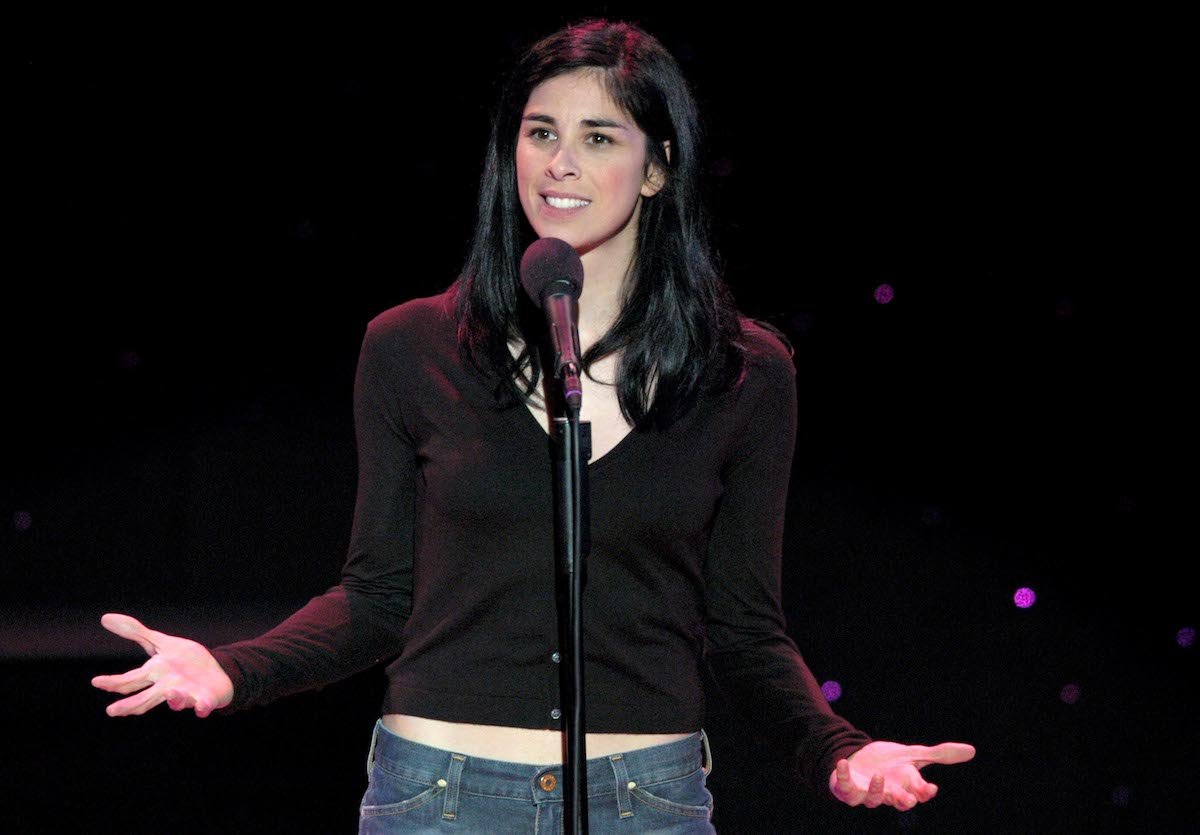 Silverman, a New Hampshire native, was born in December of 1970. Ironically enough, Adam Sandler and Silverman come from the same hometown. Silverman's older sister and Sandler were closer in age and attended school together. Though the famous comedy actor and successful standup comedian weren't friends growing up, their parents were.
Sandler's mom was even Silverman's teacher at one point, which even inspired one of Sandler's sets. Talk about a small world. Silverman, the baby of her family, was the fifth sibling to join the crew. However, sadly, one of Silverman's siblings died at a young age, and, naturally, Silverman decided to use the tragic event for joking purposes.
Sarah Silverman's brother died, and she turned into her first joke
NPR has the story behind Silverman's first very joke. Spoiler alert: It didn't go well. This seems fitting considering Silverman's controversial journey in comedy. In her book The Bedwetter: Stories of Courage, Redemption and Pee, the comedy star explained how it all went down. Being the youngest child, Silverman often heard stories about a brother named Jeffrey. 
Silverman never met her older brother because he tragically died. While just an infant, her older brother suffocated in a crib. Already displaying a knack for comedy, Silverman decided to use this devastating loss to try out some new joke content. 
She shared how her grandmother picked her and her sisters up for Sunday morning breakfast when she unleashed the unforgettable joke. In the car, when her grandmother reminded them to buckle up, Silverman said, "Yeah, we don't want to end up like Jeffrey." As many can imagine, the joke didn't go over well. It even caused Silverman's grandmother to burst into tears. 
Sarah Silverman's history of taking jokes too far 
Silverman has never been afraid to test the boundaries. In the light of 9/11, many people were offended when she made a joke regarding American Airlines. Today recapped the bit, but it revolved around the airline now having the ability to advertise "first through the towers." 
When she compared her dream of a shark who wears braces to the dream of Martin Luther King Jr., Silverman once again found herself facing deep scrutiny. From AIDS to the Holocaust, there isn't anything that seems to be off limits for the successful star. 
Silverman even managed to get on Paris Hilton's bad side when the comedian roasted Hilton while hosting the 2007 MTV Movie Awards. Despite not always being liked, Silverman never lets it deter her or change her sense of humor. 
Silverman's upcoming projects 
In addition to performing standup and writing, Silverman has heavily been involved in the acting scene as well. For over a decade, she worked on Bob's Burgers impressing viewers with her range of voice acting. 
More recently, Silverman finished filming for the upcoming movie Viral. Looking ahead, her fans and followers can expect to see her hosting Stupid Pet Tricks. The television series is inspired and based off of David Letterman's popular segment that so many people loved.