'Saturday Night Live': How Were Bill Hader and John Mulaney Like Michael Jordan and Scottie Pippen?
Comedian Mike Birbiglia once told his friend John Mulaney that he and Bill Hader were like the Michael Jordan and Scottie Pippen of Saturday Night Live. Birbiglia was referring to the time when Hader was a star, Mulaney was a writer, and at least one classic character was born from their relationship.
But it's kind of a bold statement to make just considering how long SNL has been around. So, what was Birbiglia's argument and what did Mulaney think about comparisons to legends of the NBA?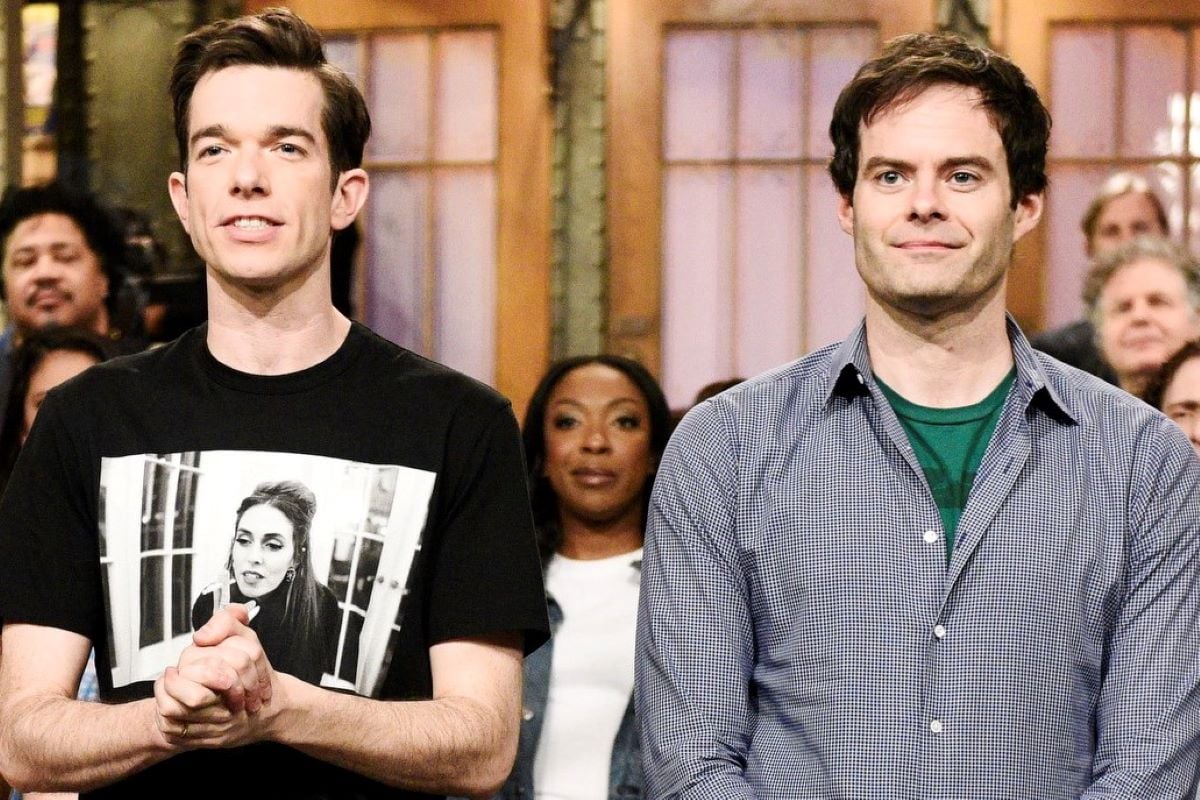 Michael Jordan and Scottie Pippen were a remarkable NBA duo
To dive into the reference, let's first look at Jordan and Pippen as colleagues on the basketball court. Most notably, they won six championships when they were teammates on the Chicago Bulls in the '80s and '90s.  
Some NBA fans argue that they are the greatest duo in basketball history. In fact, Pippen and Jordan have claimed that point to be true themselves. But it's hard to disagree that Jordan seemed to get more praise and attention for his team's successes than the rest, and Pippen eventually accused Jordan of selfish behavior.
So, why did Birbiglia say Mulaney and Hader had a similar dynamic while on SNL?
Bill Hader and John Mulaney were a hilarious team on 'Saturday Night Live'
While Mulaney visited Birbiglia's Working It Out podcast, Birbiglia shared his opinion that Hader and Mulaney were like the Jordan and Pippen of SNL. In his comparison, Mulaney was like Pippen as a writer and Hader was a standout star like Jordan.
Mulaney did disagree with one part of the comparison, though. He noted that Hader gives him more praise for their combined wins than Jordan supposedly offered Pippen. "Bill always gave me a lot of credit, which I really appreciated," he noted.
But it's hard to argue against the point that Hader and Mulaney had a remarkable comedic relationship. After all, they created lovable club kid Stefon — a character so funny, Hader often had a hard time containing his own laughter while playing him. And Stefon's hysterical visits to "Weekend Update" are still favorite moments for many SNL fans.
So, there's room to argue they are one of the best writer/player duos in SNL history. But how does Mulaney feel about being called the Michael Jordan of comedy?
John Mulaney: 'I am absolutely not like Michael Jordan'
After comparing Hader and Mulaney to Jordan and Pippen, Birbiglia suggested Mulaney was like Jordan in his own right. He pointed out the soon-to-be-dad's mega successful stand-up specials and SNL history.
But when he asked Mulaney if he ever related to Jordan while watching him play, Mulaney strongly rejected the idea. "I am absolutely not like Michael Jordan in terms of excellence," he bluntly asserted.   
"There's a dedication to playing basketball that actually bummed me out," he explained. "I do my passion for a living, and I don't think I'm as dedicated to it as he was to the game of basketball."
So, Mulaney disagreed, seemingly wholeheartedly, with comparing himself to Jordan. But in the end, he allowed the argument that he was SNL's Pippen to Hader's Jordan stand.