'Saturday Night Live' Had to Pay Their Live Audience in Order to Have One This Past Episode
'Saturday Night Live' had its first live, in-studio audience since March this past Saturday. And they paid their audience members to do it.
Saturday Night Live is a known television staple. It's run for over 45 years and is in its 46th season. So it was a bit of a scramble to create more episodes after the COVID-19 pandemic hit and shut down everything in March. Filming and productions are only just starting up again, which included the first live, in-person episode on NBC this past Saturday. While it made SNL a bit different, the live in-studio audience still laughed and cheered off-screen. But this time, they were paid to do so. 
'Saturday Night Live' is known to have free tickets to its shows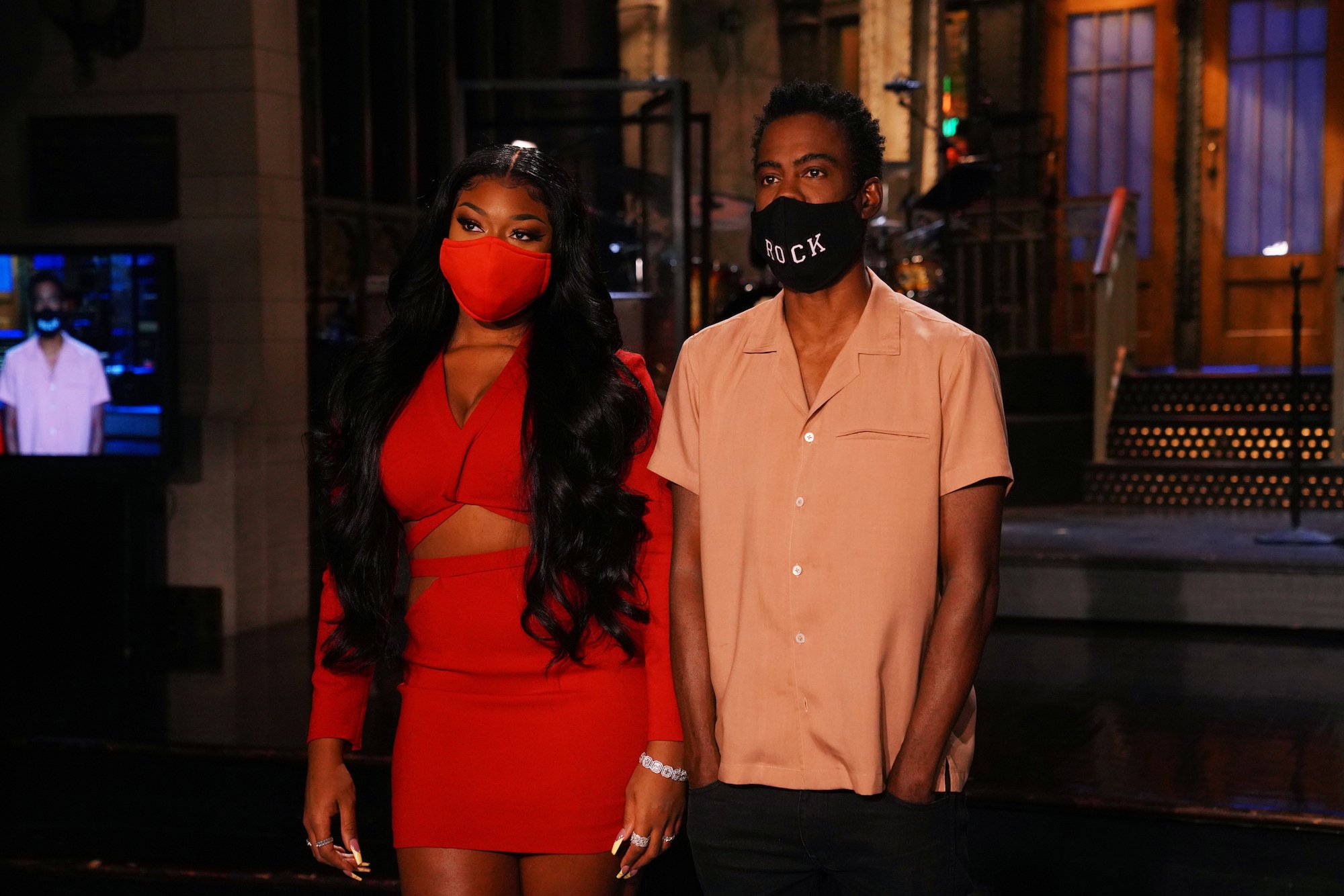 Saturday Night Live began in October of 1975 and has started new seasons in the fall ever since. The live, sketch comedy show has been a starting point for comedic talent since its inception and features a celebrity host and musical guest nearly every show. 
A major aspect of the show is its studio audience, which has usually been regular people who score free tickets. Other talk shows hold a similar procedure, where would-be audience members wait in line or request tickets online. As the New York Times noted, they're usually pretty hard to come by because they are free and so many people want them. 
As Chris Rock said in his opening monologue on Oct. 3, a portion of the audience members were first-responders and healthcare workers. But for their first episode back since the pandemic started, they did something new: they paid their audience members to be there. 
The state of New York now prohibits live audiences unless they're paid 'employees'
The New York Times reported on Oct. 6 that due to the state of New York's laws, shows aren't allowed to have live audiences unless they consist of paid employees and if it's 25 percent of its typical audience size.
"On Monday night, the state's health department confirmed that SNL had followed its reopening guidelines by 'casting' members of the live audience for its season premiere on Saturday," the publication wrote. "And paying them for their time."
One audience member, Sean Ludwig, told the New York Times that he received a $150 check after the show. And it wasn't something they were told beforehand. They also reported that audience members had to have a rapid COVID-19 test and sign waivers saying they haven't had contact with an individual with the virus. 
The way that Ludwig got tickets was through the site 1iota. They apparently also asked people who applied for tickets to seven to nine people, all within their "social bubble."
"There is no evidence of noncompliance," Jonah Bruno, spokesperson for the state health department, said. "But if any is discovered, we will refer that to local authorities for follow-up."
This was the first episode back since March with a live, in-person audience
As stated above, this was the first live, in-person Saturday Night Live broadcast in months. Live, in-person episodes were canceled after March 16. This was after the COVID-19 threat was considered a pandemic and a lot of productions were forced to shut down. 
Daniel Craig hosted the last in-person show on March 7. The 45th season continued after that with Saturday Night Live at Home, which came back on April 11, hosted by Tom Hanks. Everyone filmed their parts at home for three episodes. The season ended on May 11. 
Oct. 3's episode was hosted by Rock with Megan Thee Stallion as musical guest. The cold open focused on Vice President Joe Biden and President Donald Trump's recent presidential debate. Jim Carrey played the former while Alec Baldwin returned as Trump. Maya Rudolph portrayed Senator Kamala Harris, as she's done in the past as well. Even Harry Styles made a brief, remote appearance too. 
Unfortunately for anyone looking, it doesn't seem like a Saturday Night Live section is on 1iota.com. But who knows; they do have a whole season left to air.