'Saturday Night Live': Host Donald Trump 'Missed' This Joke, An 'SNL' Alum Said
Since 1975, Saturday Night Live has satirized the changing landscape of pop culture. But its often-political humor doesn't always please everyone. Case in point, Donald Trump's appearance as SNL host in 2015 caused quite a stir. As far as Trump himself, he didn't seem to understand that much of the humor was at his expense, according to a former SNL star.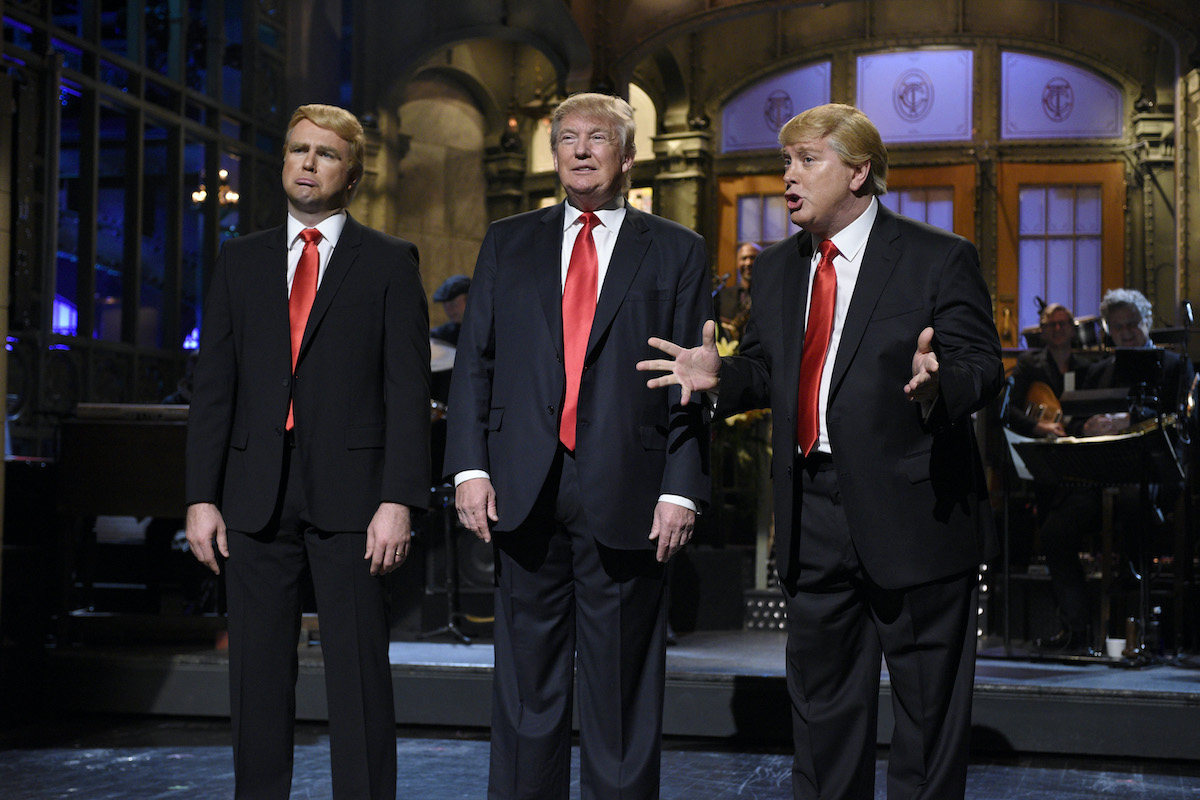 SNL's Donald Trump has been a major focus for years
Even before he entered politics, Trump was often featured on SNL. But as a character impersonation, not as an in-person host. After all, SNL is based in New York City, where Trump was known to reside and conduct much of his business. Phil Hartman, Darrell Hammond, and Taran Killam often played Trump multiple times between 1988 and 2016.
Then, when Trump ran for president in 2016, Alec Baldwin stepped into the role. And since then, Baldwin has returned many times to reprise his Trump impersonation on SNL. The actor even won an Emmy for his work. An outspoken critics of Trump's politics, Baldwin has admitted his own relief at being able to step away from the role. He's hosted SNL more often than anyone.
Donald Trump himself served as 'SNL' host in 2015
Trump himself hosted in 2004, but it was his 2015 appearance — in the midst of his presidential campaign — that made waves. Former SNL star Bobby Moynihan recently lent some insight into how Trump's hosting gig went over behind the scenes in an interview with The Daily Beast.
"I'll say by far, no, he was not the worst host. He was just delusional. He did something completely wrong [in a taped sketch] and they were like, 'Cut! Hey, you did that wrong.' And he was like, 'No, I didn't.' And they were like, 'Yes, you did.' He was like, 'No, I didn't. Roll back the tape.' He tried to prove it. They did. They showed it to him and he was like, 'I like it better that way.'"
Though controversial, Trump's hosting gig in season 42 ultimately led to great success for the show. The following year was among the highest-rated SNL seasons in years, thanks largely to its Trump coverage and Baldwin's role.
But he completely missed the joke, Bobby Moynihan said
Another example of Trump's disconnection from the show came, according to Moynihan, during one of the final appearances of the actor's "Drunk Uncle" character. The outspoken, racist character declared his support of Trump's campaign during the episode Trump hosted. But Trump didn't seem to understand the satirical nature of the comedy, which often follows politics.
"I remember thinking this is one of the only things in the show that's actually really bad-mouthing him and pointing out how racist and terrible he is," Moynihan told The Daily Beast. "And he walked up to me afterwards and I'm like, 'Oh, no.' And he shook my hand. He was like, 'Thank you so much. That was so nice to hear such nice things being said.' And I was like, you moron."